GRAND RAPIDS, Mich. - An insurance lobbyist who criticized Michigan House Speaker Tom Leonard over an endorsement by conservative rocker Ted Nugent says he was fired for an unflattering Facebook post about the 2017 plug.
Nathan Medina says that Leonard, the Republican candidate for attorney general, pulled strings to get him fired, according to a 17-page federal lawsuit filed in Grand Rapids.
"This pencil necked State Rep – and AG hopeful – ain't no rocker,'' Medina wrote in the Facebook post. "But I wonder – does the worst Speaker of the Michigan House of Representatives in a generation have a thirst for "Jailbait'' like Theodore Nugent?''
The comment on Medina's own Facebook page was made as a private citizen on a matter of public interest, the lawsuit claims. But it didn't sit well with Leonard, R-DeWitt, who contacted the insurance giant and "urged The Doctors Company to take disciplinary action.''
Medina says his employment with The Doctors Company "was abruptly ended'' after Leonard pressured company brass to fire him. He got the ax on Nov. 27 "because of voicing his political views,'' the lawsuit states.
A spokesman for Leonard called the lawsuit "ridiculous.''
"The inclusion of the speaker is just as ridiculous as it looks,'' spokesman John Whetstone wrote in an email. "It is unfortunate the speaker has to deal with a nuisance lawsuit, but he will respond in an official filing and hopefully put this to rest soon.''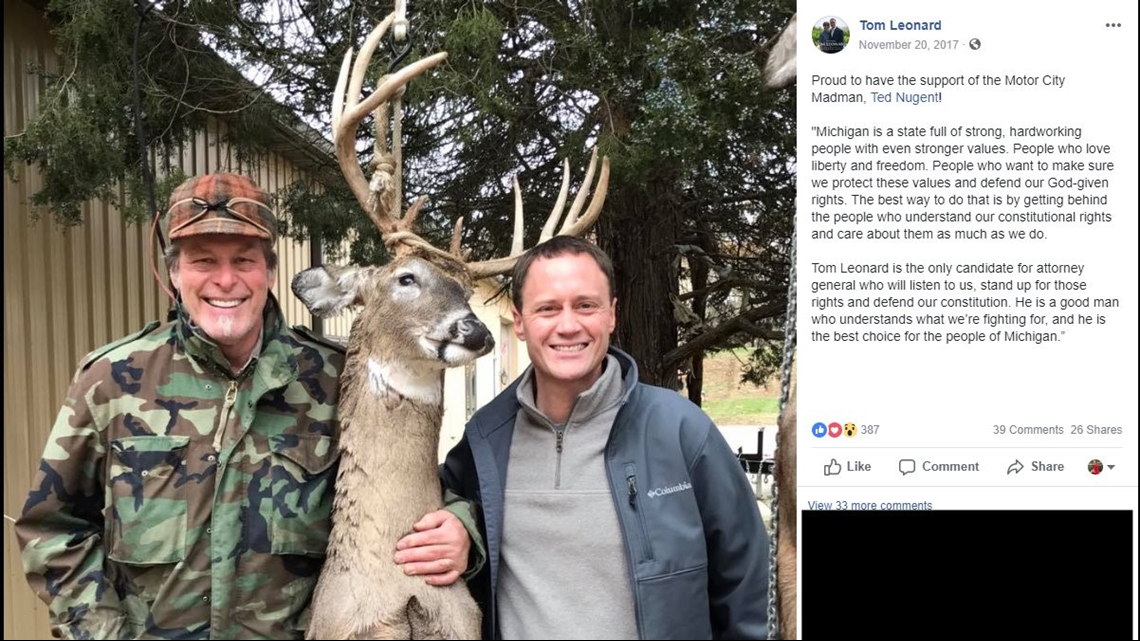 Even before the Facebook post, Medina, who was the only Latino in the company's government relations department, was "treated as an outsider,'' the lawsuit claims.
Medina, who lives in Lansing, joined the company in May of 2014. The Doctors Company is the nation's largest physician-owned medical malpractice insurer and is based out of Napa, Calif., according to the lawsuit.
In his position, Medina oversaw legislative issues in 15 states. Although he regularly got positive performance reviews, he felt he was treated as "somewhat of an outsider'' because the company's management was "almost entirely made of white males,'' the lawsuit claims.
Medina says white colleagues have openly criticized elected politicians without repercussions, which is why he believes his firing was racially discriminatory, the lawsuit states.
Medina says his civil rights were violated "based on him being a Latino.'' He also claims his First Amendment rights were violated.
As a result, Medina has suffered "loss of pay, loss of vacation and sick days, loss of career opportunities, humiliation and embarrassment, mental anguish and emotional distress, loss of professional reputation and loss of the ordinary pleasures of everyday life,'' the lawsuit claims.
Michigan Republicans in August selected Leonard as their attorney general candidate. Leonard, 37, previously worked in the attorney general's office and as a prosecutor in Genesee County.
The lawsuit, filed last week in U.S. District Court in Grand Rapids, has been assigned to Judge Janet T. Neff. Medina is being represented by a law firm out of Detroit.
A spokesperson for The Doctors Company said the firm has not seen the lawsuit. "Even if we had, we do not comment on pending or threatened litigation," company spokesperson Denise Moore said in an email statement.