GRAND RAPIDS, Mich. — A tree fell on a man's car while he was driving down 28th Street SE in Grand Rapids Saturday afternoon.
"I was coming down 28th Street and I saw the wind blowing the tree, but I didn't think it was going to pop," Michael Craig said. "Came tumbling down."
Craig says he was not seriously injured, but his windshield was smashed.
"He is a lucky guy," said tow truck driver Roy Nielsen from Merl's Towing. "I have never seen a tree—while somebody is going down the road—fall on him as he is driving."
"As soon as I saw him get out of the car I was like 'thank God, thank God,'" added Stevfon Brown, who is a mechanic at a nearby business. "That could have been a lot worse."
Craig said he hit his brakes but it was too late.
"There was a real loud bang," he recalls. "Stopped me in my tracks."
The fallen tree covered the westbound lanes of 28th Street SE near Kalamazoo Avenue SE. The road was shut down for over an hour while crews cleaned up the mess.
Craig has some neck and back pain, but he is grateful his injuries aren't more serious.
"It was something else," he says with a smile. "Something different."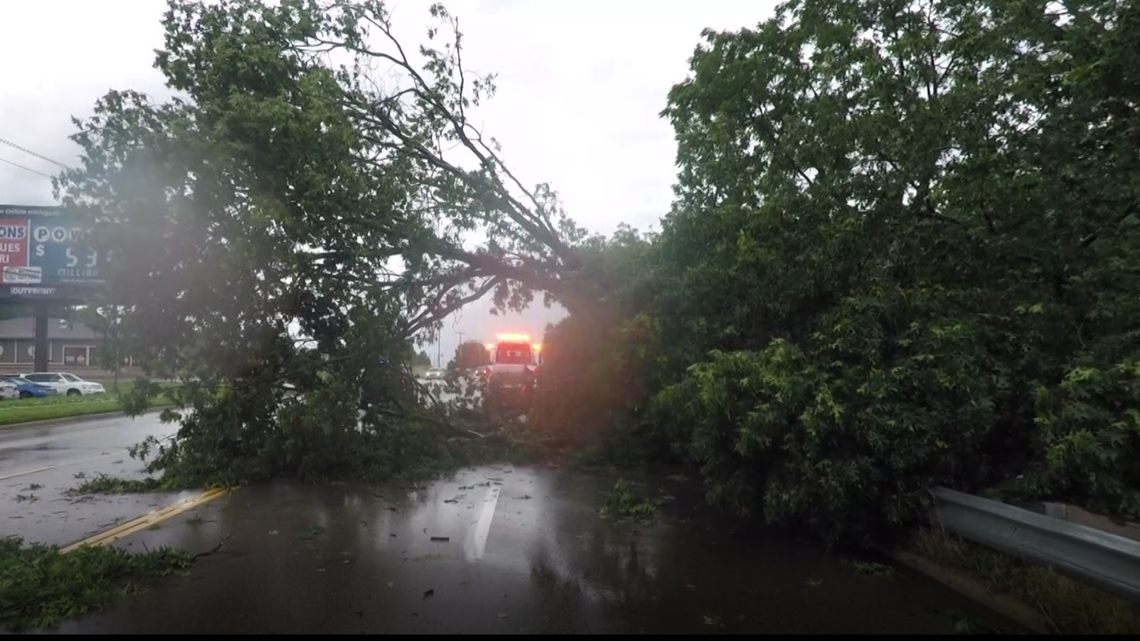 West Michigan is dealing with the aftermath of two storms that rolled through the area in less than a day. The first hit late Friday night into early Saturday morning and knocked out power to thousands.
The second wave came Saturday afternoon, and it brought 60 mph winds and heavy rain.
Consumers Energy said by 9 p.m. about 137,000 consumers were still without power. More than 1,500 wires were brought down by the storm.