Hall of Fame running back Barry Sanders played for the Detroit Lions from 1989 through 1998, setting several NFL records along the way.
The 10-time Pro Bowler holds the records for:
Most seasons with 1,500+ rushing yards (5)
Most games with 150+ rushing yards (25)
Most consecutive games with 100 or more yards rushing (14)
Most games with 100 or more yards rushing in a season (14)
Most 150+ yard rushing games (25)
Most 150+ scrimmage yard games (25)
Sanders was admitted into the Hall of Fame in 2004 and is considered to be one of the best running backs of all time in the NFL.
To honor the lifetime achievement of Sanders, the Lions unveiled an eight-foot statue outside of Gate B at Ford Field on Saturday night.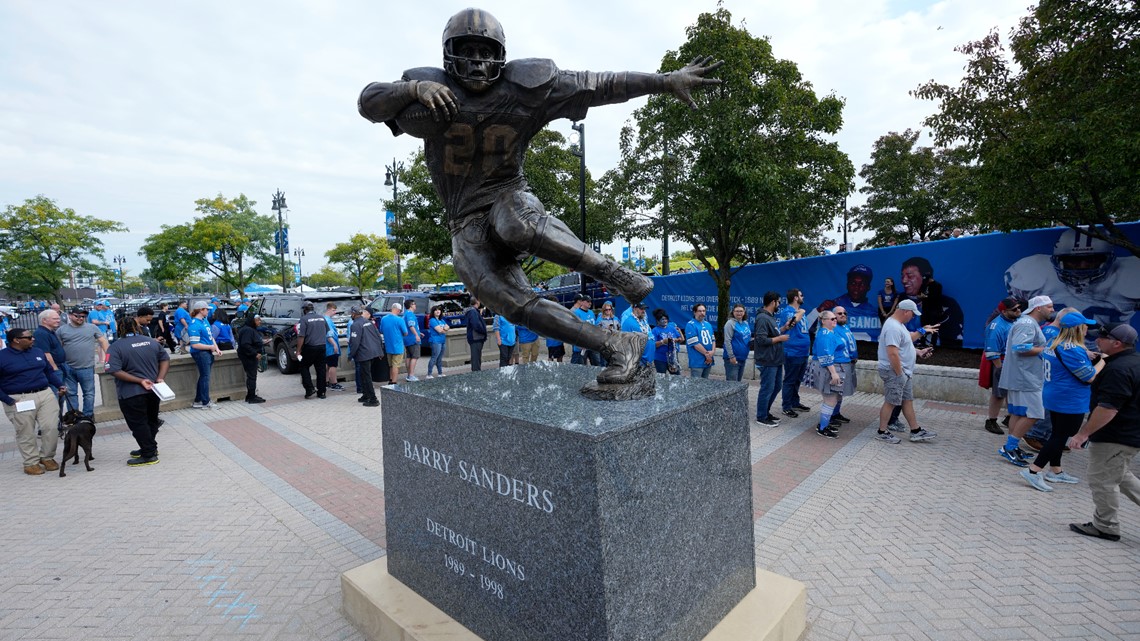 "It's such a unique honor," Sanders said at the unveiling ceremony Saturday night. "I grew up being familiar with Heisman Trophy (winners) and NFL MVPs, but to have your own statue is something that's just unique and so far out of the realm of anything I would have ever imagined."
The Lions reported that over 150 members of the Sanders family were at the ceremony in addition to former Lions coach Wayne Fontes, Detroit Mayor Mike Duggan, hip-hop legend Flavor Flav, Hall of Fame wide receiver Calvin Johnson and general manager Brad Holmes.
The following day, Michigan Gov. Gretchen Whitmer declared Sept. 17 to be "Barry Sanders Day."
"Today, we honor Lions legend Barry Sanders with a new statue outside Ford Field," said Gov. Whitmer. "He played with Detroit hustle and humility, always getting the job done and supporting his team. He showed us, both with his play on the field and his work off of it, what it means to be a great athlete and a good person. As we enter another Lions season, let's remember Barry Sanders, one of the greatest to ever do it, and keep on winning."
Sanders is the first Detroit Lion to be immortalized outside of Ford Field.