GRAND RAPIDS, Michigan — I remember it being a nice day outside. A lot nicer than you'd expect it to be in Western Montana in early November. But this is also 19 years ago... so my memory may be a little foggy.
It was 2001. I was in my first job. A rookie reporter at KECI, the NBC Affiliate in Missoula, Montana. Little newsroom. Not a ton of staff. There were maybe five reporters. Only three of us on at any given time.
At this point in my young career, I'd already covered quite a few different stories. Murders, protests, politics, a lot of fun features and - even though it was thousands of miles away, the 9-11 attacks. I thought I'd seen a lot in my first few months out of college. And I had. But none of it prepared me for what happened on this particular afternoon.
I was in our newsroom on the second floor of the building. It was a usual day. The scanners were going. The general din of conversation about stories. And it was, if I remember correctly, just after lunch.
I spotted our weekend sports anchor, Josh, come walking up the stairs. Then, as casual as can be, he said, "Does anyone know there's a guy in the parking lot with a gun?"
There was this moment where everything just kind of stopped after Josh said that. How it actually played out is probably less dramatic than how I remember it.
But, there was this "What are you talking about?" atmosphere. Josh assured us, yes... there's a guy in the parking lot. He has a rifle and he was screaming about something, wanting to talk to the media.
Someone made the obvious decision to call 9-11. And, I gotta tell you...when you spend your entire day listening to emergency dispatch calls on scanners... it's eerie when you hear that scanner blare out information about man with a gun at your workplace.
It was especially impressive, because dispatch was sending out the call to police units while our newsroom was still on the phone with them. Missoula P-D moved FAST.
This is where things get confusing, and my memory fails me a bit. At some point, we became aware that our Sports Director was literally hiding behind a car from this guy in the parking lot. It was kind of impossible for us to see, though. Our newsroom was on the second floor with windows facing west. The parking lot is on the east side of the building. We didn't have any kind of a visual access to see what was going on.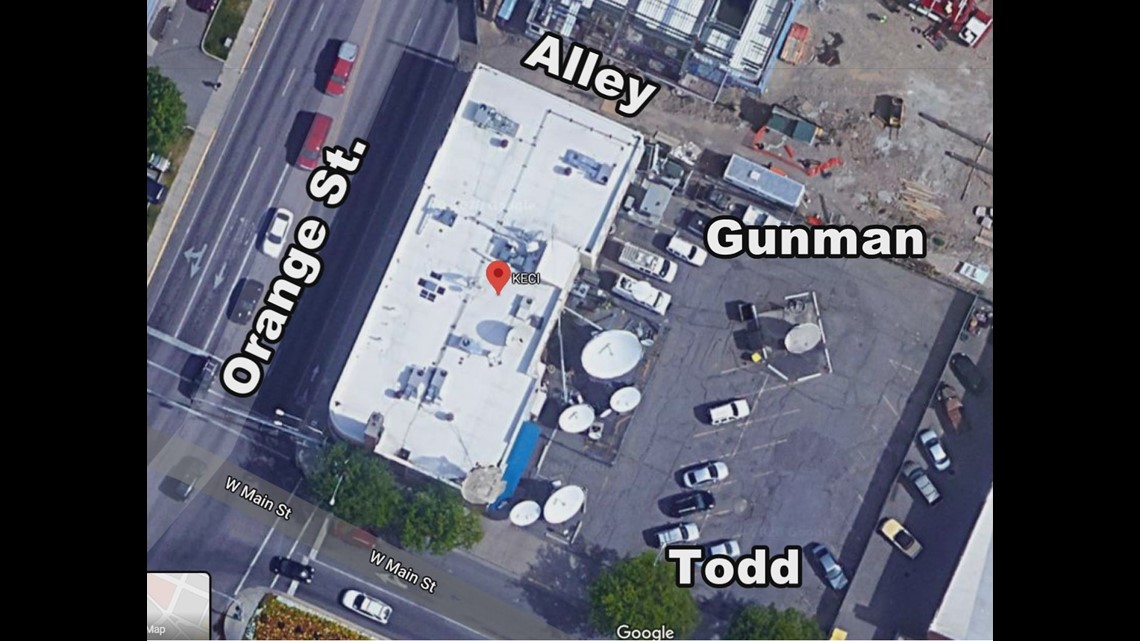 Eventually, Todd got inside. Then, the gunman got in a car and took off. My news director pointed at me and a photographer to jump in a car and follow. Because hey, it's news and we're a news room.
So, we started going where we THOUGHT he was heading. But, we never saw his car, so it was kind of a guessing game. Turns out, he either did a circle around the block, or did a u-turn and he was right back in the parking lot.
So, back we go. We parked on the opposite side of the building where there's an employee entrance. We get upstairs and by this point it's a standoff with this guy and the cops. We're told to stay in the building. Don't come out under any circumstances.
But, we start thinking how are we going to film this? It's still a news story. A BIG news story. My news director comes up with the idea to film from the roof, looking down on the parking lot.
Problem was I was the only reporter in the building when all this happened. I have the only field camera... which is securely fastened in the back of the news car out on the street.
He tells me to go get it. All the action is on the other side of the building in the parking lot, so I assume I'll be fine...rookie mistake.
I ran downstairs to the employee entrance. I knew the car wasn't 10 feet from that door. At practically full speed, I slammed the door open and burst out onto the sidewalk.
Then I hear "DON"T MOVE!!!"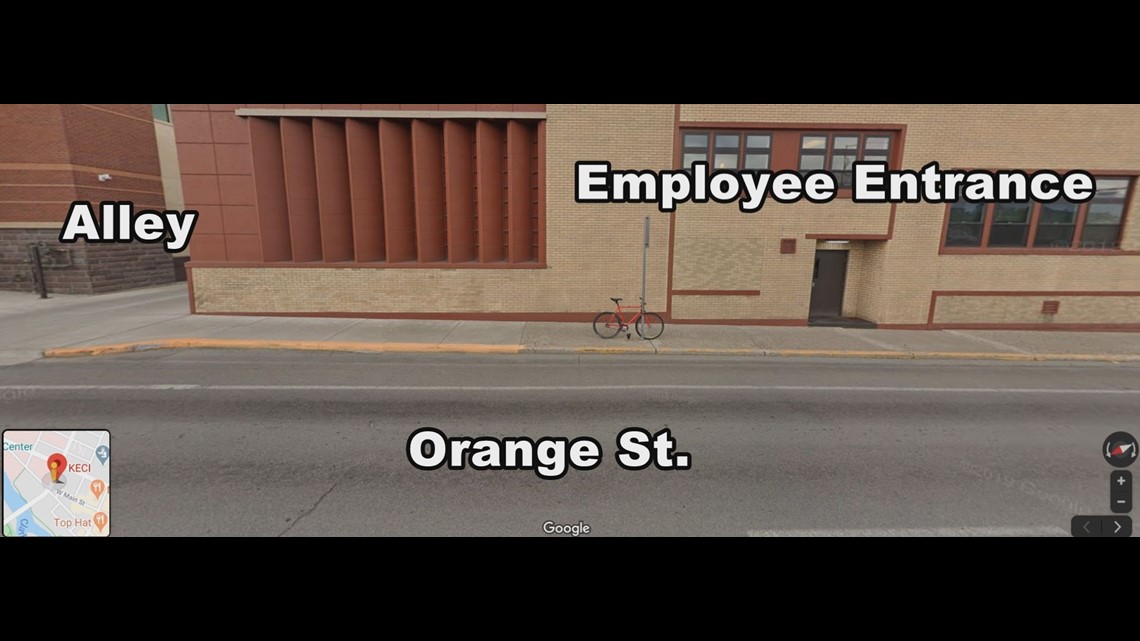 I froze. Looked to my right and there was a police officer with his gun drawn, pointing right at me. Clearly, I'd erred in my judgement to go outside. He lowered his gun away from me and he screamed, "What are you doing?!?"
I told him I was getting my camera out of the car. He seemed to not think this was a sufficient reason to interrupt his armed standoff. See, there's an alley on the north side of the building connecting the street on the west side and the parking lot on the east. He was guarding that alley. He told me to get back inside. I obliged.
So, back upstairs to the newsroom I go. Without a camera. Our chief engineer got inventive. He unhooked a studio camera and somehow managed to rig it where he could get it to operate as a field camera. He went up to the roof and began filming.
I don't know how much later it was, but we got word that the man was taken into custody alive. The cops wound up shooting him with beanbags. The footage our engineer shot was still scary.
The guy was threatening himself more than other people. At one point, he was in his truck with the barrel under his chin. He fired one shot *out* of his truck. It went through his windshield and hit the side of our building.
Eventually he got out. That's when they got him with a beanbag and disarmed him.
I remember being so sad about it. Why would this guy do this? Why would he grab a gun, come to a TV news station and threaten to kill himself.
I wound up putting that story together. It was just the x's and o's of what happened. A chronology.
A few days later, he made his first court appearance. It turns out, his wife or girlfriend had just left him. He was trying to get a hold of her, and figured a TV station would be a good way to get a message to her.
While he was in court, he look straight into our camera and apologized to everyone at our station. He swore he never meant to harm anyone. I believed him. To this day, I still believe him.
He was charged with at least one felony. But I don't know how it all played out for him. I hope he got the help he needed.
This story, however, is one I've obviously never forgotten. And when I think back to to it, I realize I probably should have been more scared than I was at the time. It may sound weird, but I kind of jumped into 'reporter mode,' and it all happened very fast. I think from beginning to end, it was less than a half hour.
I didn't really process things until well after the fact. By that, I mean after my shift. Because the moment it was over, I was doing interviews. With Josh, with Todd, with Police. Our GM, I think, made a statement. There was still work to do. I very much treated it like every other story. I took all those elements, along with the video, put them together and delivered it during our 6 pm newscast. I remember the only thing we needed to have a discussion about was whether we showed when he was actually hit with the beanbags. I'm fairly certain we decided not to. Which, again, is how we would have treated any other story involving a shooting.
Reflecting back on it, I don't know that I was ever scared. You know, except when I surprised that cop out the side door. The police responded quickly. We were locked inside.I was worried for Todd for that brief period of time. I was worried for the cops, and yeah, for the gunman, too.
Listen to more Alone At The Desk podcasts at: