HOLLAND, Michigan — Think back to what middle school science class was like for you. I was born in '78. So, middle school for me - 6th through 8th grade - was the early 90s. I remember very little about middle school science. I can only picture two of the three teachers I had. They classes were pretty unremarkable. Maybe that's because I wasn't much of a science student. But, I remember just sitting in class, reading thick textbooks and taking tests. The most memorable experience I can recall was the entire class going outside to do a sound experiment. One of my classmates took a big cymbal to the far side of the athletic field. Then he crashed it, and our teacher used a stopwatch to time how long it took from us seeing the cymbal crash to us hearing it. It wasn't long. But, it gave me a good idea of the speed of sounds. And obviously I remember it to this day. Far more memorable from my middle school years is being one of the very few students who beat our chess club coach in a game. Yes, I was in chess club - back off.
Science classes 30 years later are an entirely different beast. Many - even at the middle school level - are STEM classes; science, technology, engineering and math. On a recent trip I took to one of these classes, there wasn't a textbook in sight. No cymbals either. But, there was a chess set.
THIS IS ALONE AT THE DESK WITH NICK LAFAVE. A PODCAST BY AN AVERAGE MIDDLE AGED GUY WHO HAPPENS TO BE A TV NEWS ANCHOR. WE TALK ABOUT THE EXCITING AND THE BORING PARTS OF LIFE, THE INDUSTRY AND LIFE IN THE INDUSTRY. AND WE HIGHLIGHT SOME INTERESTING AND IMPORTANT STORIES ALONG THE WAY. BROUGHT TO YOU BY 13 ON YOUR SIDE NEWS IN GRAND RAPIDS MICHIGAN.
You'd be forgiven for thinking what you just heard was a construction site. And, to be fair, it kind of is. But, listen a little more closely and you'll realize these are kids. Sure they have adult supervisors. But, this isn't a crew of grown men and women building a home. It's a couple dozen 8th graders maintaining a greenhouse.
"Greenhouse was built two years ago and it has literally grown ever since."
That's Holland Middle School teacher Bill Boerman. His STEM class is one of several that utilizes the greenhouse, which now has 14 beds of different plants.
"Plain and simple, I think, even as a parent and as a teacher, you're always trying to teach our kids what it means to eat well. Some of our students have never been exposed to it. So they don't understand certain things about what certain foods are, how they grow, I think there are plenty of students out that show if you don't know what a food is, your odds of eating it go way down.
While I was there, the kids were busy taking care of that food, by building a few trusses. They discovered that some of their plant life didn't stick to it's own bed. It was growing all over the place, not socially distancing from their neighbor plants. So, they're making the trusses, to let those problem plants grow upwards instead of outwards.
"It serves not only as an educational tool where we have them learning about soil, soil testing, plant growth rates, different diseases, all STEM, but they're also learning what it means to give back."
The students are growing actual food. Everything from watermelon and peppers to lettuce, kale and tomatoes. And lots of it. So much so that they're able to feed a lot of people, both students and in the community. Boerman says around 65% of the school's students are on free or reduced lunch programs. So, there's a need there. But, they also open the greenhouse up to the community. Last summer, it was a massive success.
"We easily, honestly, lost track at a point. When we stopped measuring, we had between 750 and 800 pounds. But, we had a lot of stuff that went out after that in the fall. So, it was neat to see literally what was produced, and it was neat to see the looks on kids' and families' faces when they said, "This is for free?" And we said, "Absolutely."
Holland Middle School chess set & greenhouse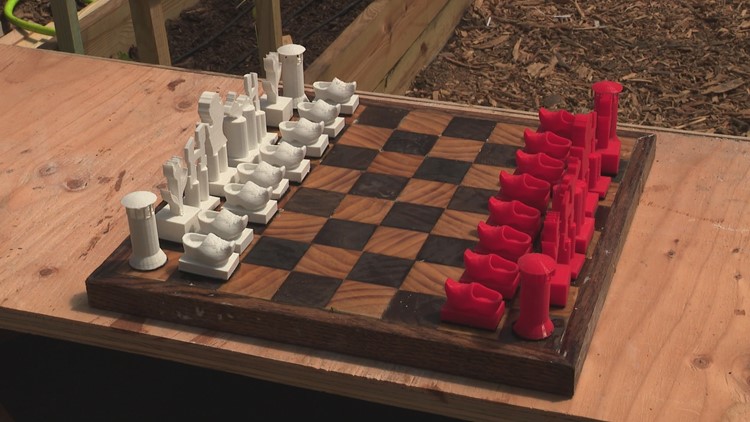 So, as awesome as it is, a STEM class can't be entirely focused on a greenhouse. They do have other lessons and projects to work on. I didn't see one, but I'm sure there are books around somewhere, too. One of those other projects is a custom made, Holland Middle School-themed chess set.
"It was a pretty fun project."
Arthur Powell is in the STEM class. He was on the Construction Team; one of two teams tasked with making the board.
"I picked up pretty much measuring and woodworking mostly."
The other team was the Design Team. It was their job to come up with the themed pieces.
"We decided what are some Holland-related or HMS-related items."
Alan Juarez and his team 3-D printed large Holland Hs for the bishops. Water towers for rooks. Tulips stood in for knights. Upper and Lower Peninsulas were Kings and Queens. And pawns were traditional Dutch Klompen shoes.
"The wooden shoe took the longest, because we had to get the curve just right."
And, oh. The colors are aren't black and white. They're red and white. Just like their school colors. The set is actually their second attempt. Last summer they just made the pieces. But, just that little bit drew a lot of attention.
"We posted it on social media an c d we had a variety of comments from people saying, "Where can I buy one? Where can I get one?" So, from that we looked at upping our game. Designed the board and some bigger pieces.
So, they did. But, there was one more piece missing from this chess set.
"And then auction it off and see how we can give back to the community and put that in the hands of the community. And to watch where they've gone has been fun to see.
They knew what they wanted to do with whatever money they raised. Half would go to Community Action House. That's a local nonprofit with numerous programs. The slogan on their website says from Hunger to Hope. So, they would absolutely benefit and help people from the auction. The other half would go back into the greenhouse.
"The students will use that funding to finish some outside gardening things, landscaping, building some trellises. Those things take finances. So, upgrade the greenhouse, add to their learning, but also add to a tool that's able to be used for the community."
Two final bits here. First... the winning bid was $1,500 dollars.
"I didn't expect the bidding to reach as high as it did... that's more than I could have hoped for."
Even better, that buyer decided to round up his winning bid to $2,000. So, $1,000 for the greenhouse. $1,000 for Community Action House.
"There's no real reason we need to keep the money if we're also getting money."
Finally, the kids didn't have to give 10% of the proceeds to eBay, because they didn't use eBay. One of the STEM students designed their own website specifically for the auction. So, everybody wins. It's not a stalemate. More like a double-checkmate with no losers. And lots of good food.
The has been Alone At The Desk. If you'd to hear more episodes, just go to 13ONYOURSIDE.com/podcasts. You can also find us on iTunes, Soundcloud and Spotify. If you'd like to reach me, you can find me on Facebook or email me at NickLaFave@13OnYourSide.com. Thanks for listening.