LANSING, Mich. — Late in the evening of November 6th, 2018 at the Democratic Party's election night party, election results were still coming in. It was the midterm election, two years after Donald Trump shocked the political world and won the presidency. Perhaps as a backlash to that, a record number of women ran for public office that year. VOX put together some good numbers on this. In Congress alone, 529 women filed to run for a seat, up from 312 two years prior. A starker comparison came from Emily's List. Leading up to 2016, they said just over 900 women reached out to them, interested in running for something. After 2016... it was 42,000. It was a rare sight in Michigan - even for Democrats. All four of the candidates in the top four races - governor, attorney general, secretary of state, and United States senator - were women.
DANA NESSEL: You know, the governor won her race, as you know, handily by nearly 10 points. So her race was called very early. Debbie Stabenow's race was called early. Jocelyn Benson's race was called early. Mine was not. Mine was the closest race.
Dana Nessel was locked in a tight race with the then Michigan State House Speaker, Tom Leonard. Leonard was an up and coming Republican. Just a few years earlier, he'd been named one of the top ten conservatives under the age of 40 by the American Conservatives Union. Nessel had never run for anything. At the time, she was a private practice attorney who'd argued a Michigan case that developed into Obergefell v. Hodges - the Supreme Court case that ultimately legalized gay marriage in the United States. But, outside of legal circles, she was an unknown. She was also trying to become the first openly gay person to hold a state-wide office in the State of Michigan.
NESSEL: And I remember Brandon Dillon, who was then the chair of Michigan Democratic Party saying, We're about to close up shop, like everybody's going home, do you want to make a speech? And I said, Well, I don't know what to say. Because I don't know if I want or not, what am I supposed to say is like, I don't know, just get up there and say something. So what I did do when I was up there is I thanked my family, and I kissed my wife.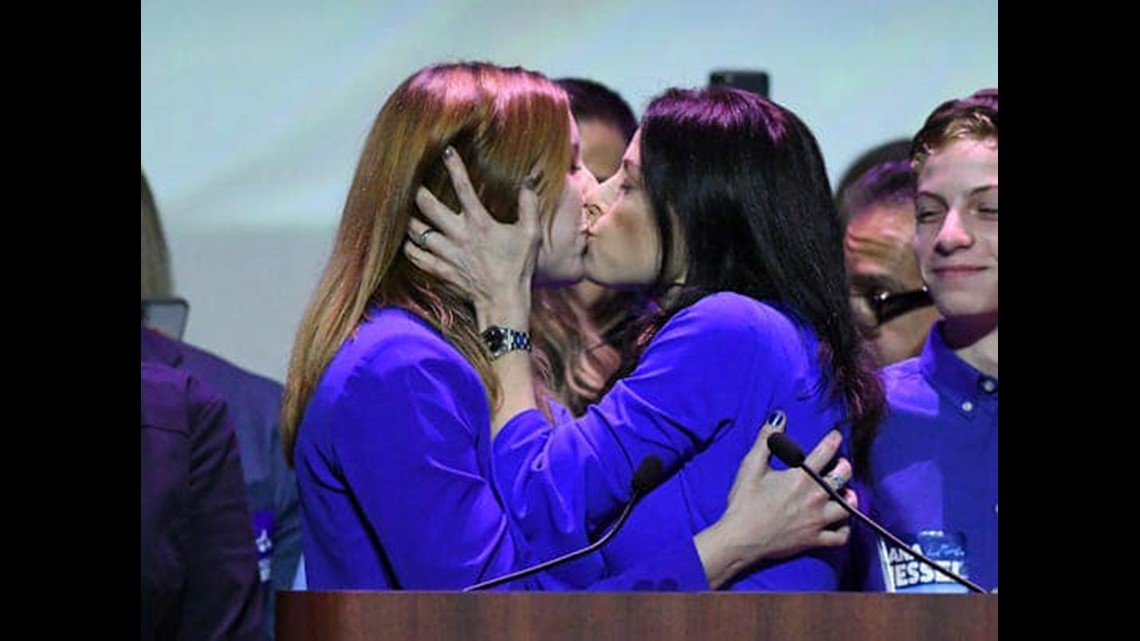 Today, as we near the end of Pride Month, Attorney General Dana Nessel shares with us her 'coming out' story. She talks about the Obergefell ruling and what it meant to her. She opens up about the lack of LGBTQ role models when she was young... and how that role has now been somewhat thrust upon her. She also details how she's worked hard to make sure her gayness is not the defining characteristic of her political profile. And she shares the difficulties she faced as a young woman at a time when being gay was a lot harder - even in a liberal household.
I'm Nick LaFave. This is Alone At The Desk.
Alone At The Desk. A podcast by an average, middle aged guy who just happens to be a TV news anchor. We talk exciting and the boring parts of life, the industry, and life in the industry. And we cover some important stories along the way. Brought to you by 13 On Your Side News in Grand Rapids, Michigan.
In this June 1st Twitter video, AG Dana Nessel and State Senator Jeremy Moss are literally frolicking through the halls of the state capitol. When they stop and catch their breath, they talk about the fun ways to take part in Pride month - like local events. And they suggest ways you might be more considerate of the LGBTQ people around you.
NESSEL: "Make pronouns a priority. Have you ever received an email with a signature containing a person's pronouns? Pronouns are important and using them properly conveys respect for those you're working with."
Open advocacy for Gay Pride Month isn't shocking coming from an openly gay woman. But, open communication about being gay was certainly not something Dana Nessel had when she was struggling to figure out who she was as a youth.
NESSEL: I knew from a very young age, but I didn't have a person, a single person in the world that I felt comfortable talking to about it, not even a best friend.
Nessel grew up in West Bloomfield. She says her upbringing was unremarkable. She gradated from West Bloomfield High. Then she went to Michigan for her undergraduate and Wayne State for law school. The now 52 year old says the first person she told she was a lesbian was her brother. And she was already a grown woman when she did it.
NESSEL: ...but didn't tell the rest of my family. Because I didn't feel as though they would accept it.
Fearing she'd never receive that acceptance, Nessel - like too many others - considered some dark options. And did so for quite a long time,
NESSEL: And frankly, spent many years in my not just my childhood, but all the way into my 20s wondering if my family would be better off if I just wasn't alive anymore. And wondering if it was better for me to take my own life, wondered if it would be better if I moved away and maybe change my name and just, I don't know, fake my own death, left, because I didn't think I'd be accepted by my friends, or my family or my colleagues or anybody. It was a very, very lonely time. And it was a terrible place to be.
Nessel says her family were mostly Democrats. They considered themselves very forward-thinking. But, even in that environment she says being gay - or even thinking about someone in the family being gay - just wasn't on their radar. And it certainly wasn't discussed.
NESSEL: And I knew that my parents and other family members would be deeply ashamed if they ever found out about me. And so I didn't tell them. And they found out, you know, basically, an accidental manner, and didn't take it well. And I went years, decades, with family members who didn't speak to me after they found out. So you know, it was... to say it was a challenge, I think is really an understatement.
Nessel talked pointedly about the lack of LBTQ role models when she was young. Growing up in the 70s and 80s - even as a young woman in the 90s - there really weren't many.
NESSEL: ...when when Ellen DeGeneres did her big coming out on her show, you know, that happened when I was in my I don't know, mid to late 20s.
The significance of that moment for the gay community is huge. It was before marriage equality. It was before Will & Grace. It was the star of a major affiliate comedy coming out as gay on the show... even though it was obvious DeGeneres was talking about herself AND her character. Shortly thereafter, she wound up on the cover of TIME Magazine. That moment started a new national conversation about being gay. But this was still the exception for high profile people who were out, not the rule.
NESSEL: I mean, I, I often had my suspicions about whoever was the center square on Hollywood Squares, but it was not really openly talked about.
That's the second time Nessel referenced homosexuality not being talked about. First with her family and now in public settings through media... and she combines it with the lack of role models. And she's talking decades ago. It wasn't until this very week when - for the first time - an active NFL player came out as gay.
I want to take a quick moment to say that I'm gay. I've been meaning to do this for a while now. But I finally feel comfortable enough to get it off my chest.
Carl Nassib of the Las Vegas Raiders said the decision to come out was a moment of gratitude and relief.
I just think representation and visibility are so important. I actually hope that one day coming out videos like this are not necessary.
Out athletes are still few and far between. As are out politicians. On the campaign trail, while running for Attorney General, Nessel says she was approached by former US Representative from Massachusetts Barney Frank. Frank had been openly gay for years, and offered to appear with her.
NESSEL: And I said, of course, yes. And of course, he, you know, he was a person that he was a role model that I think he did very, a lot of important things in Congress, but he was closeted when he was in Congress, and it took him a very long time. And it took being frankly outed, you know, for a lot of these individuals, so they're just I wish I could point to somebody and say, well, that person or that person, but we didn't have people like that for people my age, Generation X, you know, we just did not have what what the millennial generation or Generation Z has to look up to. And and that's why I really do hope that you know, whether you agree with me or not, from a political perspective, I think for kids that are growing up, that are LGBTQ, that at least they'll be able to look at my experience with my story. And say, you know what I can be who I am, I can love, you know who, who I love. And I can still be something in life and I can be somebody that people look up to and respect if not me personally than my office. Right? And, and that I don't have to be ashamed of myself, I don't have to run away. I don't have to think of ways to take my own life. Because one day, I can be accepted for who I am.
LAFAVE: That's exactly one of the reasons why I wanted to talk to you about this. And I appreciate the candor that you're doing and sharing this. Because we tell kids who are having all kinds of issues when they're kids, but this is specifically one of them. The phrase, it gets better, when did things start to get better for you, in being openly who you are?
NESSEL: Well, I mean, it was it was later in life, you know, it was when I was able to come to terms with who I was, it was when I was able to find someone who, you know, who I could be in a relationship with that I that made me, you know, feel like I was living my authentic life. And it was, as time went on, and knowing that people could love me for who I was. So that was a big part of it.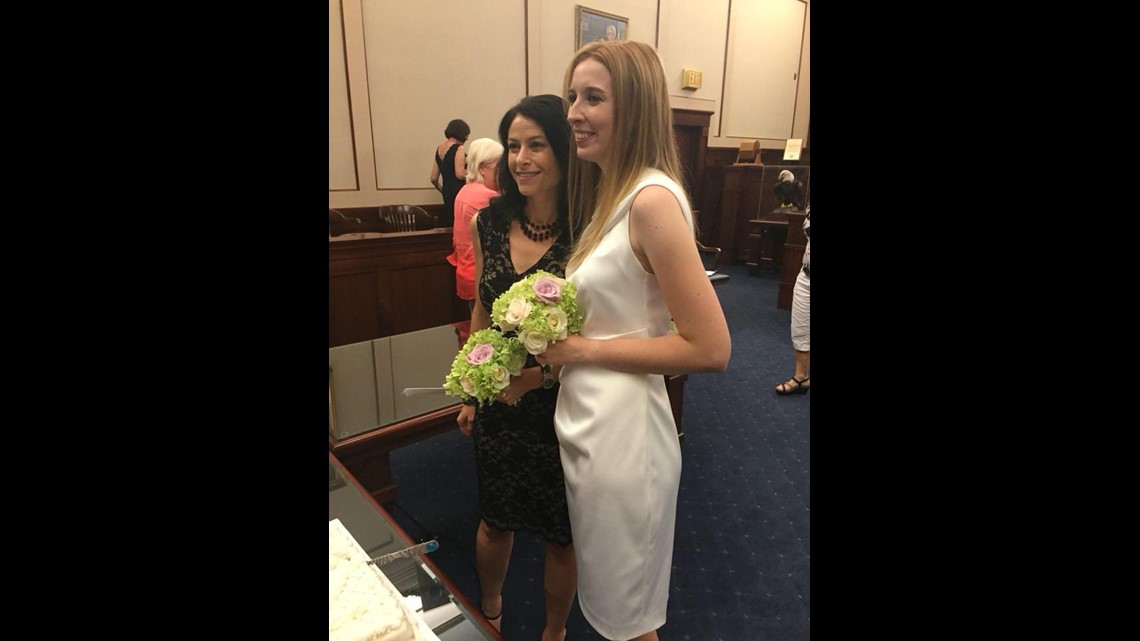 Nessel then talked about her career more. She thought about the success she was having early on... and that it could be something to point to... so she wouldn't be an embarrassment to her family. The case that catapulted her into the public was DeBoer v Snyder - the one that morphed into Obergefell, and ultimately allowed her to marry her now wife... to whom she proposed on the steps of the Supreme Court... immediately after arguments.
NESSEL: It was very personal to me, there's no question. I mean, I want it to win it so badly on behalf of our clients and their children. But also, on behalf of the hundreds, not 10s, but hundreds of 1000s of people in our state that identify as LGBTQ, um, and knowing the life difference that that would make, to be able to be legally married and having hundreds of rights that automatically attached to a marriage, including the ability again, to have to legal parents to your children. It's a very big deal.
An interesting side note to the case, after that 5-4 ruling was announced. Nessel was sitting on a couch with the Michigan couple whom she originally represented. That got a lot of attention. But, what happened a few weeks later hasn't been as widely reported.
NESSEL: I got married to my wife, by Judge Friedman, who was the district court judge that decided our case, in the courtroom where the same sex marriage trial was held against the lawyers from the Department of Attorney General, who all now work for me.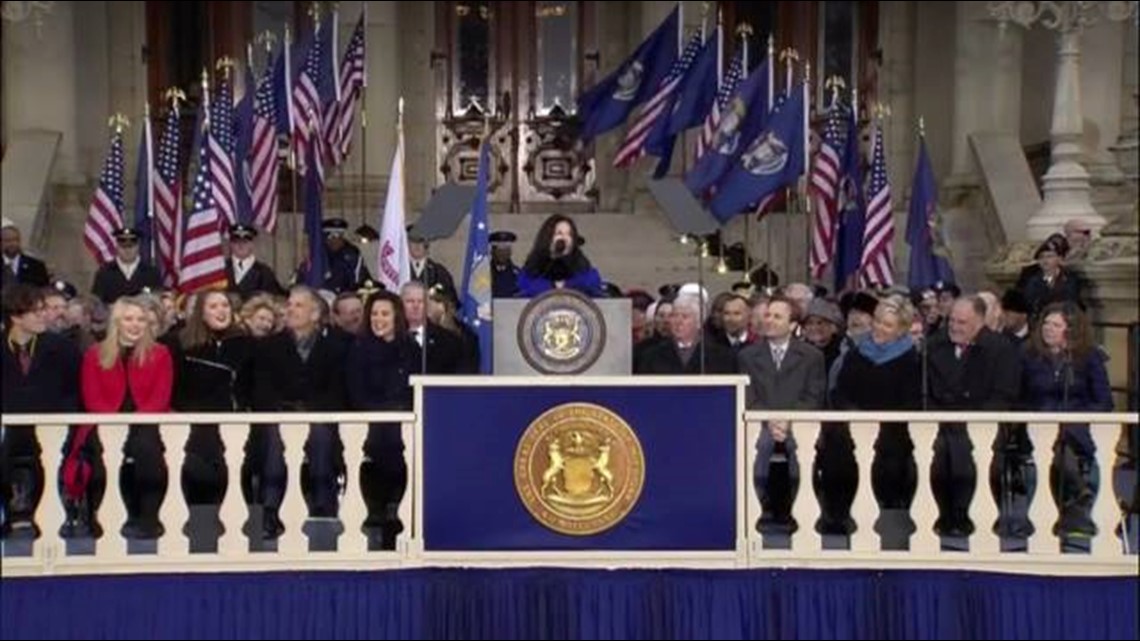 They work for her now because she won that Attorney General's race by less than there points. And, she admits the case was a catalyst for her run for attorney general. But, she's also quick to say it was far from the only thing.
NESSEL: I, you know, I'm in a same sex marriage. And I certainly never hid that I certainly didn't hide my sexual orientation during the course of the campaign. But also, I didn't just talk about LGBTQ issues. I talked about so many different issues that I think a lot of people around the state were like, Yes, I wanted attorney general who cares about consumer protection? Yes, I wanted three general cares about ratepayers. And I want an attorney general, who cares about clean drinking water. And so the the items that I focused on where you're sort of bread and butter, types of issues that that I think, appeal to a lot of people, and and of course, I was pretty firm on my stance on LGBTQ rights, but it just wasn't the only thing that I talked about. So it was sort of clear. I guess that I wasn't, I wasn't seen just as like that lesbian running for attorney general. I was seen - I hope - as more than that.
Despite all that success, despite being the 54th Attorney General of the State of Michigan... Nessel says - for some in her family - it still wasn't enough.
NESSEL: And I remember very candidly having a conversation with my mother, when she shared with me how, you know, her despair, I in you know, what, what will I tell my friends? What will people think of my family if they know this about you, and really not wanting anyone to know that about me? And you know, me saying, hey, look, you know, I, I was a, you know, an honor student all through school, never been arrested, was an all state athlete. By the time I was 30, I had tried over a couple dozen homicides, some of the biggest cases in the state of Michigan, and I was I thought I'd be somebody that my family could be proud of. And if this is the one thing that makes you ashamed of me, then maybe you shouldn't have a relationship anymore. Because I'll never be able to make you proud, because I'll never be able to be the person that you want me to be. And it was that really sort of, I guess, come to Jesus moment of, you know, either you accept me as I am, or we can't, we can't have a relationship anymore with members of my family. And some of my family members chose to maintain a relationship with me, and others decided not to.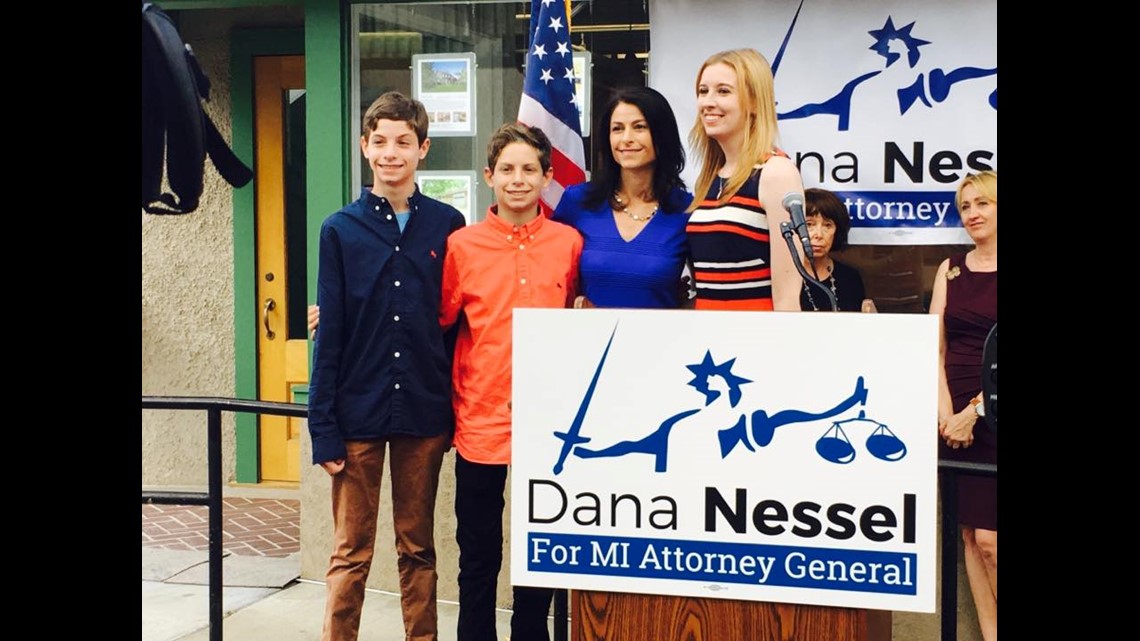 Nessel is one of a group of high-profile LGBTQ+ politicians who are becoming more numerous. Secretary of Transportation Pete Buttigieg. Senators Tammy Baldwin of Wisconsin and Kyrsten Sinema of Arizona. Colorado Governor Jay Polis. So, things are more high profile people from the gay community in elected office. And things seem to be better for gay youth. But, Nessel says there's progress yet to be made. And she's both optimistic and pessimistic.
NESSEL: And I say that, just because, as you indicated, first of all public opinion, has, you know, it continues to improve dramatically in terms of, you know, we now see, for the first time ever, that a majority of Republicans approve of same sex marriage. When you look at the population as a whole, of course, it's, you know, the vast majority of Americans. But if you look at amending Elliott Larson, and including sexual orientation and gender identity, or close to 80%, of Michiganders that approve of that, but on the other hand, we now have the most conservatives courts that we've ever had in my lifetime. And that makes it difficult because when I see the cases that they're taking and one of them is as an adoption case that will directly affect us in Michigan involving whether or not state tax dollars can be used to find adoption agencies that discriminate against same sex couples and discriminate against LGBTQ people. I see a number of enormous rollbacks and The law from where we were in 2015 when Obergefell was decided. So, on one hand from a, you know, public opinion standpoint, we're moving, you know, ahead quickly. But from a legal perspective, we're moving backwards. And so it's going to be interesting to see what happens when those two things coalesce together. So I'm excited about the future. But I'm also fearful about the future at the same time, and I know that those things seem contradictory. But both those things are happening simultaneously.
As we end, I want to share a few more statistics. According to the Trevor Project, suicide is the 2nd leading cause of death among young people ages 10 to 24. and they seriously contemplate suicide at almost three times the rate of heterosexual youth. But, there is help out there. There are people who will listen. Call 1-866-488-7386.
NESSEL: And I hope that other people who are younger than me, and are of the next generation or the generation after that won't have to go through the types of things that people my age went through. And that feeling of have horrible loneliness and, and the feeling of never being accepted for who you were, and having to pretend to be somebody else, quite honestly, in a way that I think is psychologically extremely damaging to an individual. I hope that those days are over.