HENRY COUNTY, Ga. -- Authorities have confirmed four people have died in a wreck that shut down all northbound lanes of Interstate 75 in Henry County on Thursday.
The crash, which involved two tractor-trailers and one other vehicle, happened just around 12:15 p.m. on northbound I-75, just north of the Hwy. 155 exit.
According to initial information from police, the first tractor trailer began slowing down as it cam upon traffic. A Chevy pickup truck pulling a trailer of pine straw was following behind and also slowed. But a third vehicle - another tractor trailer - failed to slow down and slammed into the back of the pickup.
The impact of the crash pushed the pickup into the first tractor trailer and sparked a massive fire. All four people inside the pickup, authorities said, died as a result. Their identities still have not been released.
The driver of the at-fault tractor trailer was taken to an Atlanta-area hospital with non life-threatening injuries.
SkyTracker11 was over the wreckage and showed a burned out cab of one truck and back end damage to the other truck. Crews could be seen putting out small fires and clearing debris from the roadway.
I-75 fire and crash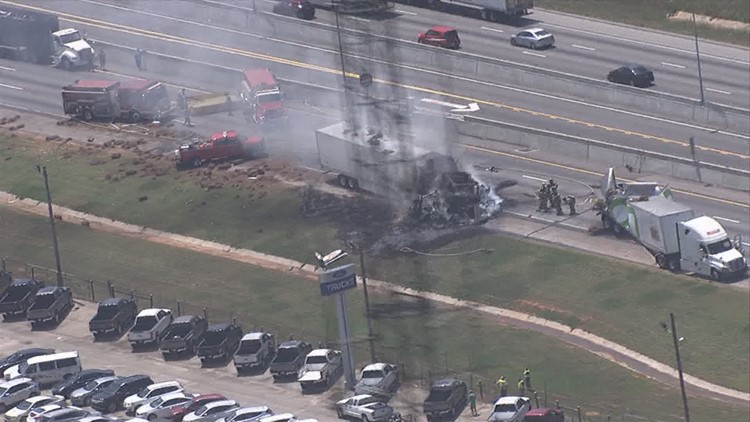 First responders were on the scene routing traffic off of I-75 at the northbound Hwy. 155 exit ramp. While there were no southbound lane closures, traffic was backed up. Around 6 p.m. multiple northbound lanes had been reopened, but traffic was still very heavy.