MICHIGAN, USA — As fall settles in, one of nature's greatest shows is about to begin all across Michigan.
We're gradually saying goodbye to the muggy days of summer and hello to crisp fall air. So, as cider mills, apple orchards, and corn mazes fill our weekend plans, we can't forget about the red-yellow-gold colors that will soon line our streets.
As the leaves begin to turn, there are slight variations in the timing of peak fall color depending on your location across the state. To see leaves at their best and brightest we want to make sure we are at the right place at the right time.
Why do leaves change color?
There are a few reasons leaves change color every year: shorter daylight, cooler temperatures, and localized stress to individual trees/shrubs that occurred throughout the year.
In the spring and summer, the production of chlorophyll gives leaves its green pigmentation. Chlorophyll is important because it helps make energy from sunlight – the process of photosynthesis. During spring and summer when there is more direct sunlight, plants make plenty of chlorophyll.
As summer turns into fall, and the amount of daylight fades, trees shut down chlorophyll production in their leaves to conserve energy and prepare for winter. The decreasing chlorophyll reveals other pigments that were already in the leaves but masked during the warmer months. As a result, hues of yellows, oranges, and reds take over.
Each fall season and the timing of color change, however, is dictated by weather conditions. Temperatures and the amount of rainfall can influence the longevity and vibrancy of fall colors. Any early frost in the season would weaken the color. Ideal weather is warm days and cool, but above-freezing, nights, along with near-normal precipitation.
Some trees begin changing very early, as soon as mid to late summer, due to stress caused by drought, disease, or other elements that were brought throughout the year.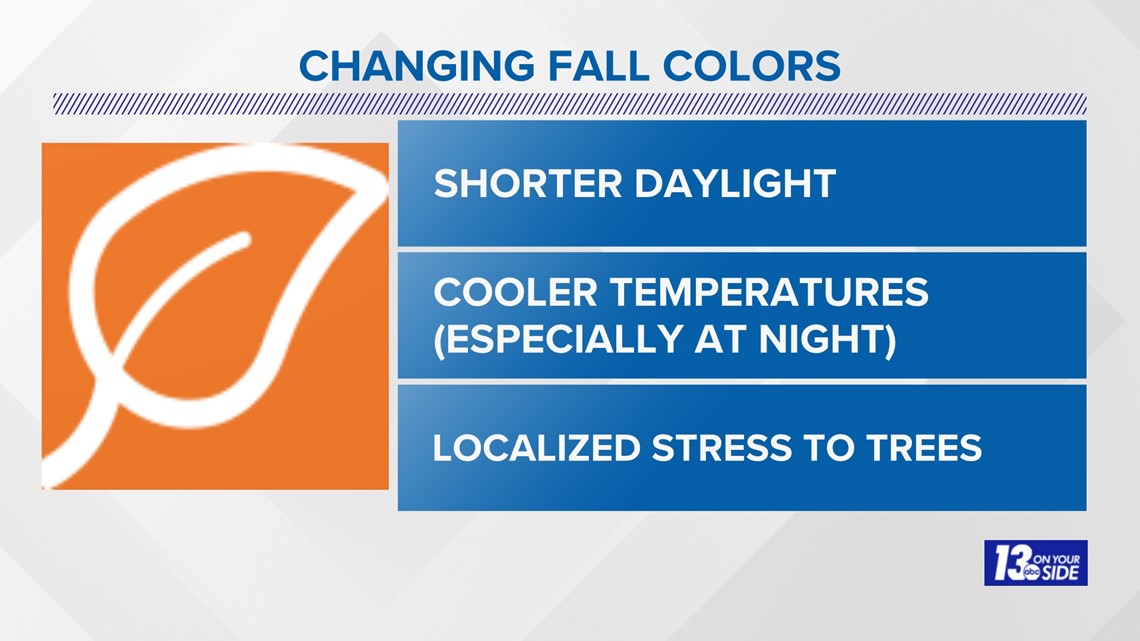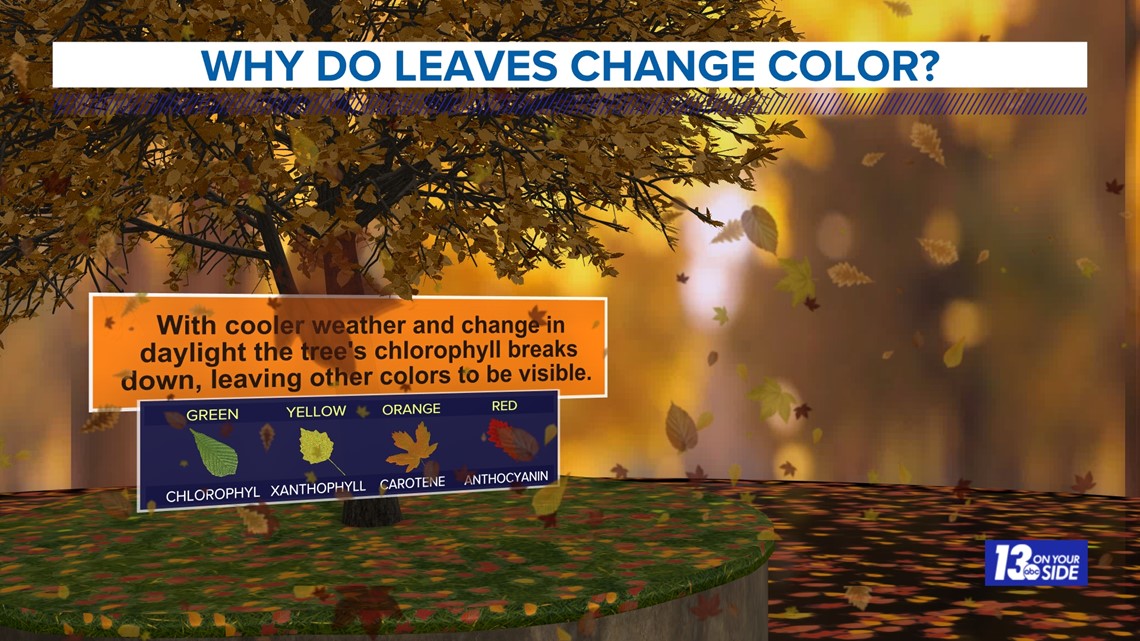 Timing of peak color for fall 2022 in Michigan
Predicting the peak and vibrancy of fall colors is never failproof, but a rough estimate can be made in specific regions across Michigan.
Much of Michigan is heading into autumn with little to no drought, which trends for a longer length of fall colors. An exception is Central Lower Michigan as summer was abnormally dry and low-end drought conditions remains in The Thumb region.
Temperatures in September (through the 20th) have been well above-average across Michigan, which usually signals a slower change to peak color. However, cooler temperatures – near to below-average – are expected most of the rest of the month, which will kickstart the color change.
Stop #1 – The Upper Peninsula
Peak: Late September – Early October
Spotty color is already underway, especially across higher elevations in the western half of the Upper Peninsula. Peak color will overtake much of the Upper Peninsula throughout the first week of October.
Take a brisk morning drive down color-coated roads through the Upper Peninsula. Places such as Goose Lake and Tahquamenon Falls make photographers' dreams come true.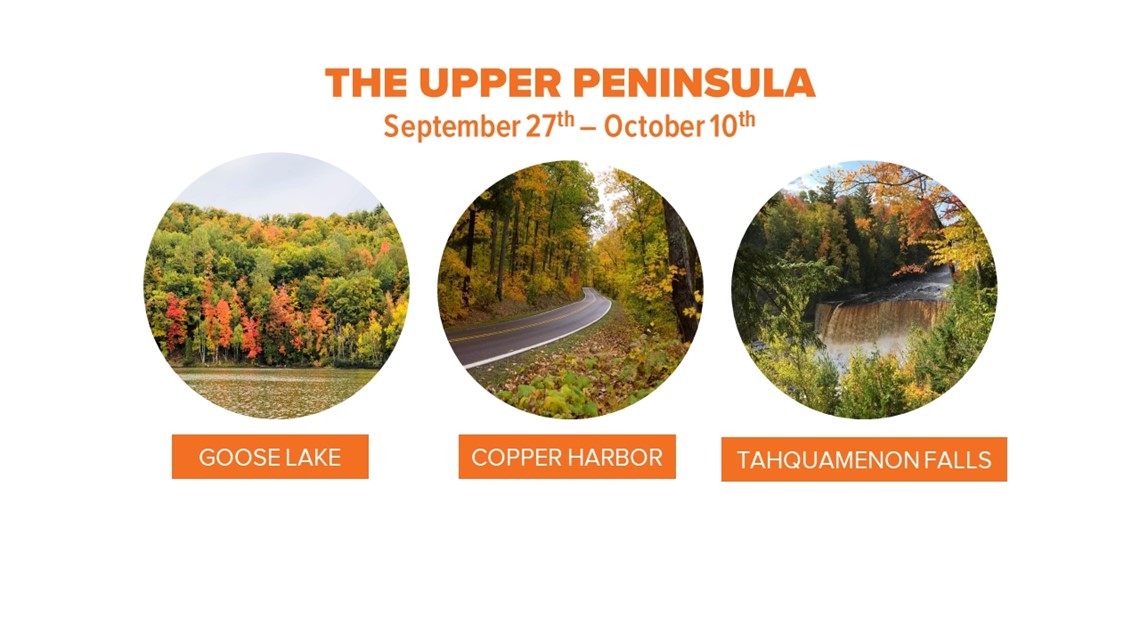 Stop #2 – Northern Lower Michigan
Peak: Early – Middle October
Color will become noticeable the first week of October before turning peak throughout the second week, lingering into the third week in localized spots. Higher elevations – Gaylord, Cadillac – will change colors sooner compared to places closer to Lake Michigan or Lake Huron.
If you don't want to travel quite as far, take a trip to the Tunnel of Trees north of Harbor Springs along M-119 or head to Sleeping Bear Dunes up to Old Mission Peninsula. Ocqueoc Falls, between Onaway and Rogers City, is another gem across N. Lower Michigan.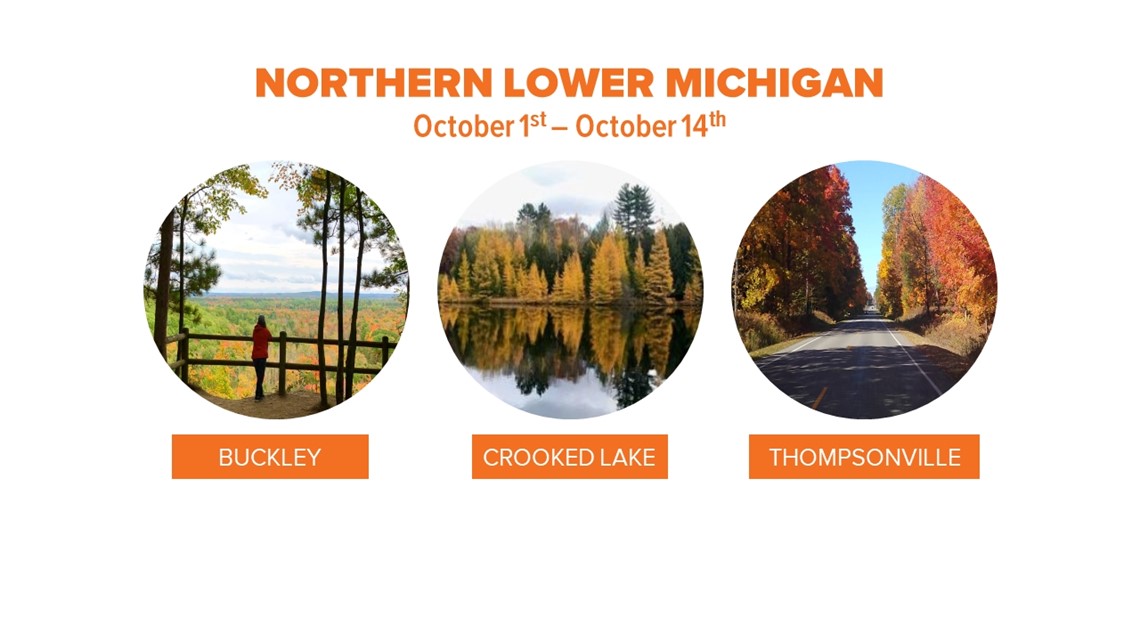 Stop #3 – Central Lower Michigan
Peak: Middle October – Late October
Color has not begun further south across the Lower Peninsula, but it won't take long! Spots like Zeek Lake and Newaygo always pull through with the most beautiful colors.
It remains a question how vibrant peak colors will be across Central Lower Michigan as this region of the state has battled low-end drought conditions throughout much of the warmer months.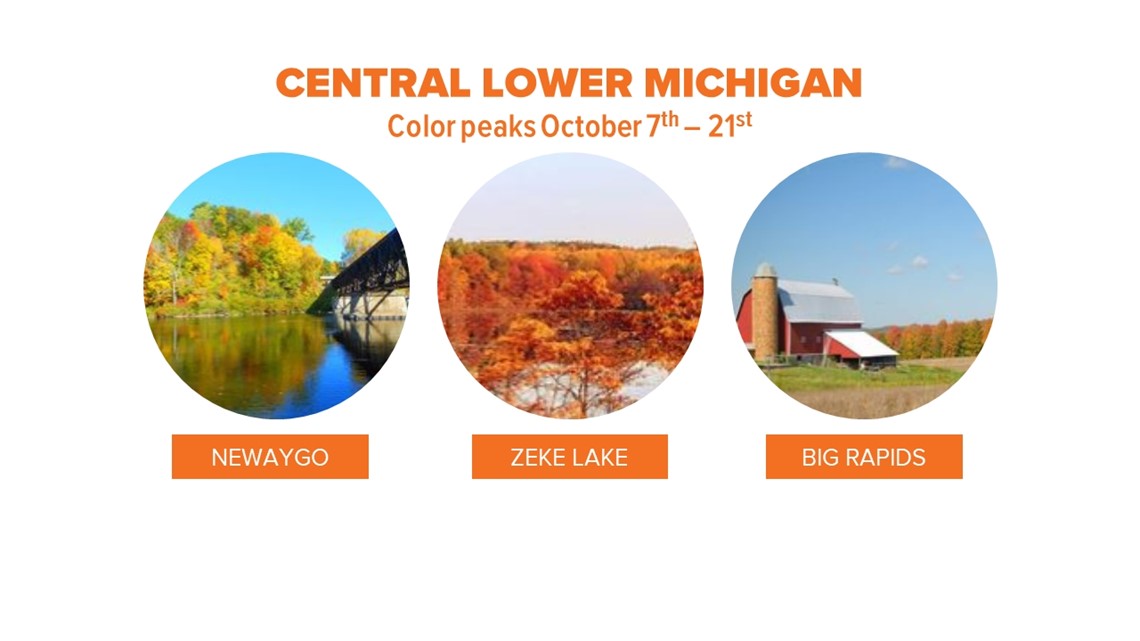 Stop #4 – Southern Lower Michigan
Peak: Middle October – Early November
If you just can't get enough, or maybe don't want to travel at all, Southern Lower can be your final stop. From Holland to Grand Rapids to Lowell the colors are sure to shine bright.
Peak colors will arrive the latest here, with the second half of October the primary time. Depending how temperatures fair in October, peak color may linger into early November in spots.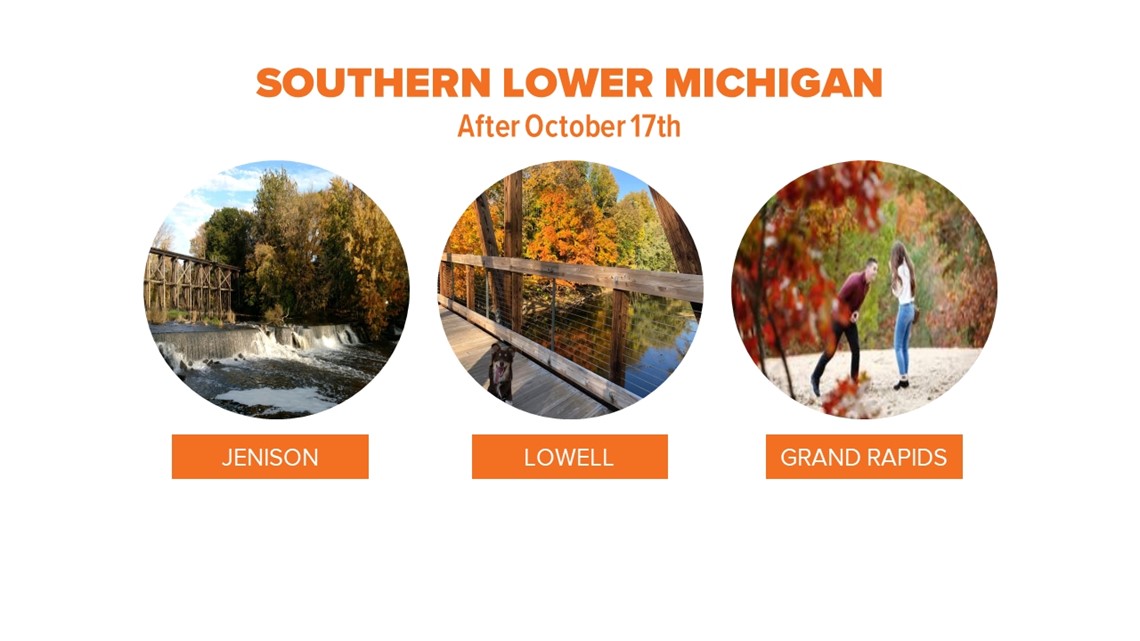 Other ways to track the changing fall colors
Of course, these time frames are all estimated based on prior years and current weather and soil conditions, but this should be a solid starting point!
If you're planning on a trip to the U.P., fall color updates can be found here. Updates across the entire state can be found here.