A rapidly strengthening storm is predicted to spawn high winds that could lead to power outages and property damage in the Midwest and northeastern United States and flooding along the shores of the Great Lakes spanning late Saturday to Monday.
The new storm is forecast to form over the Great Plains on Saturday, and AccuWeather meteorologists said that it will be a spin-off from a potent storm that slammed the Northwest on Friday with winds greater than 90 mph, heavy rain and mountain snow.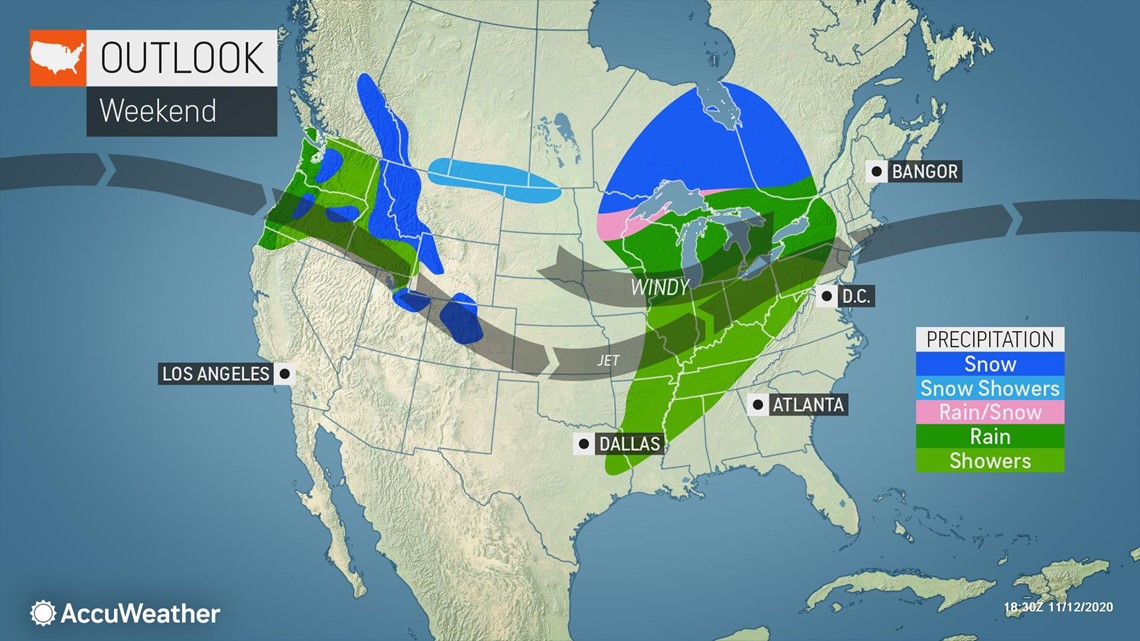 As the Northwest storm begins to transfer its energy farther to the east, high winds will rock areas from Montana, Wyoming and Colorado into parts of Kansas, Nebraska and the Dakotas Friday night to Saturday evening.
The new storm will rapidly strengthen and roll northeastward from Kansas on Saturday to northern Michigan on Sunday. Storms that behave in this manner during November are notorious for triggering high winds around the Great Lakes and across the Midwest, according to AccuWeather forecasters.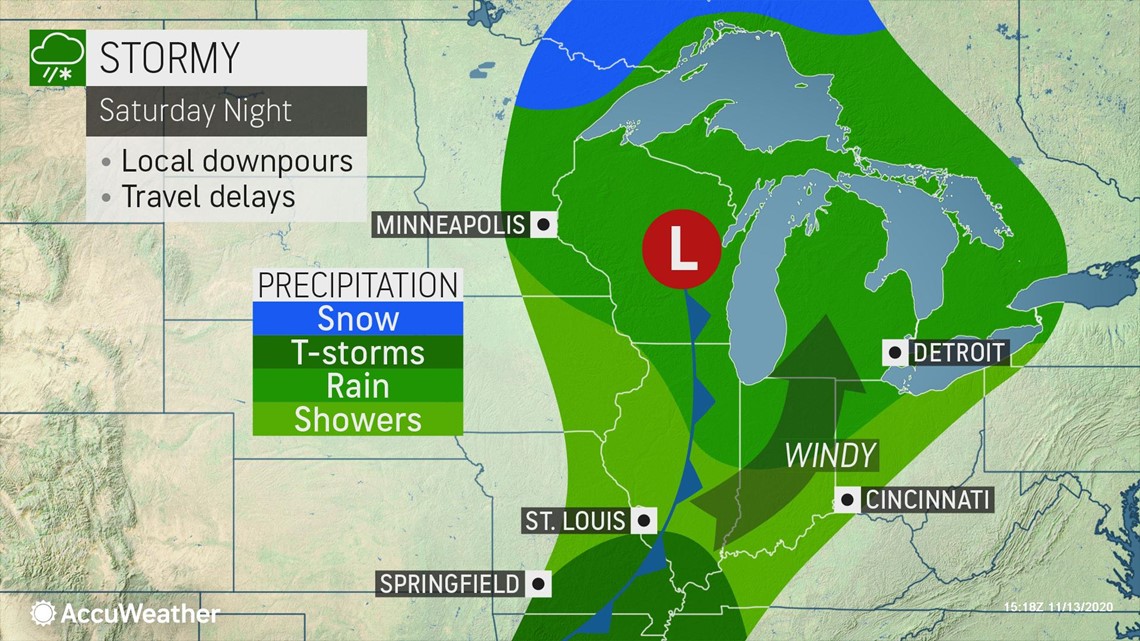 Winds will ramp up on Saturday and Saturday night across the Plains and Midwest.
"By Sunday, a broad area of wind gusts ranging between 40 and 50 mph are forecast to extend from Missouri, Iowa and Wisconsin to Virginia, Maryland, Pennsylvania and New York state," AccuWeather Senior Meteorologist Brett Anderson said.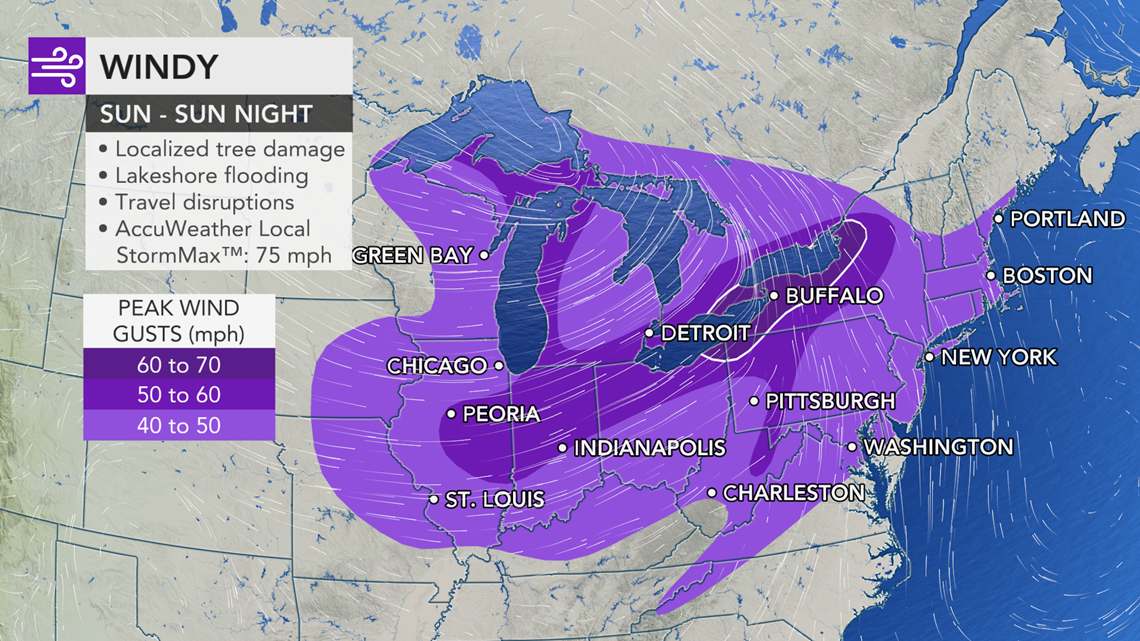 "A swath of stronger winds ranging between 50 and 60 mph is forecast from central Illinois to western and central New York state with an AccuWeather Local StormMax™ wind gust of 75 mph centered around lakes Erie and Ontario from Sunday to Sunday night," Anderson added.
Winds this strong can not only knock down trees, break large tree limbs and lead to regional power outages but can also cause property damage and lakeshore flooding.
Fierce winds could whip water toward the shorelines of the Great Lakes, causing localized flooding concerns.
On Sunday, powerful southwesterly winds could lead to significant lakeshore flooding in Buffalo, New York. Meanwhile, winds from the west and northwest could threaten lakeshore flooding in places like Michigan City, Indiana, and Benton Harbor, Michigan.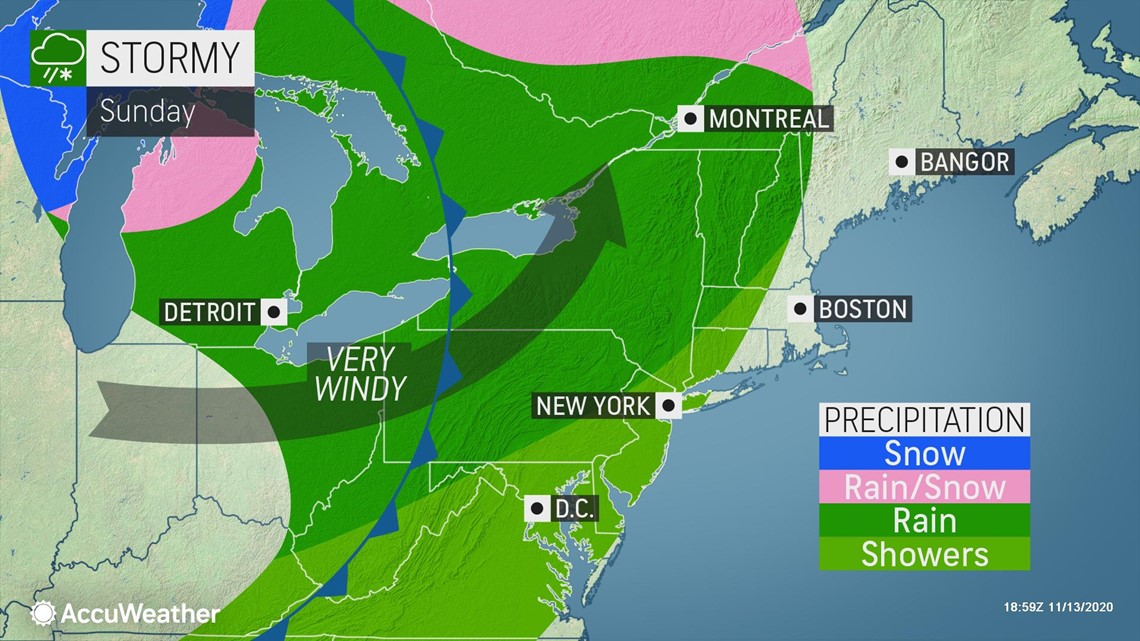 During Sunday night and Monday, strong winds will spread to coastal areas of the mid-Atlantic and New England. Gusts between 40 and 50 mph will be common with local gusts to 60 mph possible. Travel over high bridges in Philadelphia and New York City could be hazardous, especially for high-profile vehicles such as trucks and trailers.
Airline delays and turbulence could be issues that airline passengers face as the strong winds take aim.
In addition to producing high winds, the storm will bring locally heavy rain, snow and the potential for heavy, gusty and locally severe thunderstorms.
Thunderstorms will erupt from northeastern Texas to Michigan on Saturday into Saturday night -- and some of them could become strong. On Sunday, there is the potential for strong storms to ignite from West Virginia and Ohio to the western and central parts of Pennsylvania and New York state. The greatest threat will be from sudden, strong wind gusts, but hail and torrential downpours are also expected to develop in some areas.
Windswept rain is forecast to race along with the storm from the Mississippi Valley on Saturday through the Midwest during Saturday night. Rain and wind will spread over the central Appalachians on Sunday and New England and the upper mid-Atlantic coast during Sunday night. The combination of rain and wind will lead to miserable driving conditions with the risk for localized urban flooding.
The bulk of the rain will roll through Chicago and Milwaukee during Saturday evening and the overnight but may hold off in Detroit and Indianapolis until late Saturday night. The rain is predicted to sweep through Pittsburgh during Sunday morning and then New York City during Sunday evening.
As the precipitation encounters colder air, it will be wintry rather than raw and rainy for some areas. The air will only be cold enough for accumulating snow to fall initially from northern Minnesota to part of northwestern Ontario. However, as the setup evolves, wintry precipitation will become more widespread.
Colder air will sweep across the Great Lakes on the storm's backside, triggering lake-effect snow, which could last for several hours, across northern Wisconsin and Michigan on Sunday. Western and central New York state and northwestern Pennsylvania will get lake-effect snowfall on Sunday night. A few inches of snow are possible where bands of snow persist.
A heavier dose of lake-effect snowfall is likely to extend southeastward across the Great Lakes to the central Appalachians spanning Monday night and Tuesday.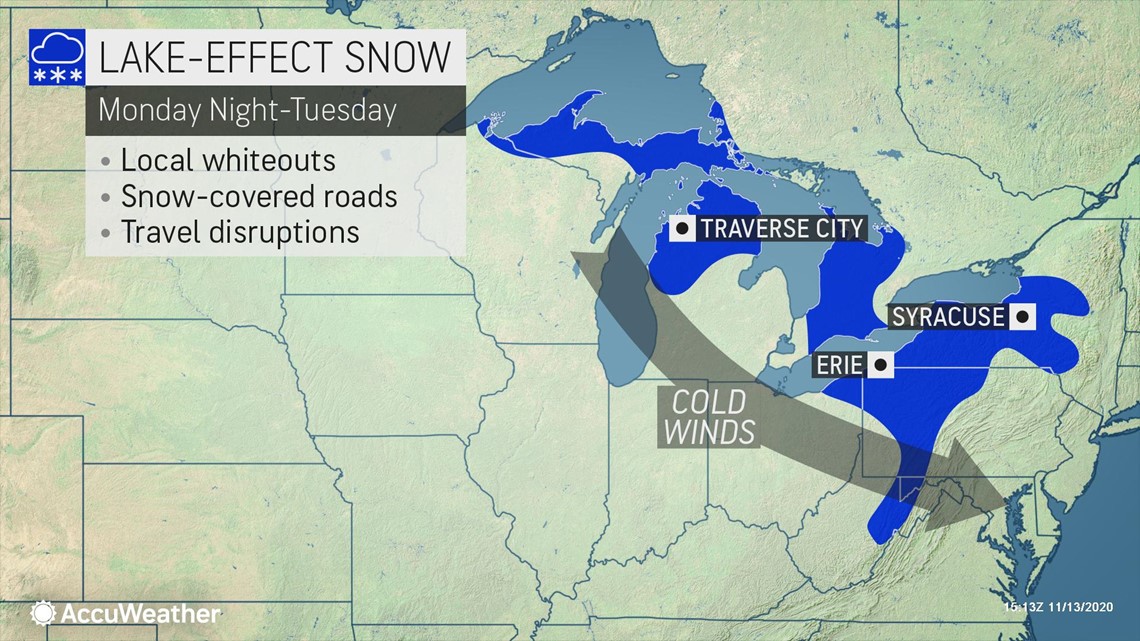 "It is during the lake-effect event during early next week, when hazards from blinding snow squalls and sudden slippery conditions could arise for motorists," Anderson said.
Dangerous conditions could strike suddenly in bursts of snowfall across portions of major highways such as Interstates 76, 79, 80 and 90 on Monday night and Tuesday.