A potent storm that brought gusty winds across much of the northern tier of the United States for the start of the week, also triggered the start of more wintry weather across the Great Lakes.
Damaging winds began across the Upper Midwest on Sunday morning and continued to roar across much of the northeastern quarter of the United States as the storm system intensified through Sunday night. These gusty winds caused hundreds of thousands of power outages as winds sweep through the northeastern U.S. through Sunday night.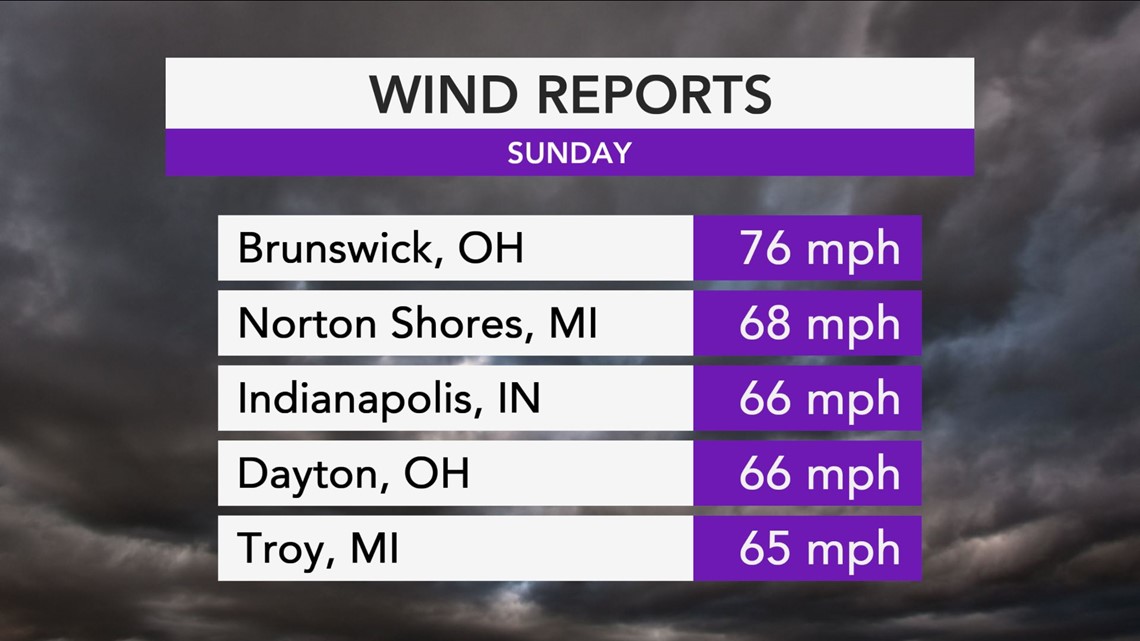 While many across the Great Lakes, the Northeast and the mid-Atlantic experienced showery, blustery conditions on Sunday, a select few also experienced winterlike conditions. In addition to elevating damage concerns, these gusty winds also acted to rev up the the lake-effect snow machine across the Great Lakes.
"Colder air [swept] across the Great Lakes on the storm's back side, triggering lake-effect snow, which [lasted] for several hours across northern Wisconsin and Michigan on Sunday." AccuWeather Senior Meteorologist Alex Sosnowski said.
Lake-effect snow falls when the air is significantly colder than the surface of the water in the Great Lakes. As the moist air from the Great Lakes is forced over land and rises in elevation, snow is produced.
Lake-effect snow began Sunday night for portions of western and central New York as well as northwestern Pennsylvania.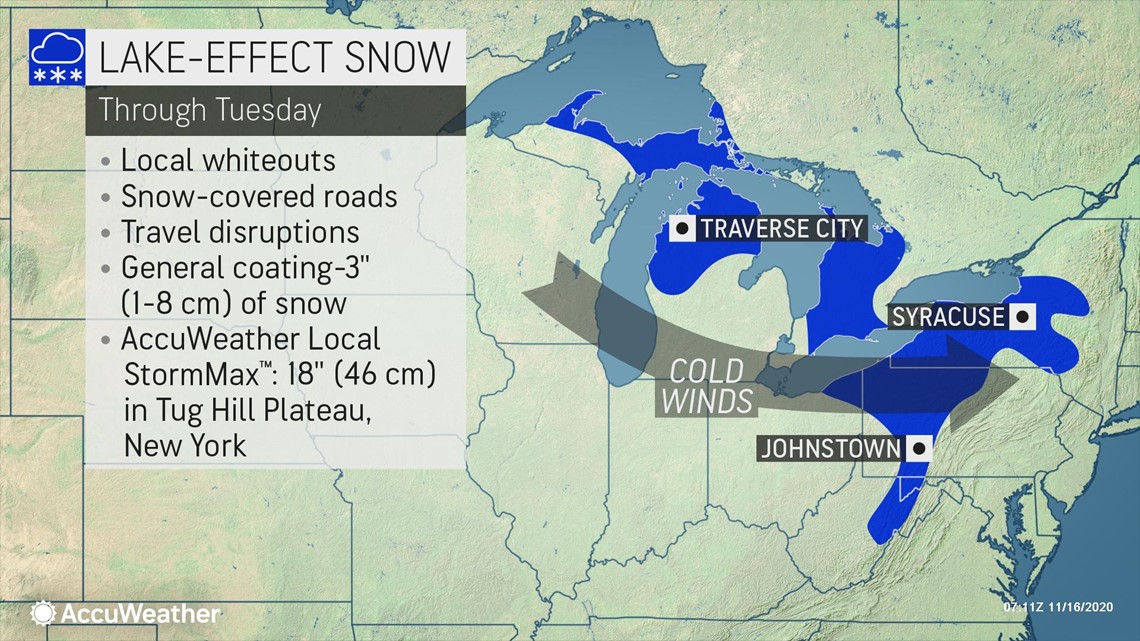 As is typical of lake-effect snow events, snow amounts can vary significantly within a short distance.
"During a lake-effect event, the intensity of the snow usually depends on how much colder the air is above the ground, when compared to the surface temperature of the lake," Sosnowski said.
Sunday and Sunday night, impacted areas downwind of the Great Lakes can receive a general coating to an inch or two of snow. As of Sunday evening, 2 inches of lake-effect snow had fallen in places like Cadillac, Michigan. Higher-elevation areas, like New York's Tug Hill Plateau, will likely receive several inches of snow by Monday morning.
Lake-effect snow showers will continue for a few locations close to their respective lakeshores on Monday, but overall accumulations will be lower than what falls during the Sunday-Sunday night time frame.
A more troublesome lake-effect snow event will kick into gear on Monday night as yet another potent cold front swings through the eastern Great Lakes. In addition to even lower temperatures, more moisture will filter into the eastern Great Lakes behind this front. Gusty winds will blow across lakes Erie and Ontario and shift the lake-effect snow machine into gear.
Lake-effect snow bands will be able to travel farther south and east into the central Appalachians as a result of the atmospheric setup Monday night through Tuesday. Through Tuesday, a general 1-3 inches of snow can fall across areas farther away from the lakes, including the higher elevations of western Pennsylvania and northern West Virginia.
Locally higher snow amounts can fall in the immediate vicinity of the lakes or in higher-elevation areas. An AccuWeather Local StormMax™ of 18 inches is forecast for New York's Tug Hill Plateau.
Lake-effect snow events can turn dangerous -- or even deadly -- very quickly, especially during one of the first prolonged events of the season. Lake-effect snow bands, known as snow squalls, create a very real danger for motorists as visibilities can drop to near zero in a matter of moments.
These conditions, known as "whiteouts" may not allow drivers to even see the car in front of them and can make road conditions slippery in a hurry.
"Dangerous conditions could strike suddenly in bursts of snowfall across portions of major highways such as interstates 76, 79, 80 and 90 on Monday night and Tuesday," Sosnowski said.
On Tuesday, flurries and a few snow showers may even be able to make it as far east as Philadelphia or New York City. While little to no accumulation is likely to be recorded, travel conditions may become slick for brief periods, so travelers should use caution.