GRAND RAPIDS, Mich. —
What is a Clean Air Action Day?
A Clean Air Action Day is declared when ground-level ozone and fine particulate matter exceed air quality standards.
A Clean Air Action Day has been declared for today, Thursday, June 8, and Friday, June 9 through noon. This is because pollutants are expected to be in the unhealthy range for sensitive groups.
This is in effect for the following counties: MASON, LAKE, OSCEOLA, CLARE, OCEANA, NEWAYGO, MECOSTA, ISABELLA, MUSKEGON, MONTCALM, GRATIO, OTTAWA, KENT, IONIA, CLINTON, ALLEGAN, BARRY, EATON, INGHAM, VAN BUREN, KALAMAZOO, CALHOUN, and JACKSON.
What is the Air Quality Forecast?
The air quality forecast is currently in the category defined as "Unhealthy for Sensitive Groups" but was in the "Unhealthy" category earlier this morning and will likely fluctuate between the two this afternoon and tomorrow morning.
"Unhealthy for Sensitive Groups" means that vulnerable people, such as children, older adults, and people with lung diseases should limit the amount of time spent outdoors.
"Unhealthy" is one category higher and means that everyone should limit exertion and time spent outdoors.


Why is this happening?
Smoke in both the upper and now lower atmosphere originated from Quebec and Ontario Canada. The upper-level haze is coming from our jet stream and the lower-level pollutants are likely being brought by surface winds.
How can I help?
When a clean air action day is issued, you should limit doing things that could lead to additional ozone formation—such as mowing lawn, refueling gas, and using gas or electric grills. Carpooling, walking, or biking to work can be helpful on Clean Air Action Days.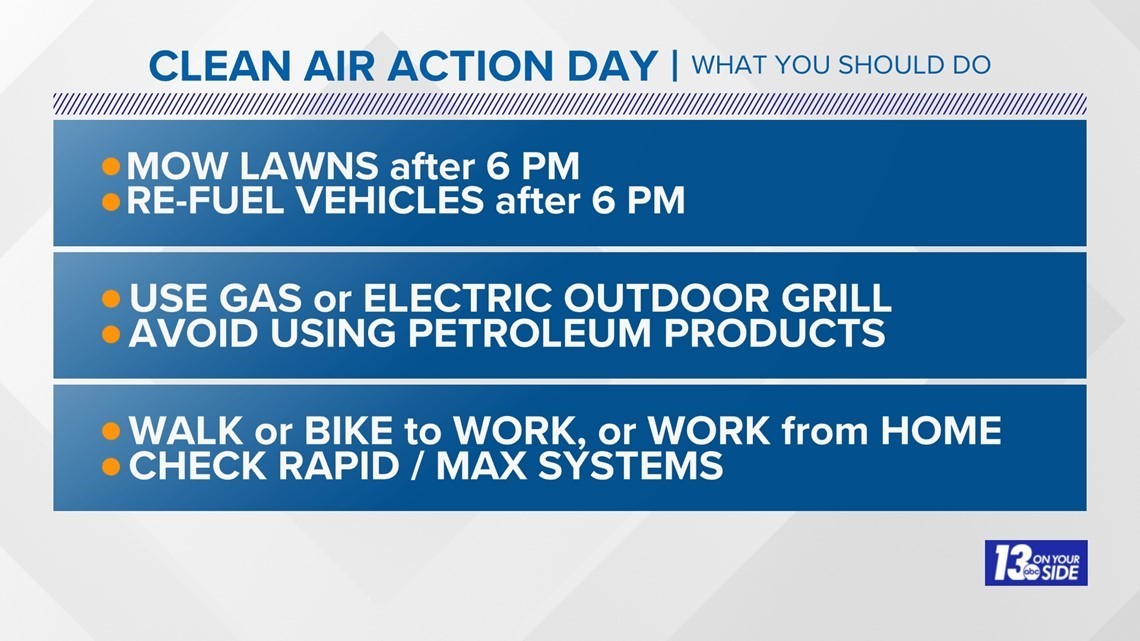 Where Can I Monitor the Current Air Quality?
Here are several websites that have air quality information: