GRAND RAPIDS, Mich. — The 45th anniversary of the Blizzard of 1978 spurred me to look into how that particular snowstorm compared to the most-recent blizzard in the days before Christmas 2022.
Why does the Blizzard of 1978 remain the worst in the last 100 years?
Blizzard of 1978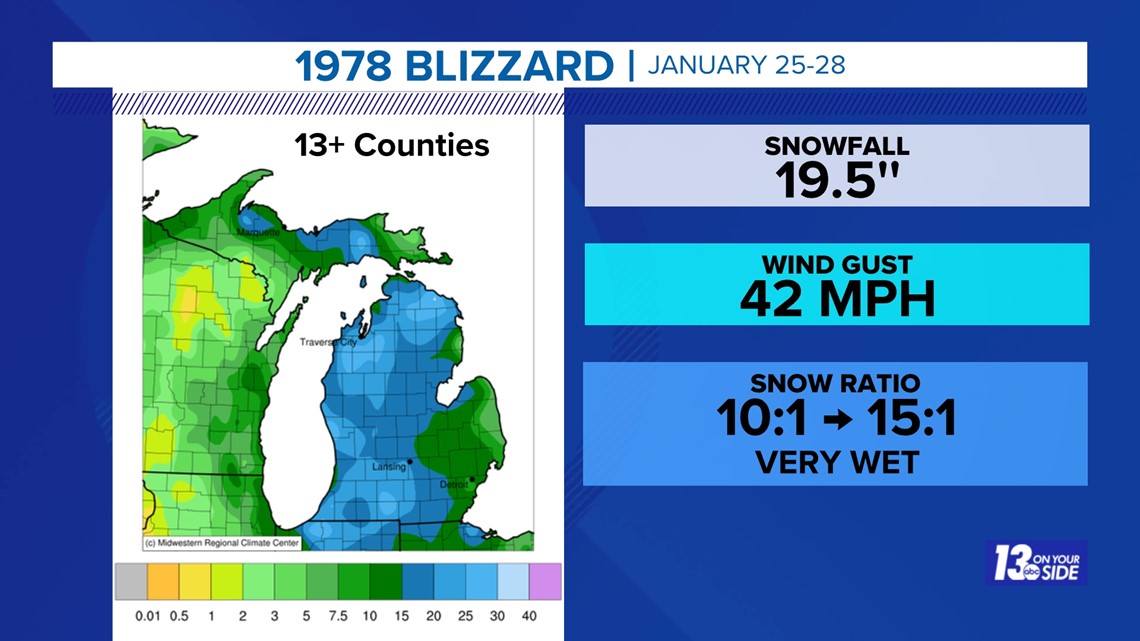 During the 4-day period from January 25-28, 1978 snowfall in Grand Rapids amounted to 19.5'' with peak wind gusts to 42 mph.
Blizzard of 2022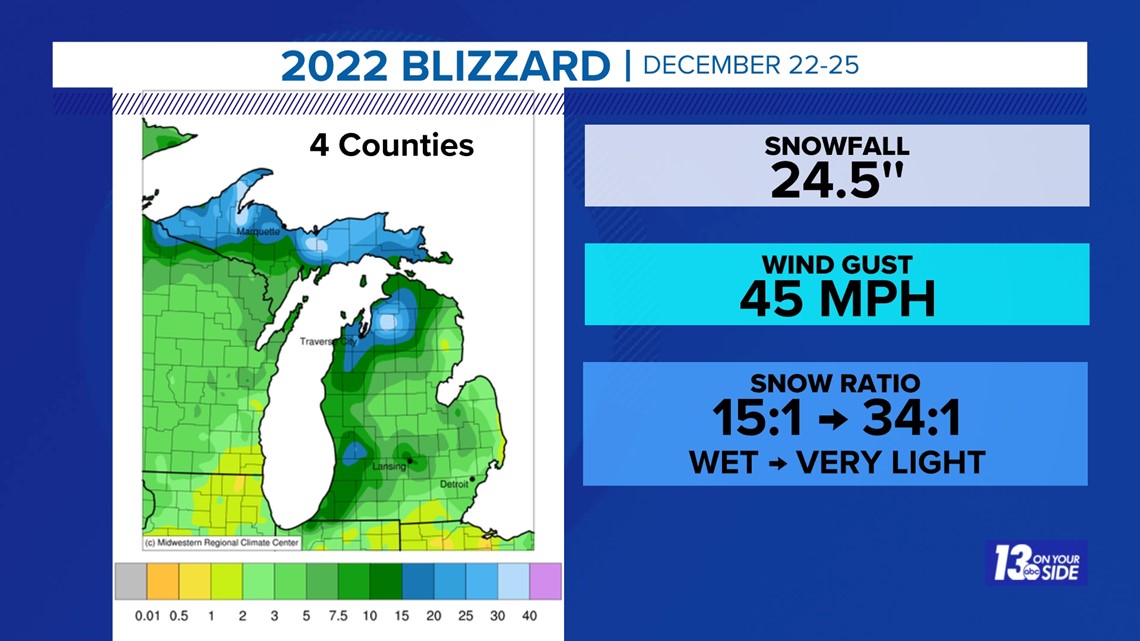 During the 4-day period from December 22-25, 2022 snowfall in Grand Rapids amounted to 24.5'' with peak wind gusts to 45 mph.
At first glance, it may seem obvious that the 2022 blizzard was 'bigger, worse, and other hyperbole' than the 1978 blizzard.
So why did the 1978 storm paralyze the region and state whereas the 2022 storm did not? Because of the type of snow.
Type of Snow
Snow type can be inferred from the water-to-snow ratio: when snow is melted to reveal how much liquid it contains. Most of you may have heard that 10" of snow equals 1" of water - or a 10:1 snow ratio. That is rarely the case.
The wettest snow possible is a 10:1 ratio, typically occurring when temperatures are around 32-36°F and contain as much liquid without being rain. Wet snow is quite heavy by weight - a.k.a. 'heart-attack' snow because it is so much harder to remove snow that weighs a lot.
The driest snow possible can be up to a 35:1 ratio, typically occurring when temperatures drop well below 32°F and contain more air than liquid. This is typical of lake-effect snow and is quite light in weight.
The snow from the 1978 storm was cement-like from beginning to end. It was virtually impossible to shovel or plow. The 27" of snow on the ground remained frozen in place and did not begin melting (it did settle in place) until over two weeks later, around February 12, 1978. Nearly all of Lower Michigan, including all of West Michigan, was greatly impacted. It took days and weeks to recover.
This is clearly ranked as my #1 blizzard.
The 2022 storm, however, was wet to begin with but quickly changed to the light, fluffy, lake-effect snow - easier to shovel and plow. In addition, the 17" of snow on the ground settled very quickly (due to air in the snowpack) and completed melted in just five days. This blizzard was very localized, affecting only four counties in West Michigan. Travel was impacted but recovery began in a matter of hours or, at most, a few days.
I would place this as my #4 most impactful blizzard.
Blizzard of 2011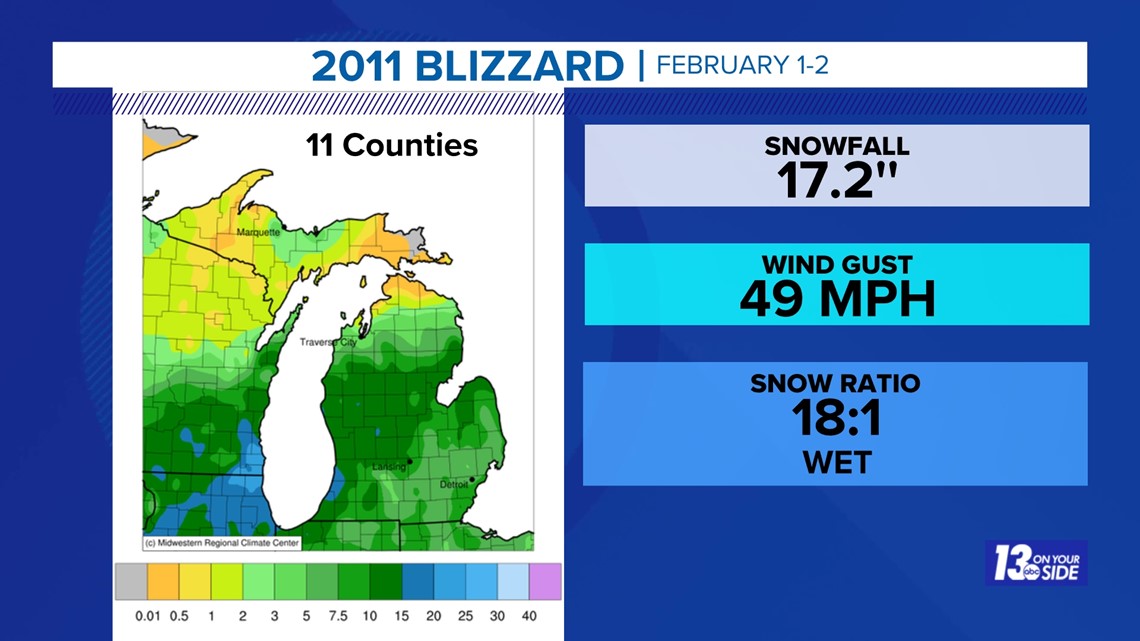 The 2011 Groundhog Day blizzard ranks as my #2 all-time blizzard as the snow ratio was 18:1, another heavy, wet snow. This was a rather short-lived storm but the 19" of snow on the ground did not melt until around February 14, 2011. The hardest-hit areas included nearly all West Michigan counties with the exception of the Kalamazoo and Battle Creek regions.
1967 Snowstorm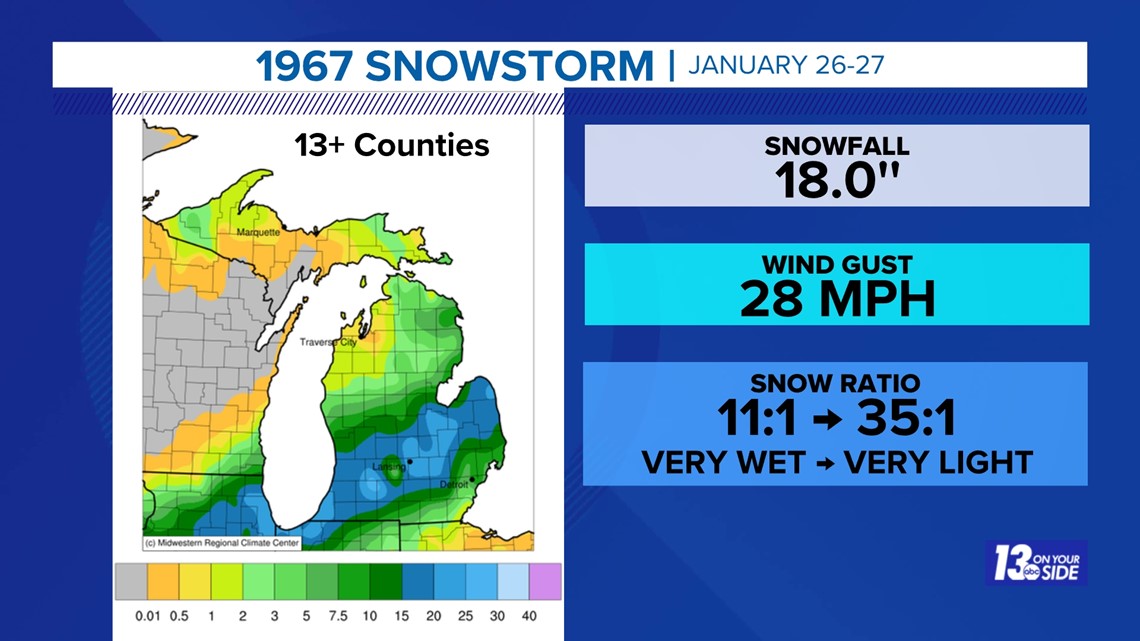 Although technically not a blizzard (wind criteria 35+ mph, visibility <¼ mile) the snowstorm from January 26-27, 1967 ranks as #3 on my list. This affected all 13+ counties in West Michigan plus Chicago, South Bend, Lansing and Flint. About 6" of the snow at the beginning was a very wet, heavy snow topped by nearly 12" of light, fluffy snow. The 16" of snow on the ground took nearly a month to compact and begin to melt; snow depth was still in the double digits through February 19, 1967. The 'Chicago Blizzard of 1967' still ranks as one of its greatest impact snowstorms.
Blizzard of 2009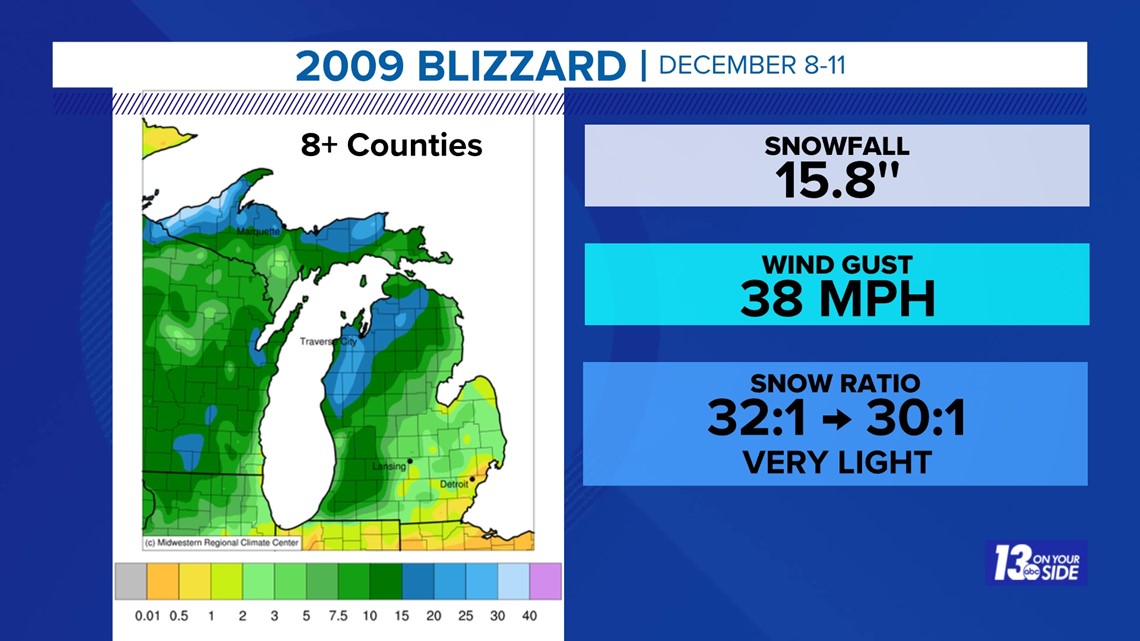 The four-day blizzard from December 8-11, 2009 ranks as #5 on my list. It was primarily a wind-driven, lake-effect event with very lightweight snowfall affecting about eight counties in SW Lower Michigan but mainly NW Lower Michigan and downwind of Lake Superior in the Upper Peninsula. Recovery was on the order of a few days as the 11" of snow on the ground compacted and completely melted within ten days.
Blizzard of 2019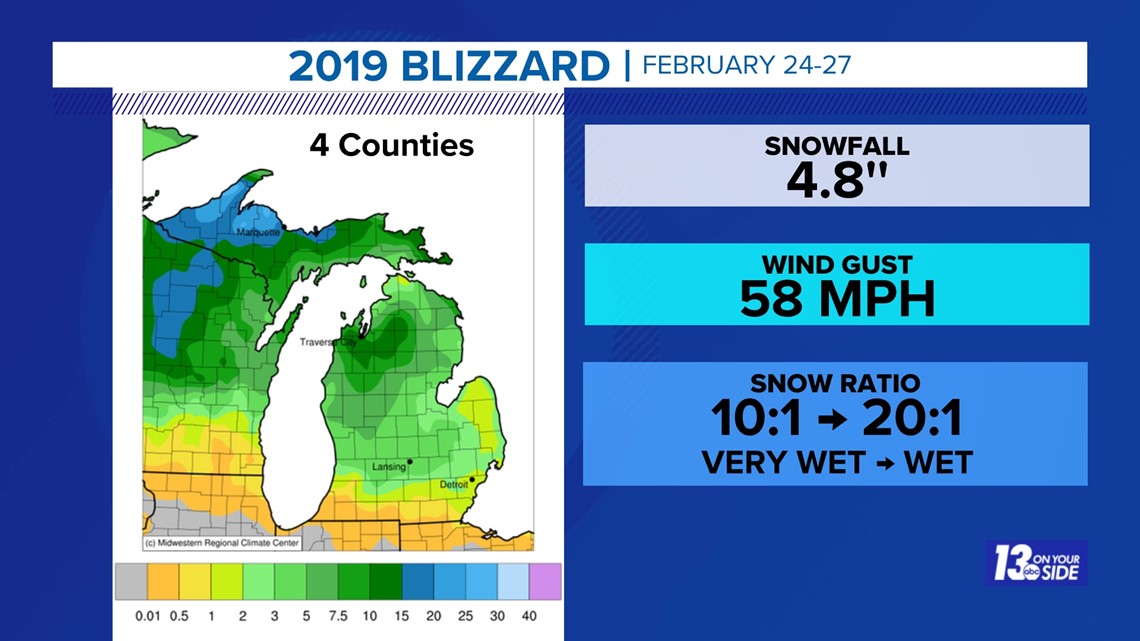 The blizzard of 2019 barely makes the list as the storm affected four counties or less in West Michigan with the greatest impacts over NW Lower Michigan and especially the western U.P.
Make sure you click on the links above and below to get the real story behind the Blizzard of 1978. If you search for 'Blizzard of 1978' on Google you'll find many questionable articles, including a Wikipedia article which contains many factual errors. The 13 On Your Side is in the process of heavily editing this entry.
Chief Meteorologist George Lessens
George is a graduate of Penn State University working for 13 On Your Side for over 42 years. He is a Certified Broadcast Meteorologist (CBM), a twelve-time MAB® Weathercast Award Winner and two-time EMMY® Award Winner.