WEST MICHIGAN - A large, slow-moving storm will provide heavy rainfall across West Michigan and the threat for thunderstorms beginning early Wednesday, May 2.
Strong southwest winds will pump much warmer air back into the state on Tuesday. Many inland areas will reach the 80s for the first time in months.
Increasing humidity and instability will help to enhance thunderstorms that will begin to erupt along a warm front on Wednesday. Dew points will approach 60° by Thursday, enhancing chances for very heavy rainfall and starting to make it feel muggy.
The warm front will likely stall across lower Michigan on Wednesday. Where it stalls will dictate where the heaviest rain will occur Wednesday and Thursday. There is the potential for several inches of rain with some of the strongest storms.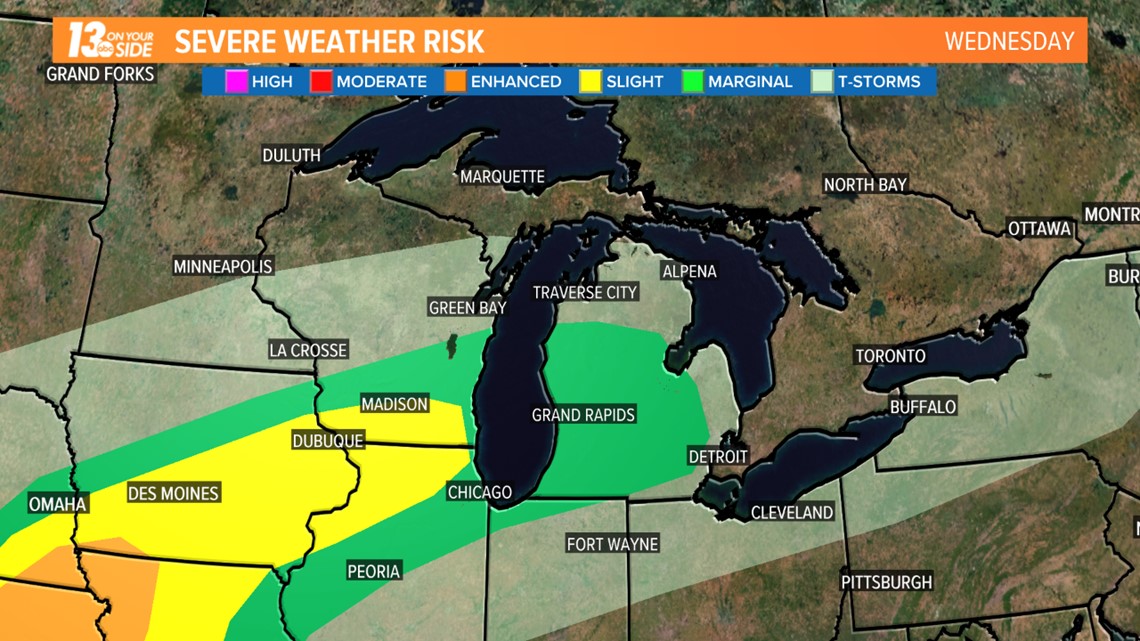 Large hail and damaging winds look unlikely with most thunderstorms. The Storm Prediction Center has placed much of the area in the marginal risk region for severe weather for both Wednesday and Thursday.
The best chance for widespread heavy rain should occur along and ahead of the cold front. That front should arrive very late Thursday or early Friday morning.
Behind the front, skies should begin to clear by Friday afternoon. It will set the stage for what looks to be a sunny, slightly cooler weekend.