MICHIGAN, USA — It's only the middle of February, so it's no surprise the stretch of tranquil weather will be coming to an end the rest of the week around West Michigan.
After record warmth this Valentine's Day, Mother Nature will bring in very windy conditions and winter weather back into the forecast over the next couple days.
Temperatures soared into the 50s on Tuesday, which has broken numerous record highs across the region.
Grand Rapids broke its old Feb. 14 record high temperature that was set back in 1918. Muskegon and Holland also broke their record from 1954.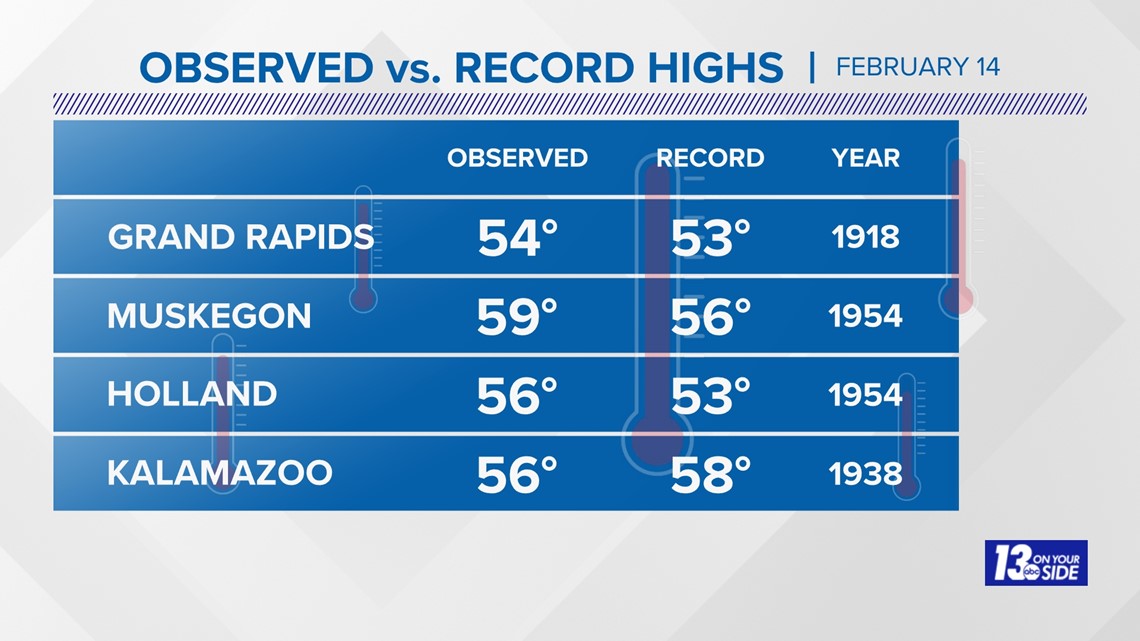 Battle Creek reached 56°, also breaking its Feb. 14 record high of 55° from 1918.
Gusty winds will be commonplace overnight into much of Wednesday across the region. As a result, a Wind Advisory has been issued by the National Weather Service for nearly all of West Michigan – it'll be in effect from 1 a.m. Wednesday to 4 p.m. Wednesday.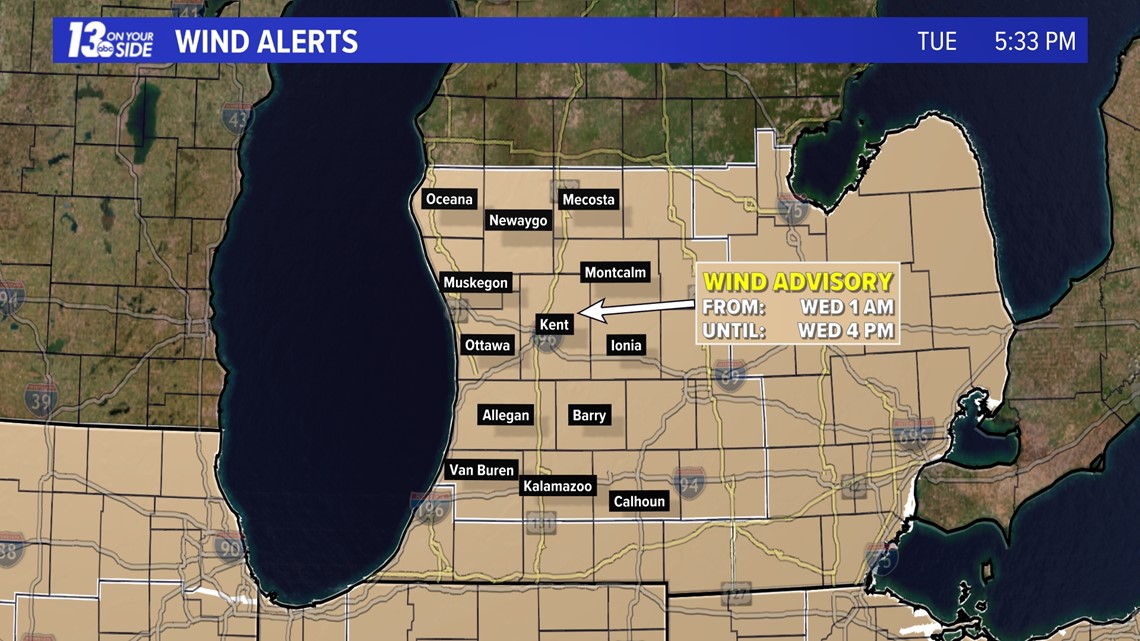 Sustained winds of 20 to 30 mph and gusts of 30 to 40 mph out of the south are expected overnight. Gusts will increase to 40+ mph and turn to the southwest throughout much of Wednesday. It'll remain breezy on Thursday, but gusts will likely remain below Wind Advisory levels.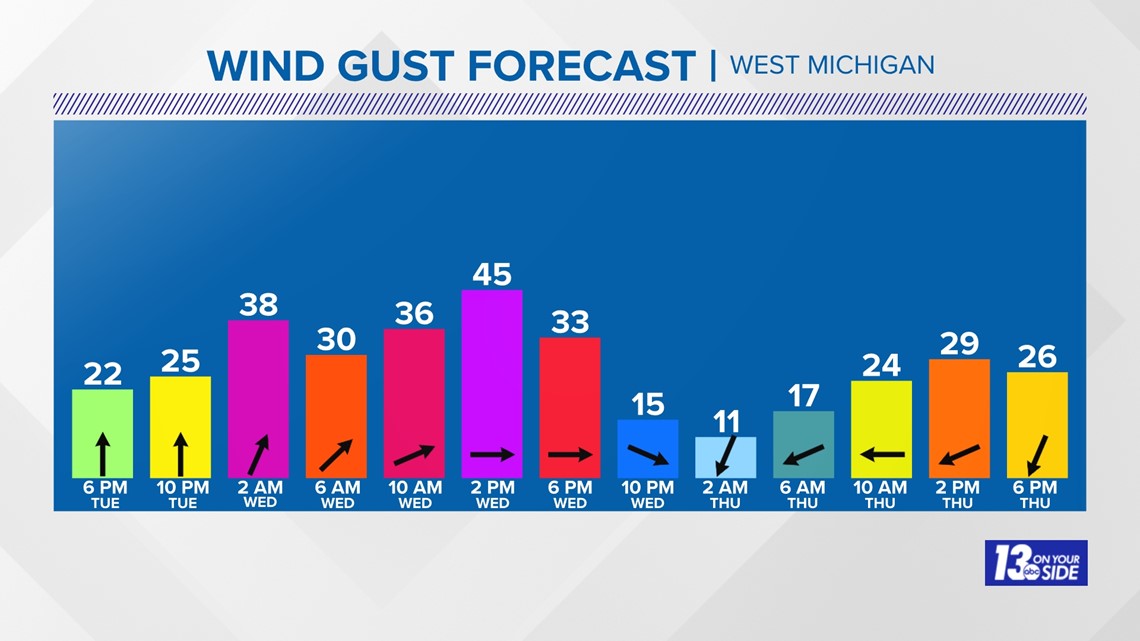 The focus of the forecast will then revolve around the winter impacts expected on Thursday as a robust storm system treks towards the Great Lakes.
Precipitation will arrive midday Thursday, become widespread through afternoon and evening, then slowly diminish overnight Thursday into the morning hours Friday.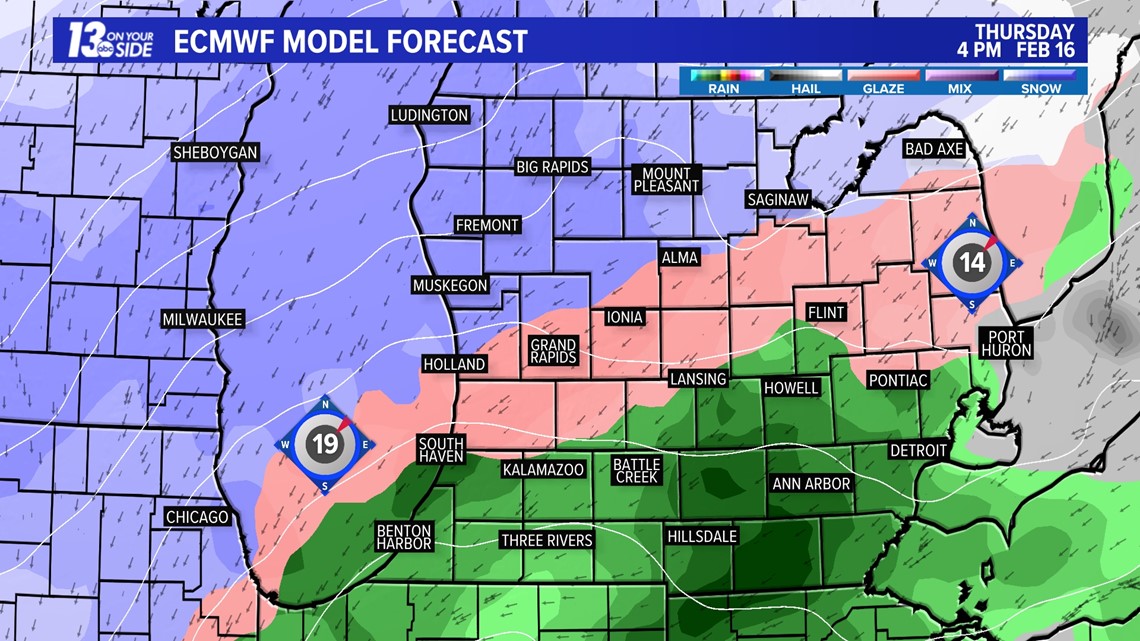 As of now, all snow is expected north and west of a Grand Haven to Edmore line. This includes Muskegon, Big Rapids, and Ludington for example. If the current forecast holds, a broad 4"+ of snow will be likely, with an increasing possibility of 6"+ between Thursday and Friday morning.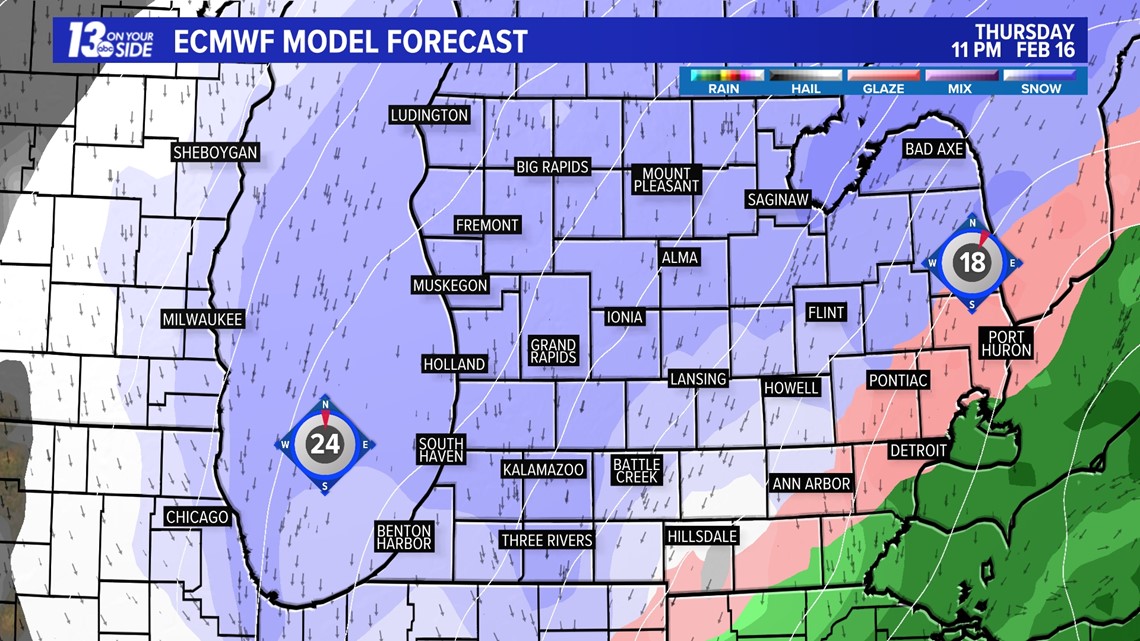 Near and slightly southward of I-96, precipitation may start as a wintry mix – freezing rain and/or a rain/snow mix – before transitioning over to all snow. Snow totals may end up on the lower side compared to those further north, but any glaze of ice could present just as many winter impacts.
Closer to I-94, precipitation is expected to start off as rain before briefly switching over to a wintry mix.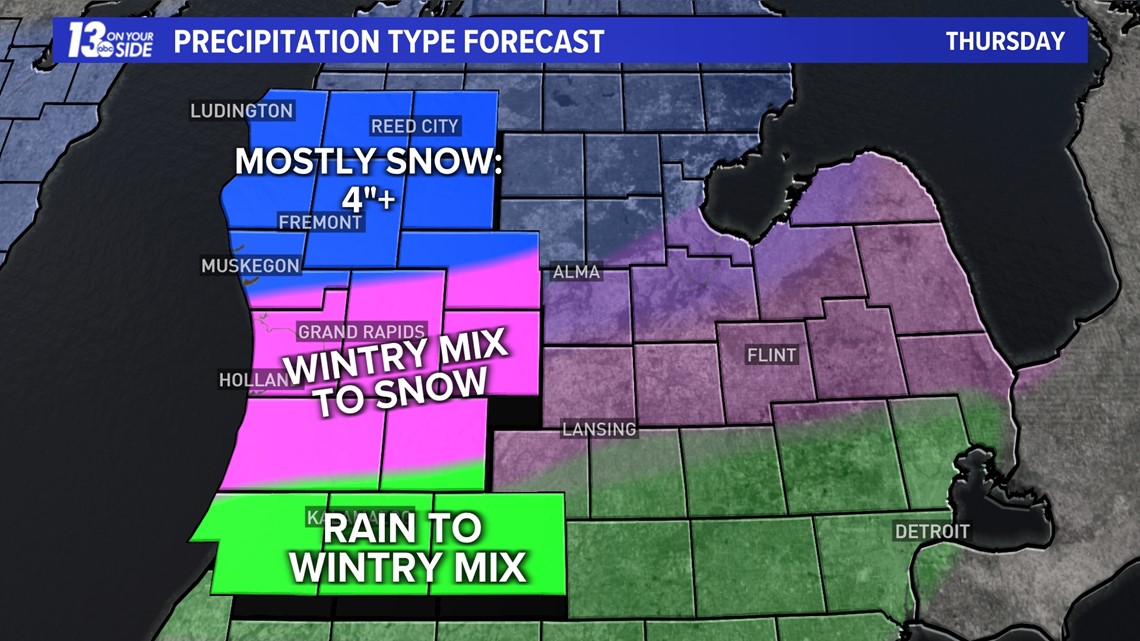 With a mixed bag of precipitation expected, stay with the 13 ON YOUR SIDE weather team for any fine tuning to the forecast. Any slight deviation in the track or intensity of this storm system could change the precipitation type expected in your area, along with any snow or ice accumulations.
QUIETNESS RETURNS THIS WEEKEND
Tranquil February weather will return by this upcoming weekend, with dry weather prevailing.
High pressure will build into the Great Lakes and West Michigan on Friday behind the departing storm system. It'll be colder on Friday, with daytime temperatures in the 20s. Over the weekend, temperatures continue to rebound as upper 30s return on Saturday and 40s on Sunday. Sunshine is expected both Saturday and Sunday.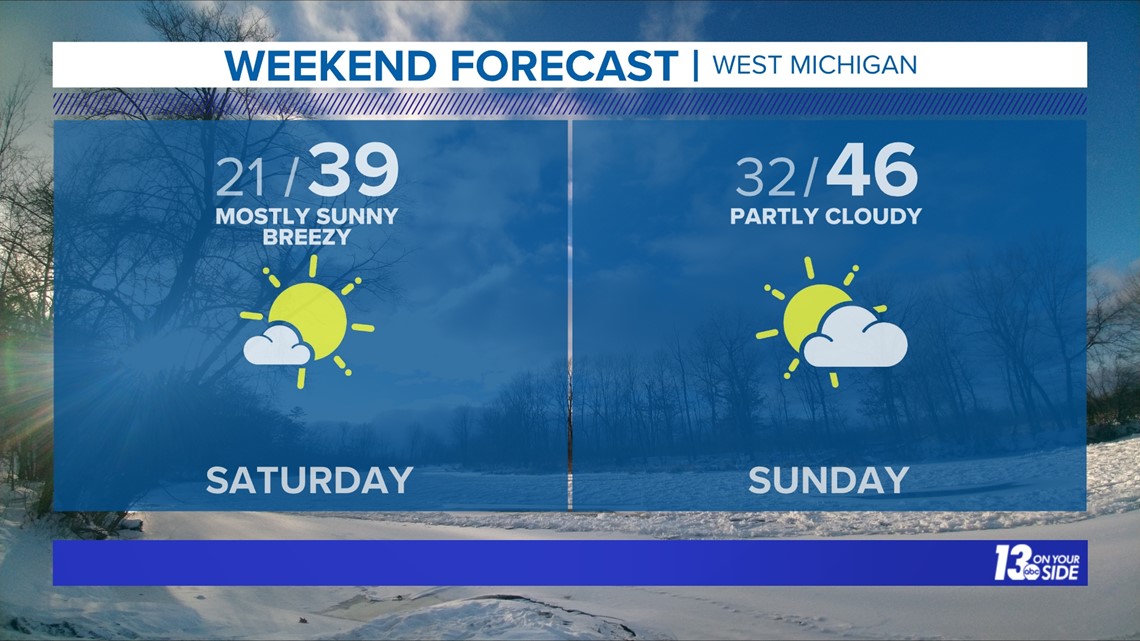 Continue to check in throughout the week as we finalize the details.