MICHIGAN, USA — Wednesday was a doozy in the way of snow across West Michigan, with plentiful reports of 6-12"+ from Kent, Muskegon and Ottawa counties. Numerous schools and businesses were closed, along with treacherous travel on local roads.
Gerald R. Ford Airport picked up 8" on Wednesday, shattering the Jan. 5 record of 6.4" from 1951. The last time GRR recorded 8" or more of snow in a calendar day was Dec. 11, 2016 — more than five years ago! The Muskegon County Airport recorded 5.3", also a new daily snowfall record for Jan. 5, breaking the 4.3" set back in 1991.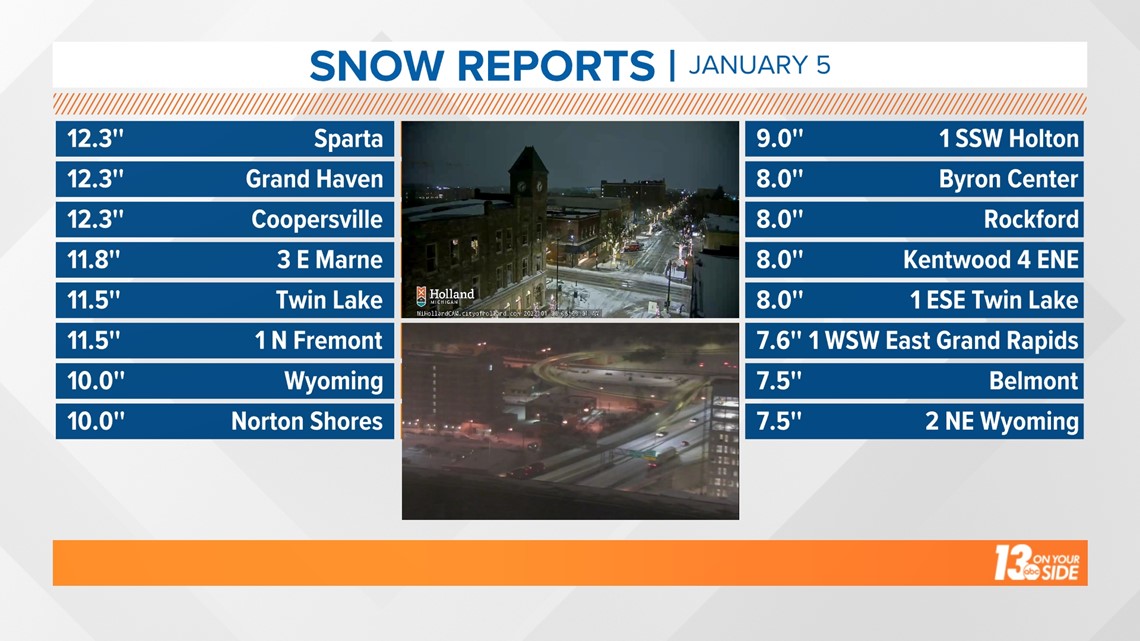 Mother Nature isn't done with snow just yet as the forecast features additional lake effect snow, with the greatest impacts focused on the lakeshore communities.
For the rest of Thursday, attention turns to a lake effect snow band that has impacted the I-96 corridor between Grand Rapids and Muskegon. This band is expected to traverse southward toward the I-94 corridor throughout the afternoon and evening hours. Plan on brief heavy snow, along with rapidly changing visibility. The area of highest impact will likely be across portions of Ottawa and Allegan counties, where several inches of snowfall are possible.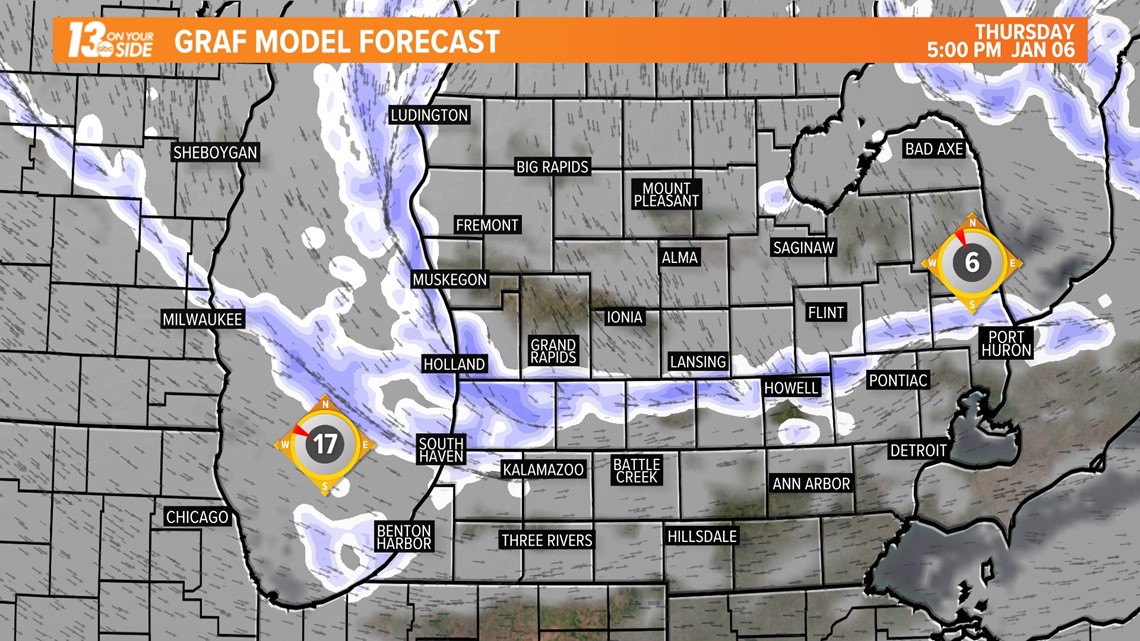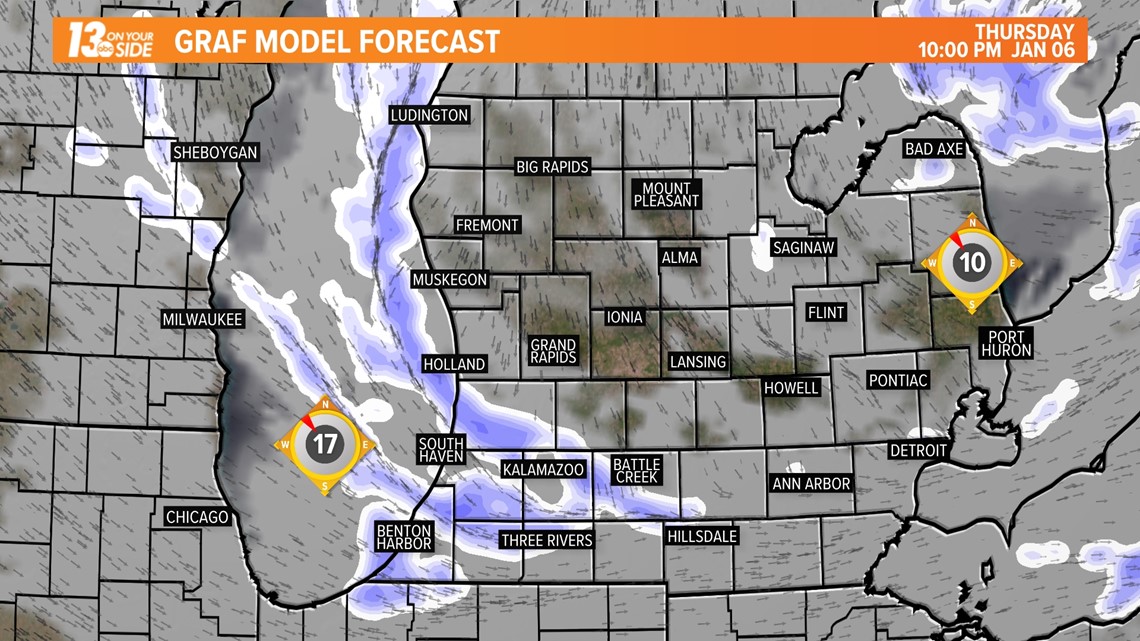 Additional lake effect snow will continue overnight Thursday, but there is uncertainty where the banding of snow will set up. Lakeshore communities, Muskegon southward, remain under the greatest impact of several inches of additional snowfall. Portions of Allegan and Van Buren counties may experience double digit snowfall tonight alone. Inland communities will likely avoid additional snowfall but deal with single digit overnight temperatures – the coldest of the winter season so far.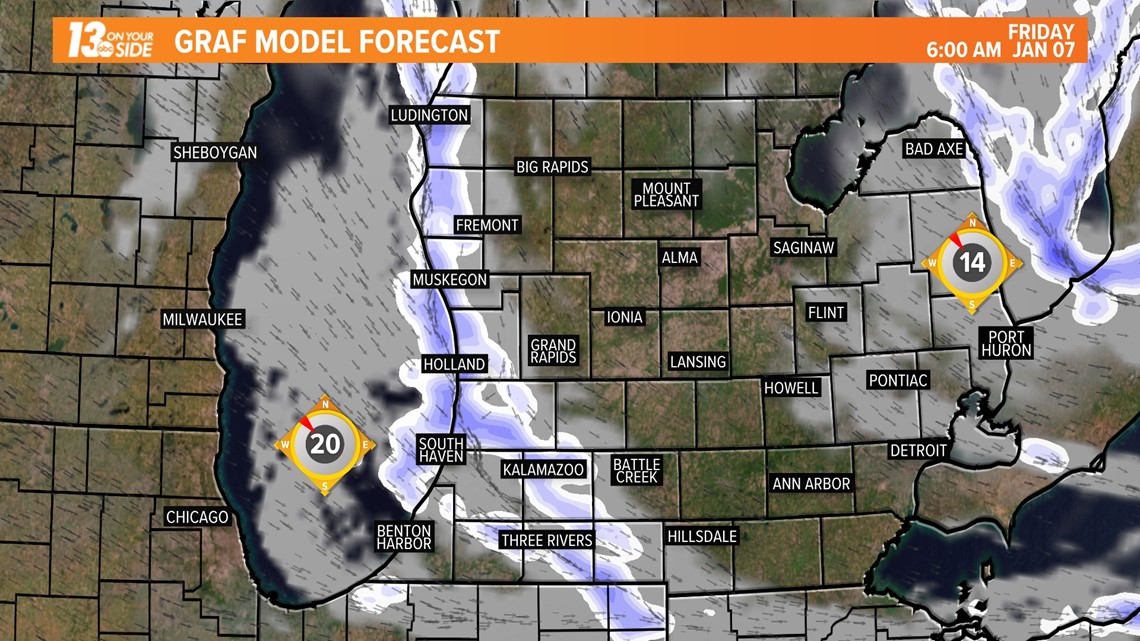 Friday features the finale of this lake effect event, with snow pushing back onshore for all of the lakeshore communities. Snow is expected to work inland for a period of the day, before finally waning by the end of the daylight hours.