Colder-than-average temperatures are filtering into the Great Lakes region, reinforced with winds out of the northwest. The difference between the 50° water and below-zero air temperatures a few thousand feet aloft is plenty to generate lake effect showers over the weekend.
A Winter Weather Advisory will be in effect for all lakeshore counties, along with Lake and Kalamazoo counties, from now through 1 p.m. Sunday. Slick travel is the main concern in the heaviest snow locations.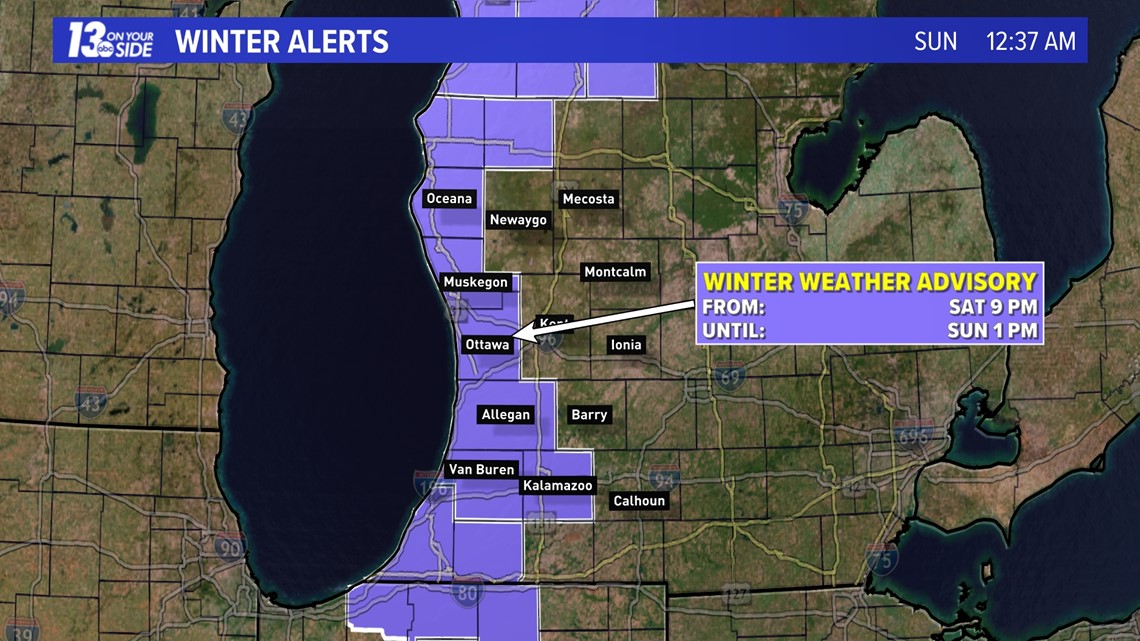 SATURDAY EVENING/NIGHT – SUNDAY MIDDAY:
Impacts from lake effect will kick off Saturday evening as precipitation changes over to snow. This will continue overnight into a chunk of Sunday as temperatures fall near or below freezing.
Lake effect snow bands will be mostly confined west of US-131, where broadly 1"+ of snow accumulation is expected. In the heaviest, most robust banding of snow, localized locations will likely pick up 3"+ of accumulation by Sunday morning.
The focus of the heaviest snow of 3"+ comes in two bands – one from Holland to Allegan to Kalamazoo (and surrounding areas), with another band from Scottville to New Era to Whitehall (and surrounding areas). Plan on slick roads, even with the warm ground, and varying visibility near the lakeshore.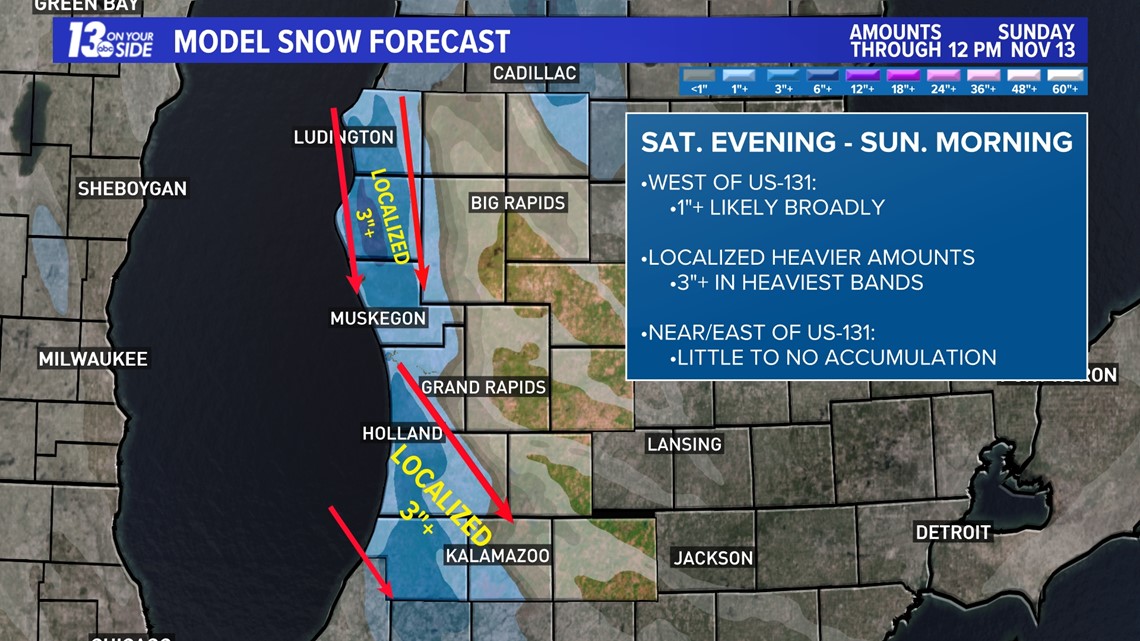 Snow totals are tricky to estimate as lake effect banding is very localized, along with it being early in the season, and the ground still rather warm. However, lake effect bands should overcome the warm ground. Locations west of US-131 will likely accumulate several inches of snowfall.
Near and east of US-131 will see little to no snow accumulation. Lake effect bands will not be as pronounced, or long-lasting, keeping any impacts or accumulation minor to nothing.
No warmth is in sight throughout the next week to week and a half, with continued below-average temperatures and periodic snow chances expected.
Lake effect snow will diminish by late Sunday, leading to a dry Monday across West Michigan. Eyes will focus on Tuesday as a system reaches the Great Lakes, potentially bringing widespread snowfall. Nothing significant is expected at this point of the forecast, but minor travel impacts are possible Tuesday into Wednesday.