GRAND RAPIDS, Mich. — As of midnight Saturday evening, around 4-6 inches of fresh snowfall has already fallen over parts of West Michigan. In the hardest hit areas, another 2-4+ inches of snowfall could fall through Sunday morning.
Across the region travel has been slow Saturday, as winter weather alerts have been in place. There are different impacts expected in different regions, so we have broken them down below.
Areas along the I-94 corridor, Van Buren, Kalamazoo, and Calhoun Counties, will be under a winter weather advisory until 10 a.m. Sunday. Snowfall totals are expected to be less here, but freezing rain and sleet will lead to an icing concern overnight. Roads may become hazardous and power outages are possible. Storm totals of 1-3 inches are possible.
Just to the north, in Allegan and Barry Counties, a Winter Weather Advisory is in place until 10 a.m. Sunday. Ice will be less of a concern, but snow totals will be on the rise. These areas will likely see 3+ inches by the time the snows end. Watch for slippery roads and low visibility.
In the counties shaded in pink, a Winter Storm Warning is in effect until 10 a.m. on Sunday. This includes Ottawa, Kent, Ionia, Muskegon, Newaygo, Mecosta, and Montcalm Counties. Storm total snowfalls up to and over 6 inches are possible. Heavy snowfall and low visibility will make travel very difficult at times.
Oceana County is also under a Winter Weather Advisory until 10 a.m. on Sunday. Snow here is expected to be heavier than in Allegan and Barry Counties, but less than in the Winter Storm Warned counties. Expect periods of low visibility and poor travel conditions on roads.

On top of the snowfall that has already fallen, another 2-4+ inches will be possible around West Michigan. This snow will come from now through around 5 to 6 a.m. Sunday morning.

That additional snowfall will lead to storm total snowfalls of 3 to 6 inches or more around the region, with some areas that may close in on 8 inches. The heaviest totals will be in counties under the Winter Storm Warnings.
The map below shows the final expected snow totals from this system.

In addition to the snowfall, some wintry mix and icing will be possible overnight along the I-94 corridor. This could make for some dangerous travel and lead to some power outage potential. Power outage potential will be around in the rest of West Michigan as well thanks to heavy snowfall.
The chart below shows expected impacts overnight and into early Sunday.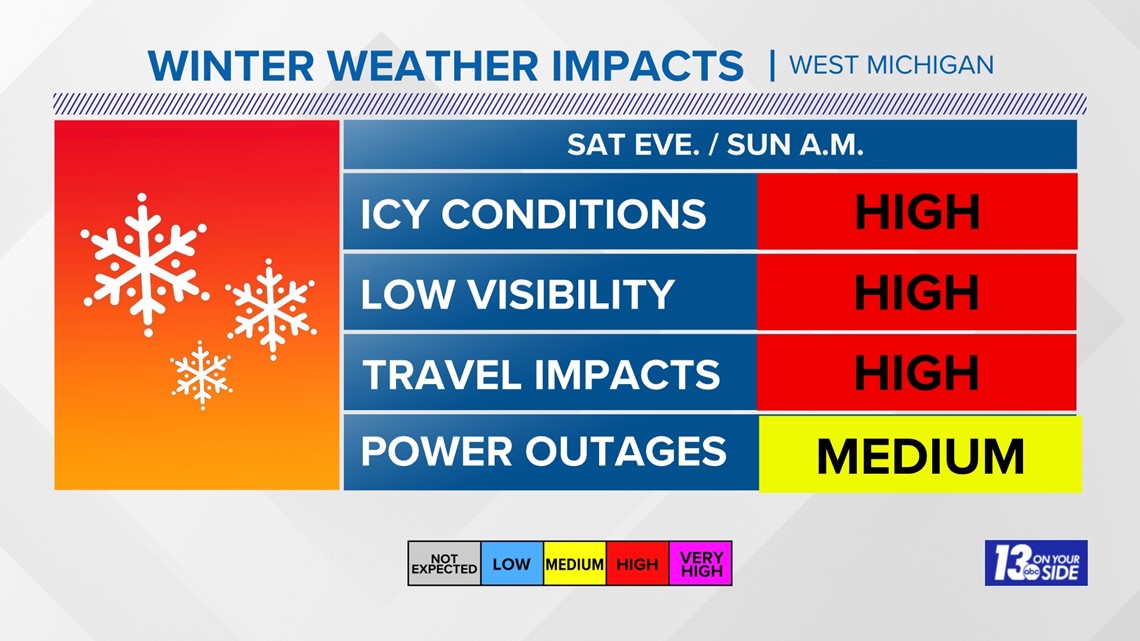 The 13 ON YOUR SIDE Weather Team will continue to keep an eye on this system overnight, and have the latest totals and impacts starting at 6 a.m. Sunday morning.
Stay safe and stay warm West Michigan!
-- Meteorologist Michael Behrens