MICHIGAN, USA — Standing outside to stargaze isn't on the minds of many as Mother Nature brings continued snow and cold temperatures. However, 2022 brings many intriguing astronomical events across West Michigan. From multi-planet alignments to a captivating total lunar eclipse, there is plenty to look forward to in the night sky.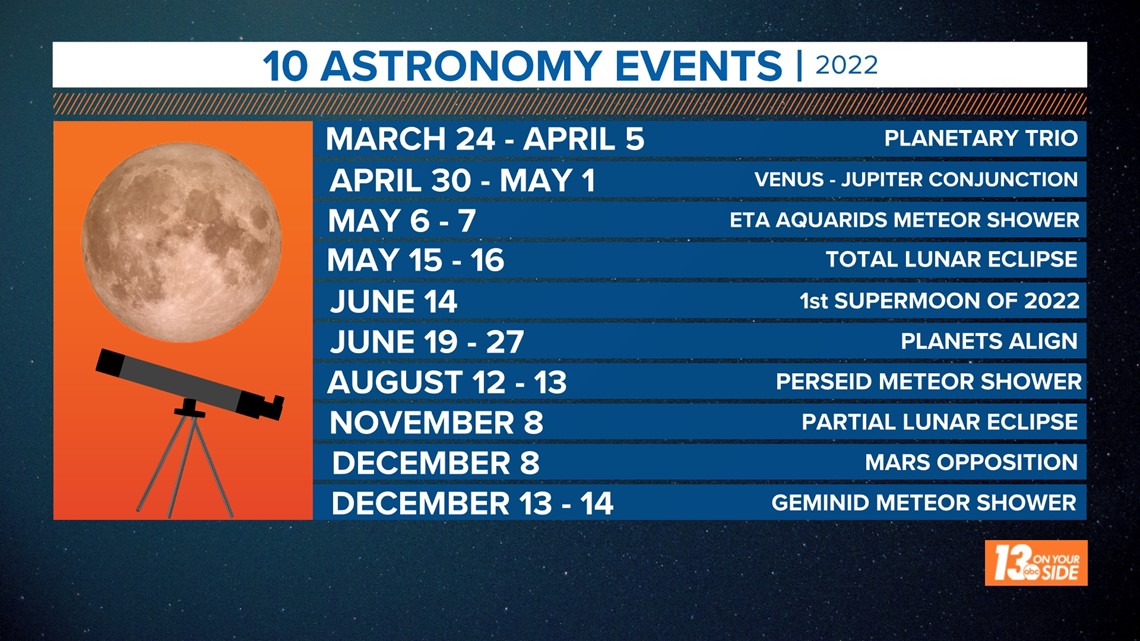 In terms of celestial happenings, the start of 2022 is quiet, but that changes by the end of March as three planets appear in the early morning sky. Mars, Saturn, and Venus will come into sight before sunrise during the latter half of March, lasting into early April. The three planets will appear so close in the night's sky that they will be in the same field view of some telescopes and binoculars.
As the calendar turns into early April, Mars and Saturn will continue to align closer and closer, nearly overlapping by the 4th and 5th of the month. Venus will continue to shine just to the east.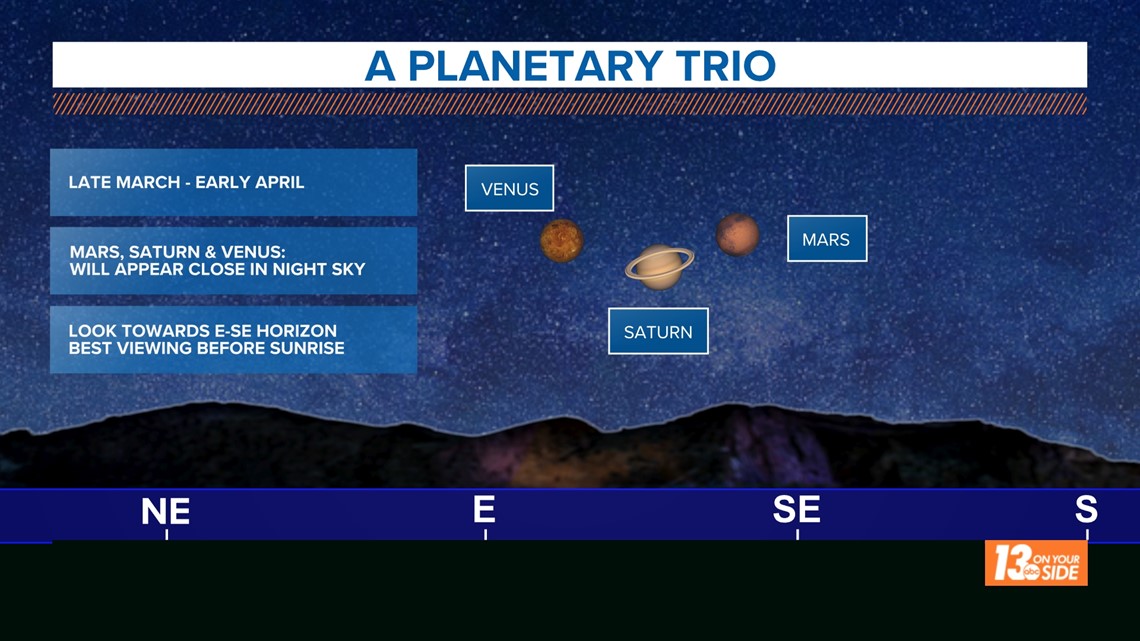 The alignment of planets doesn't stop there, with a fascinating event taking place in June. Mercury, Venus, Mars, Jupiter, and Saturn will be bright enough to be seen with the naked eye and will also align in order. Looking towards the east-southeast horizon, the greatest opportunity to view all five planets will be in the morning twilight. A bonus will be the crescent moon joining the lineup, which will align most mornings between Venus and Mars.
For both planetary alignments, they will not be lined up perfectly in the solar system. The alignment is only from the perspective of Earth.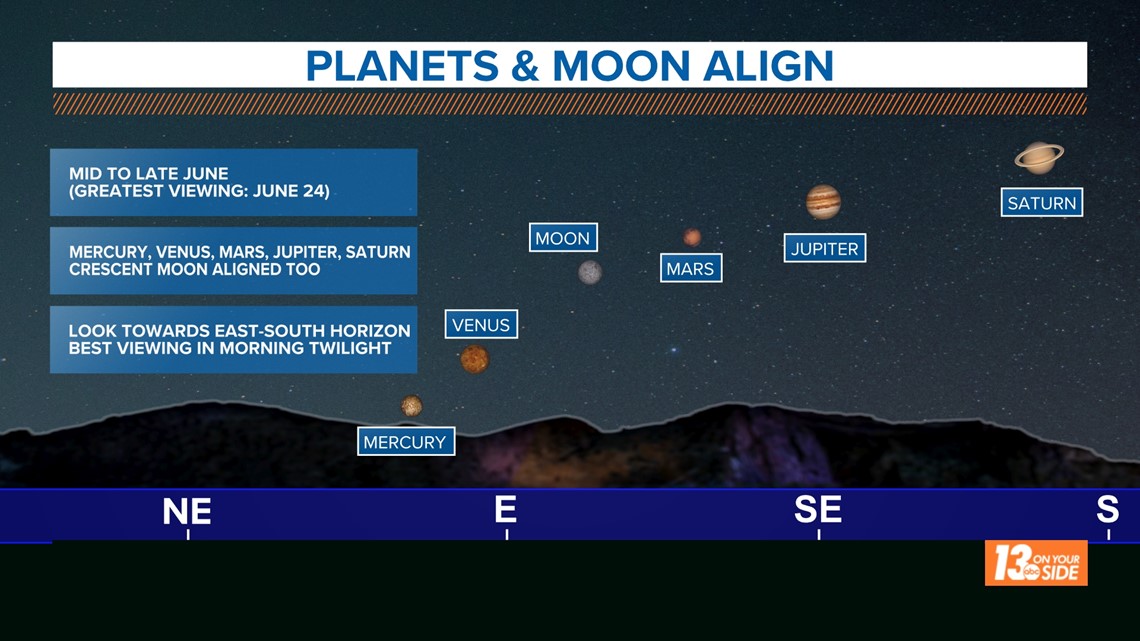 Lastly, an event that will have plenty of attention before it arrives is the total lunar eclipse in the middle of May. The entire contiguous United States will be able to observe the Moon passing through Earth's shadow. With Earth completely blocking direct sunlight from reaching the Moon, the atmosphere will scatter out much of the sun's blue light. This will give the Moon a reddish appearance from the perspective of Earth. The event will be long lasting too, with the total eclipse lasting nearly 80 minutes.
A second total lunar eclipse arrives in early November but will be closer to the horizon in West Michigan. The Moon will set below the horizon just before the eclipse ends.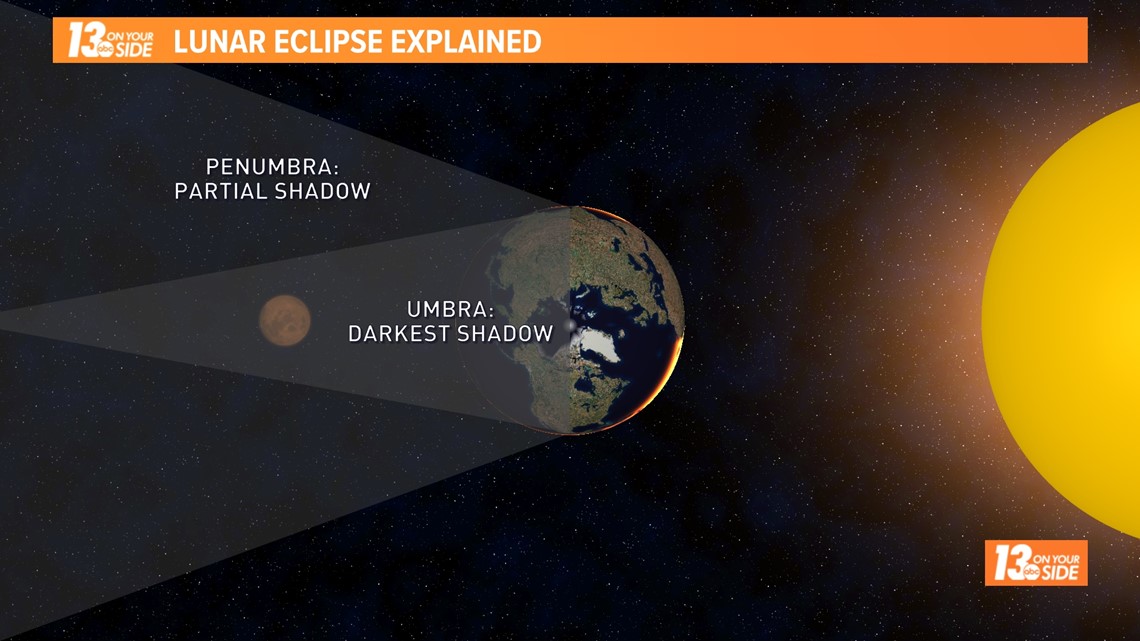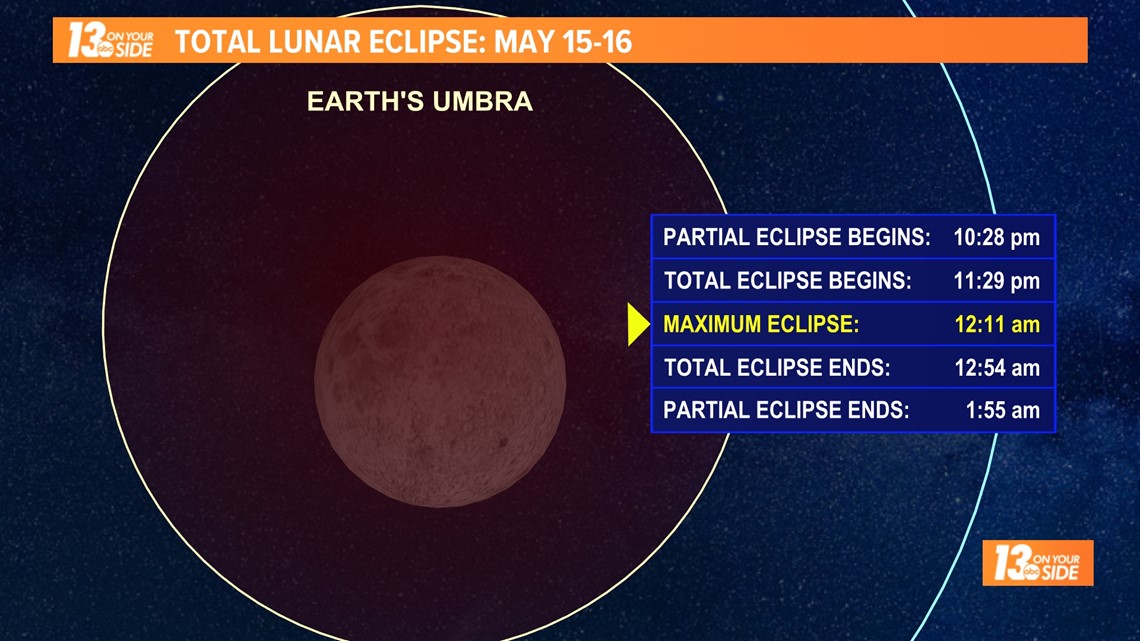 Typical events will be visible as well, such as the various meteor showers and supermoons throughout the year. The Perseid Meteor Shower will occur during the second week of August, and the Geminid Meteor Shower in December. The first supermoon of 2022 will arrive in the middle of June.
In all celestial events of 2022, all that is needed is fair weather and an area of the unpolluted night sky. For amateurs and professionals, a pair of binoculars or telescope will enhance the viewing opportunities. As each of these events arrives, the 13 ON YOUR SIDE weather team will have you covered on the conditions of the night sky.