OTTAWA COUNTY, Mich. — Heavy rain will overspread the Ottawa County area early Sunday morning and will persist into Monday morning.
According to a press release from the Ottawa County Emergency Management, most locations are forecasted to see one or two inches of rain. Three inches of rain is possible before the system winds down.
The National Weather Service said there was a chance of thunderstorms from roughly 8 a.m. Sunday through 8 a.m. on Monday. Main threats will be lightning and heavy rain.
A small threat of severe thunderstorms Sunday afternoon and evening from 2 to 10 p.m. Threats from strongest storms include hail towards 1 inch and wind gusts over 50 mph.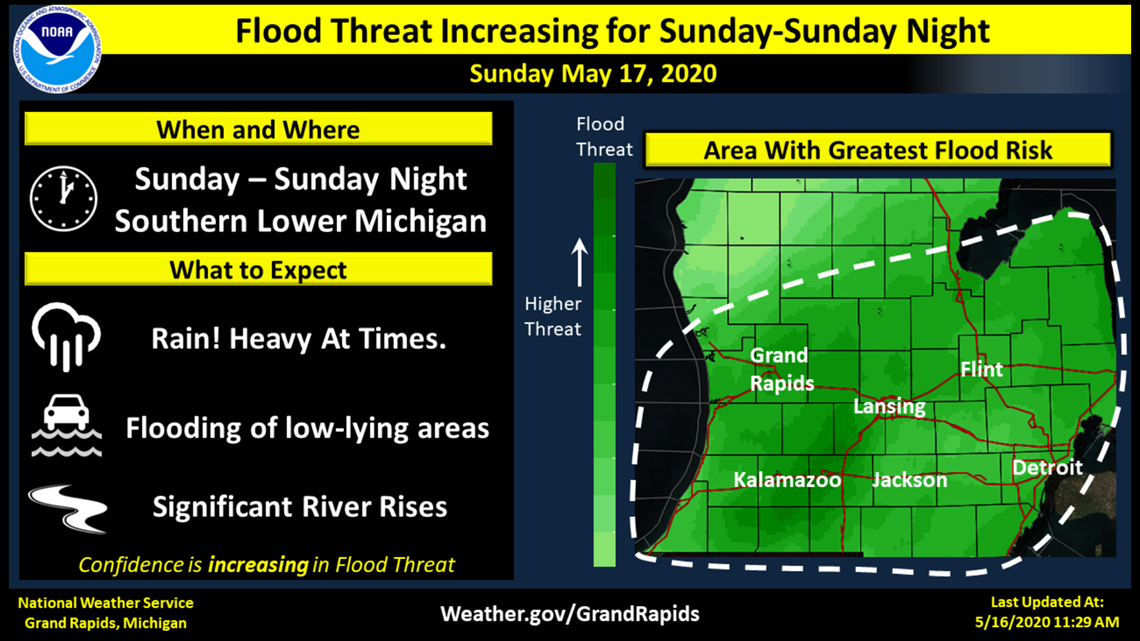 A Northerly push of winds down Lake Michigan will result in lakeshore flooding, the NWS advised. Water pushing through the piers will result in flooding along connecting rivers and lakes such as Lake Macatawa in Holland, the Kalamazoo River at Saugatuck and the Black River at South Haven. Mainstem rivers, like the Grand, may see considerable rises through much of next week.
Homeowners in low-lying areas should take steps now to protect your home such as placing sandbags around your home or wells. Be prepared for water over roads in low spots.
Never drive your car through a flooded road or area. Turn Around, Don't Drown.
More Ottawa County News on 13 ON YOUR SIDE: