GRAND RAPIDS, Mich. — Heads up, West Michigan! Another round of snow is here and will last from now into early Sunday. This snowfall is expected to be impactful for most all of the 13 On Your Side viewing area. New weather alerts and impacts have been issued and are listed below!
A winter system moving through our region has allowed snow to overspread much of the viewing area Saturday afternoon and will last through the daybreak hours Sunday.
Snow is expected to become increasingly heavy in the evening hours. This system will quickly exit after sunrise Sunday, with quiet and dry weather returning for all by late morning/midday.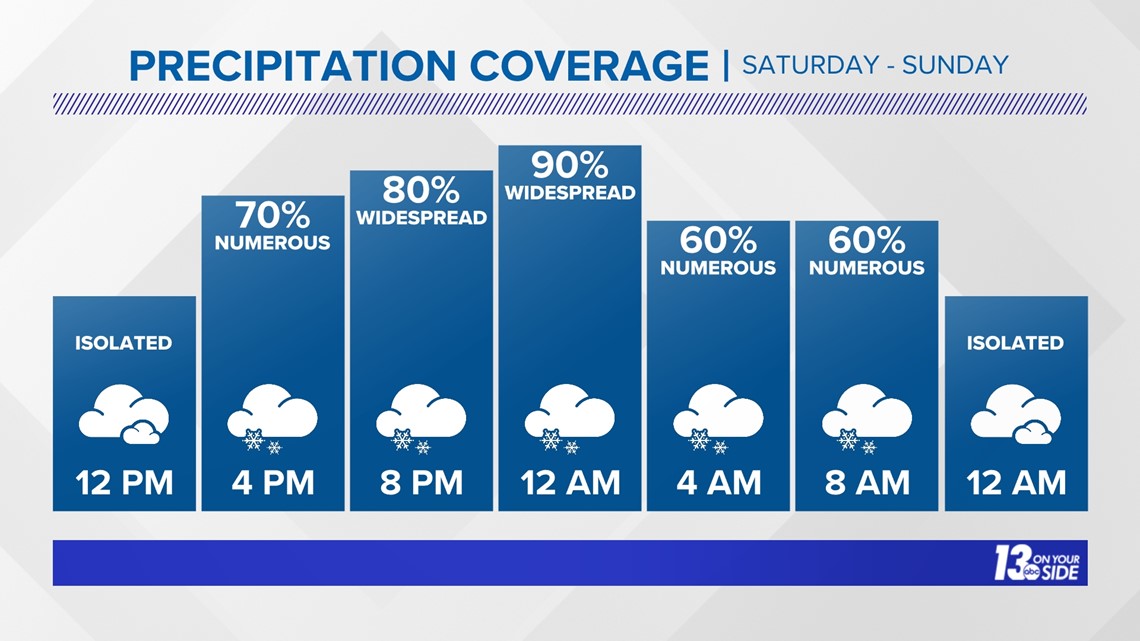 There is a number of different winter weather alerts issued for various parts of West Michigan, as where you live will largely determine the impacts you receive in the next 18 hours.
Areas along the I-94 corridor, Van Buren, Kalamazoo, and Calhoun Counties, will be under a winter weather advisory until 10 am Sunday. Snowfall totals are expected to be less here, but freezing rain and sleet will lead to an icing concern. Roads may become hazardous and power outages are possible.
Just to the north, in Allegan and Barry Counties, a Winter Weather Advisory is in place until 10 am on Sunday. Ice will be less of a concern, but snow totals will be on the rise. Watch for slippery roads and low visibility.
In the counties shaded in pink, a Winter Storm Warning is in effect until 10 am on Sunday. This includes Ottawa, Kent, Ionia, Muskegon, Newaygo, Mecosta, and Montcalm. These counties will see the heaviest bands of snowfall in the coming hours. Snowfall up to and over 6 inches is possible. Heavy snowfall and low visibility will make travel very difficult.
Oceana county is also under a Winter Weather Advisory until 10 am on Sunday. Snow here is expected to be heavier than in Allegan and Barry Counties, but less than in the Winter Storm Warned counties. Expect periods of low visibility and poor travel conditions on roads.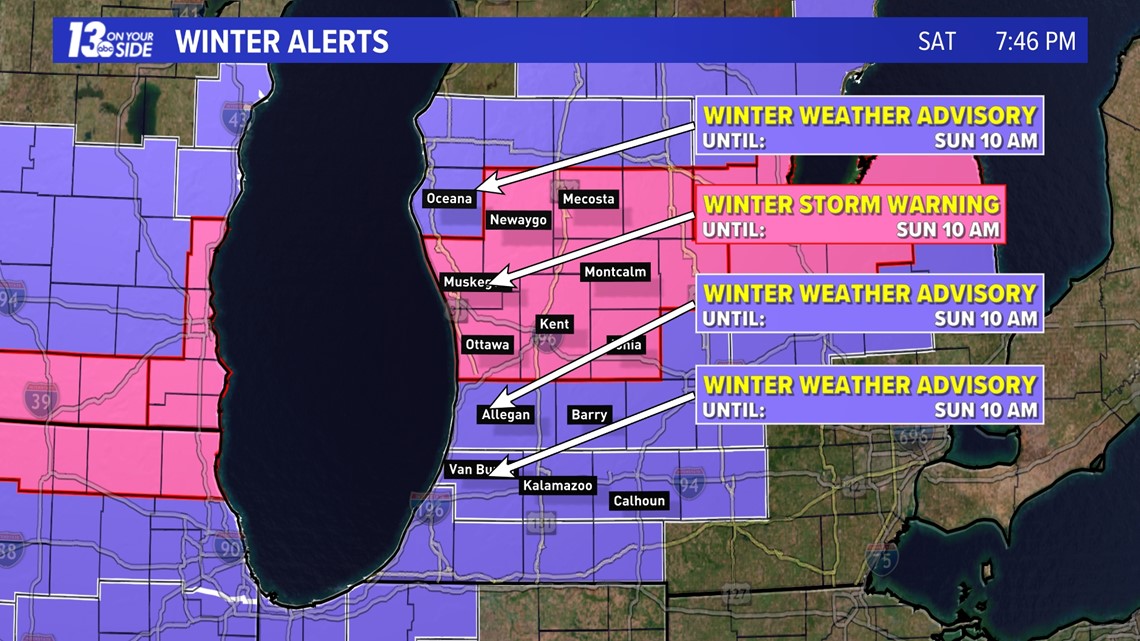 On a broad note, 3"+ is expected across West Michigan. There's a growing consensus of swaths of 6"+, primarily along and northward of I-96. There remains wiggle room for this heaviest axis of snow to shift but is not expected to be significant enough to change the narrative of impacts.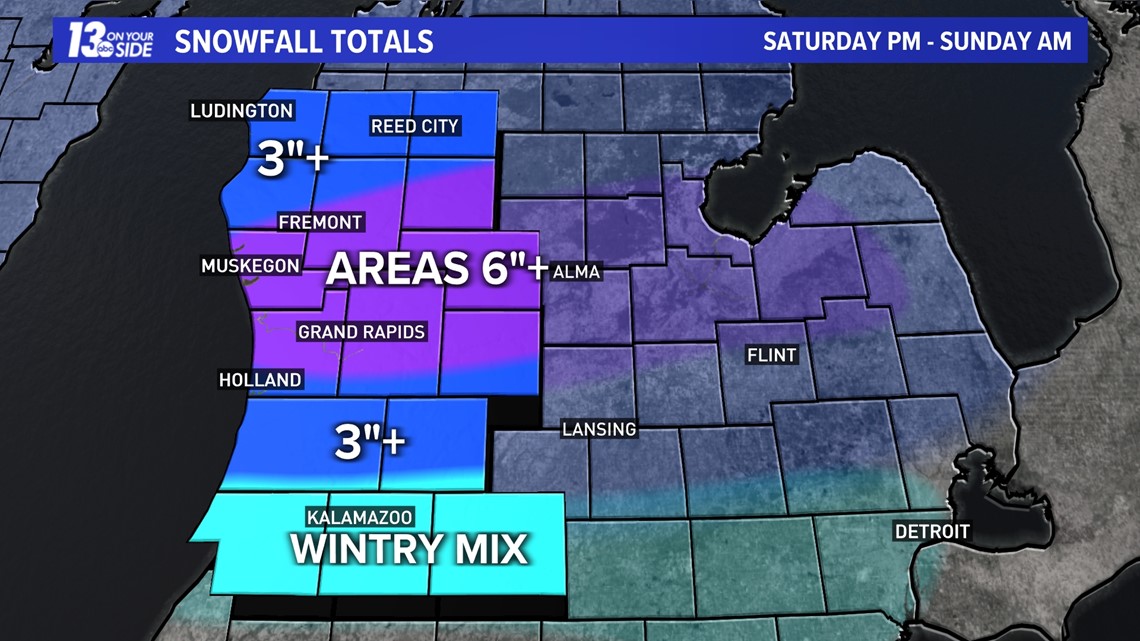 The exception to this is, across southern Allegan and Barry counties and to the south towards I-94, where a wintry mix will likely take over for several hours overnight. This will cut down on snow totals, but a close eye is needed on the potential of some icing, especially if freezing rain takes over as the prominent precipitation type.
Slick travel and areas of low visibility will be the most common impacts felt across West Michigan, largely in the evening hours Saturday through daybreak Sunday.
A silver lining is that wind speeds are expected to remain on the lighter side; sustained at 5 to 15 mph, with gusts upwards of 20 mph. This will negate any significant blowing or drifting snow. However snow density and possible icing to the south will still make power outages a concern.
Road crews will have no issues clearing the snow after the storm on Sunday as quiet conditions will prevail.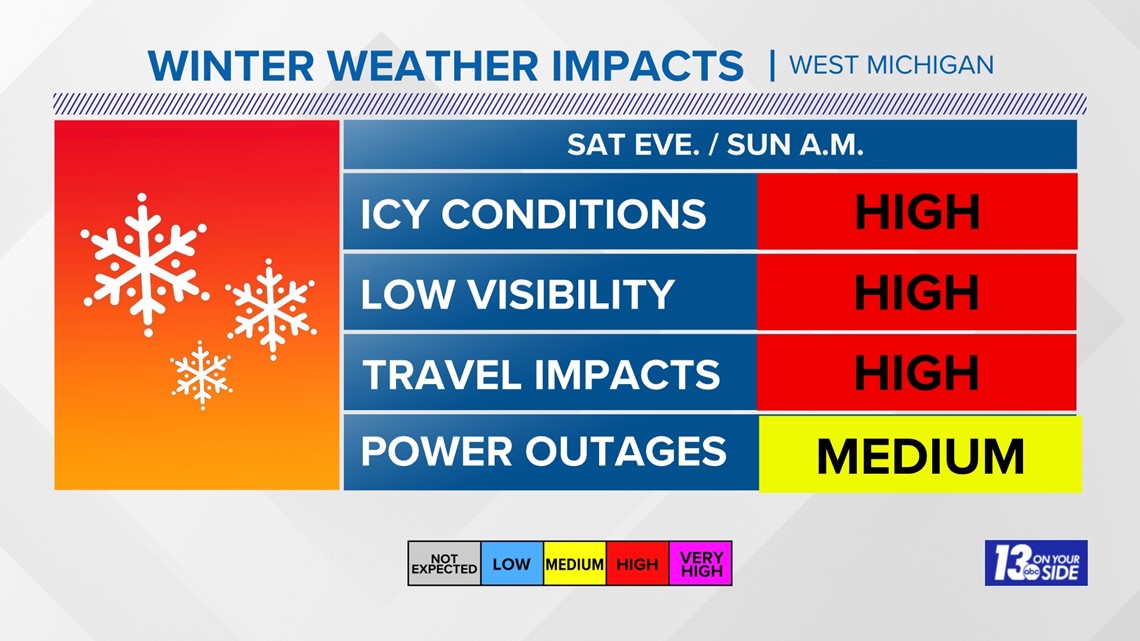 Stick with 13 ON YOUR SIDE for the latest forecast!
-- The 13 On Your Side Weather Team