GRAND RAPIDS, Mich. — The month of December had some pretty notable ups & downs, but overall temperatures ended the month right around average, when looking at all 31 days combined, with above average snowfall thanks to two notable storms.
January, on the other hand, has been anything but normal. We're running almost 10 degrees over our normal temperature for the month so far, when averaged out, and have little to any snowfall on the books.
This is putting a strain on local businesses that depend on the cold weather.
For an example of this, you need to look no further than Brenner's Bait and Auto in Comstock Park. Dawn Brenner tells us they have to order their ice fishing supplies months in advance, and now are sitting on lots of unsold inventory.
Brenner said "So we had to stop, cancel the rest of our order, and we're afraid we're going to be sitting on $20,000 worth of goods sitting here, of ice goods, ice equipment. So it's kind of hard."
When asked what was usual business for this time of the year, Brenner added "It's the busiest time of the year for us, where you'll come and there'll be people waiting outside of the door to get in, in the winter, because there's such a shortened time of fishing. It's between you know, when you first get ice, and then people generally will stop by the middle of March."
While looking at the next few months, it will be hard to promise the cold temperatures needed for ice fishing, but this warmer weather could mean increased snowfall. Here's a look at why!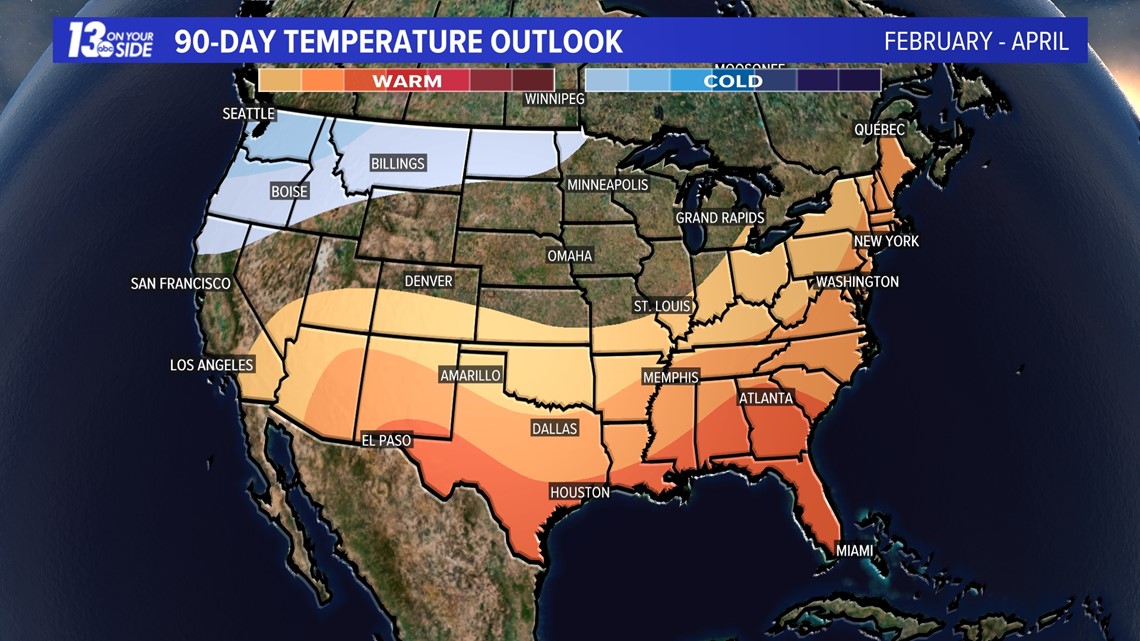 The Question:
Why would warmer weather lead to more snowfall?
The Why:
Well, like many things in West Michigan, it all has to do with the lake!
If Lake Michigan never freezes up, lake-effect snow will never move out of the picture. That means big rounds of lake-effect snow could stick with us through the entire winter season and into early spring.
As of now, Lake Michigan is nowhere close to reaching the point of shutting off the snowfall, with ice coverage just over 3%, and only up in the Green Bay region. The average is almost 15%, and last year we had just topped 10% by this time.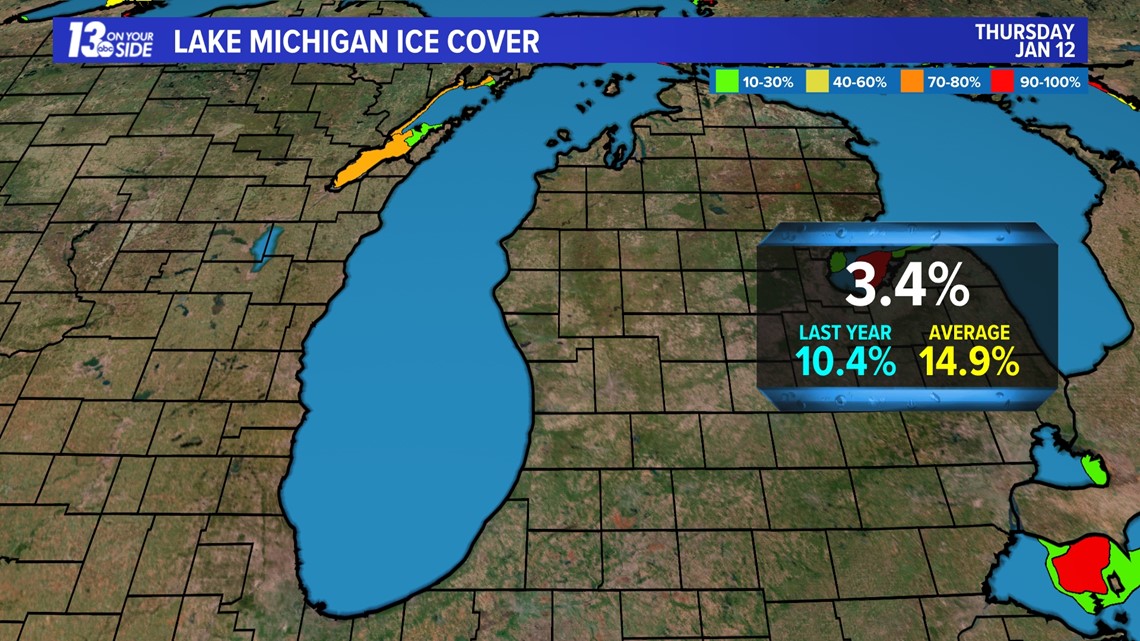 The water on the lake shows no sign of freezing up further any time soon either. Water temperatures in parts of the lake are still being shown in the 40s as of the second week of January.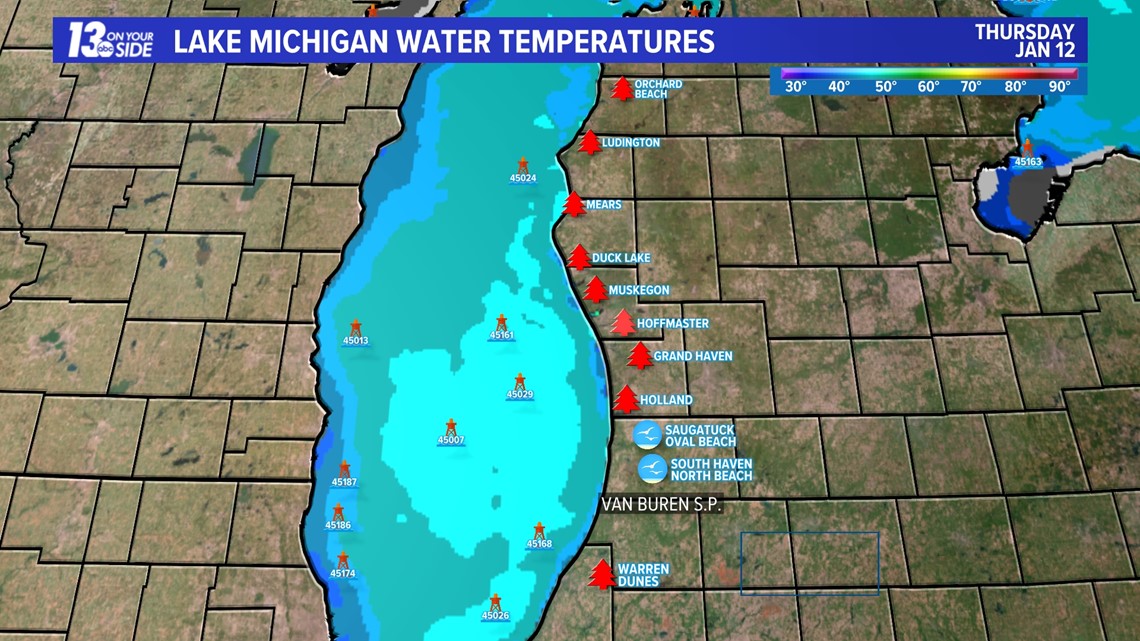 This means all of the ingredients are still primed for big lake-effect snowfall events. All we need now is a little cold air, a bit of moisture, and some wind at the right speed and direction.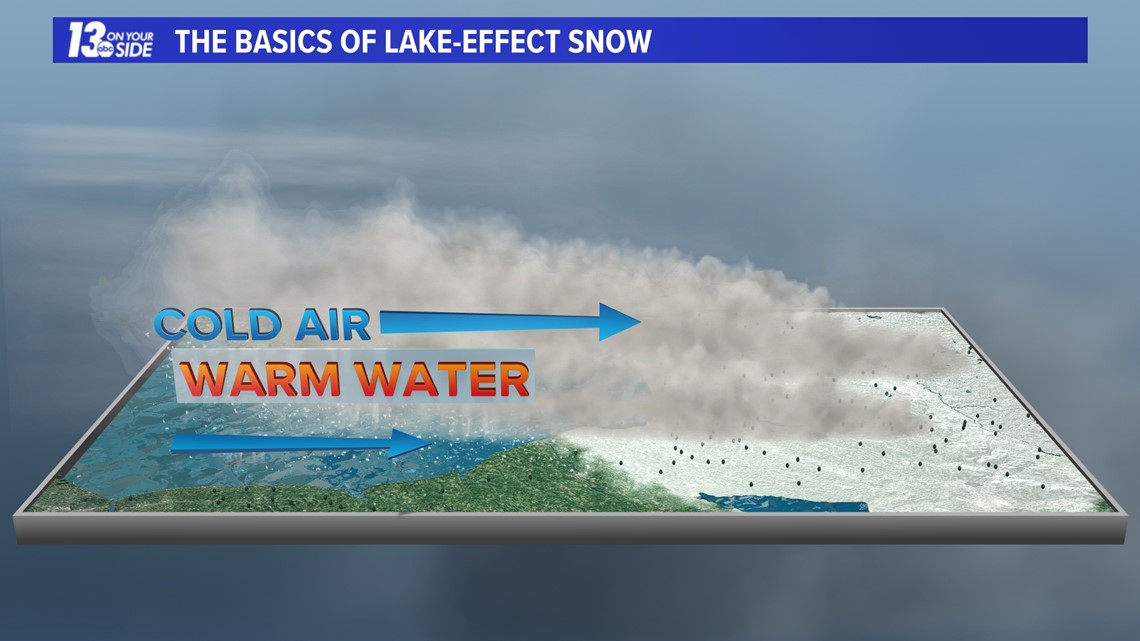 So, if you like the snow, keep your fingers crossed. Winter in West Michigan isn't close to being done just yet!
-- Meteorologist Michael Behrens