GRAND RAPIDS, Mich. — With the exception of several major winter storms, this winter in West Michigan has been something less than record breaking. However, that doesn't mean things can't rapidly change with the right weather system.
While the final totals for this season have yet to be determined, a new list from Angi.com ranks two West Michigan cities in the Top 10 Snowiest across the entire U.S. Those cities, Grand Rapids and Muskegon!
This may come as a shock to many residents, since we haven't seen an impressive winter season snowfall in a number of years, but neither has anywhere else in the U.S.
The list below looks at total snowfall for meteorological winter (December-February) averaged across the 2016-2021 seasons.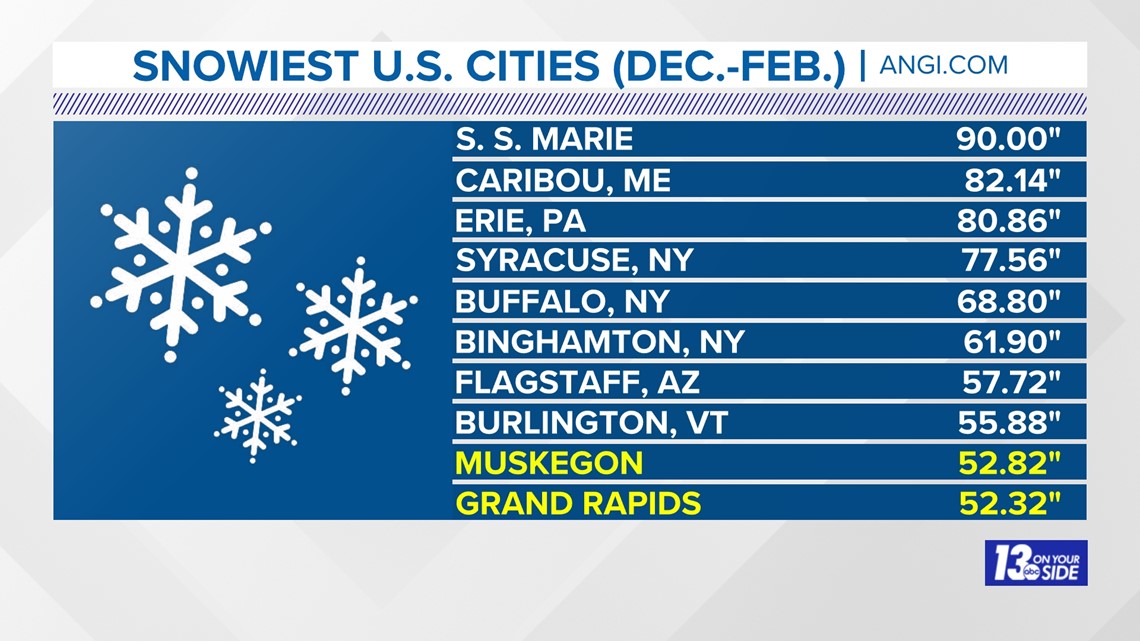 Even though we picked up enough snow to make this Top 10 list, the averages represented don't even reach our climate normals for snowfall. When looking back at the 30 year climate average period from 1990-2022, both Grand Rapids and Muskegon have been underperforming in the past 5 years.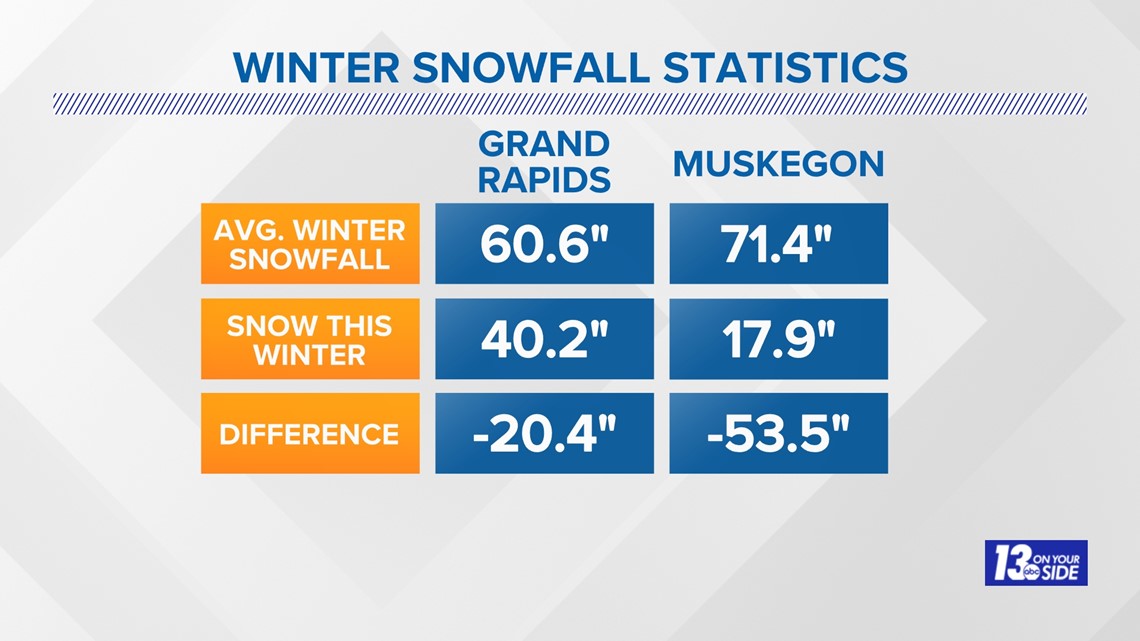 So the question remains for this winter, can we make it to an average year for snowfall? For Grand Rapids, maybe. For Muskegon, don't count on it!
In Grand Rapids just a few more inches in January, and an average February, would get us back on track. This is thanks to two heavy snow events back in December, putting us above our monthly average.
We would just need to see an additional 20.4 inches of snow by the end of February to reach our seasonal average.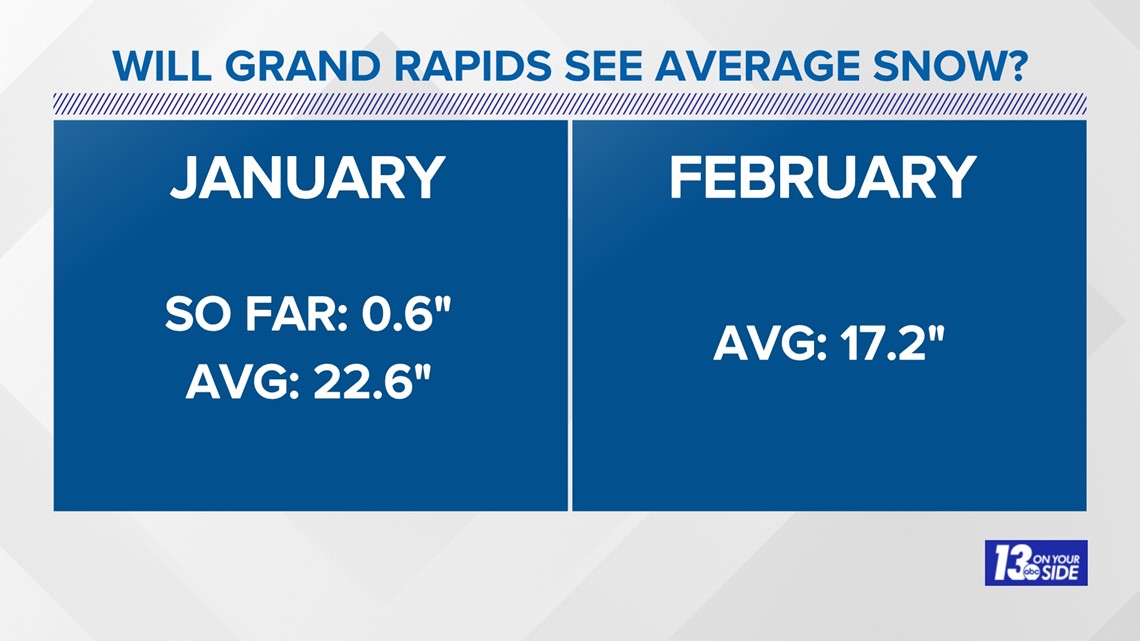 Muskegon would need a mammoth amount of snow to close out January, and to overperform in February to get us back on track for an average winter. The way temperatures have been trending, this is looking pretty unlikely.
It would take 53.5 inches of snow in just about 40 days to get us back on track for average in Muskegon. That's roughly 1.3 inches each day!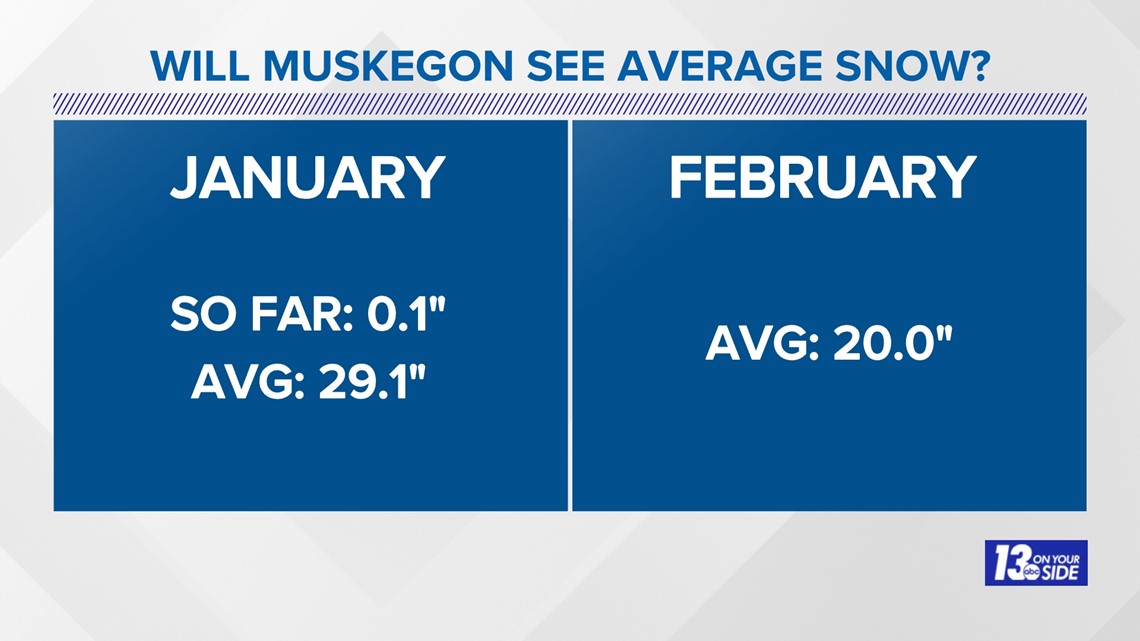 While this is unlikely to happen, there could be some hope for snow lovers!
The month of February is forecast from the Climate Prediction Center to have above average precipitation in West Michigan. So that means our snowfall potential all comes down to temperatures, and as of now, those could swing either way!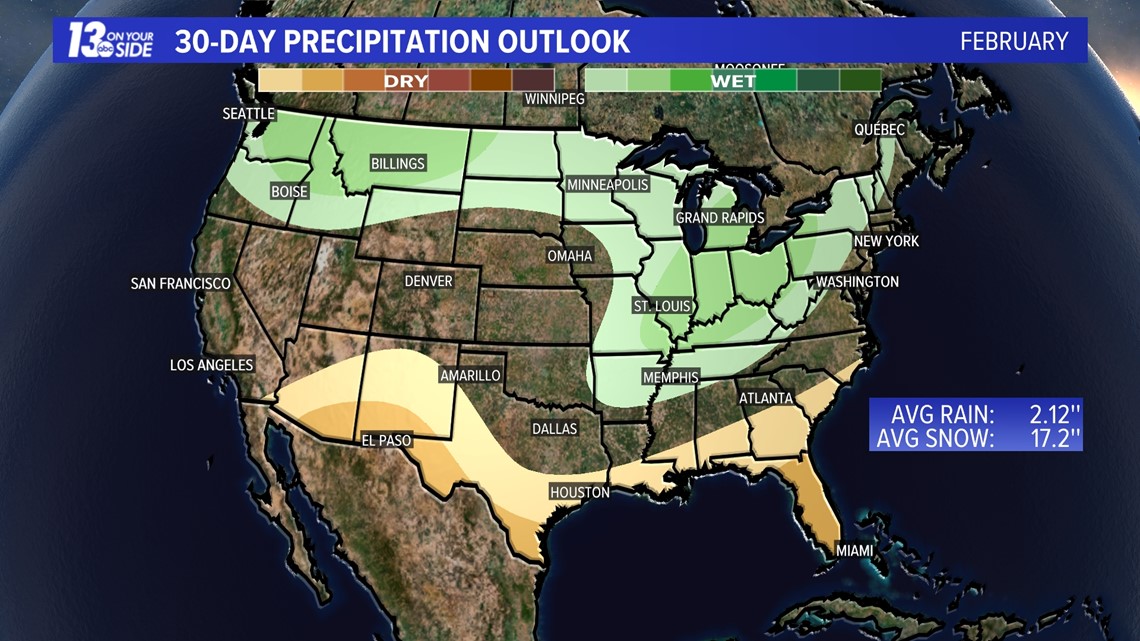 Be sure to stay tuned to 13 On Your Side for the latest forecast as winter rolls on!
-- Meteorologist Michael Behrens