GRAND RAPIDS, Mich. — At first mention, the idea of wet vs. dry snow seems a little strange. How can snow be drier or wetter when it is all just frozen water?
Well, it has to do with the density of the water in the snowfall, better explained as how much water you would get if you melted down a pile of snow.
The conditions that snowfall form in are the leading factor in what kind of snow will fall, so let's take a look.
You could say there is no such thing as "normal snowfall" as all events are somewhat different, but there is certainly an average type of snowfall, one that is most common.
This snowfall generally equates to one inch of liquid forming 10 inches of snow. It forms when temps are in the 20s and generally normal winter conditions are at play.
This snowfall won't be too difficult to shovel, build snowmen with, or to sled on, but it won't be the easiest for any of these activities either.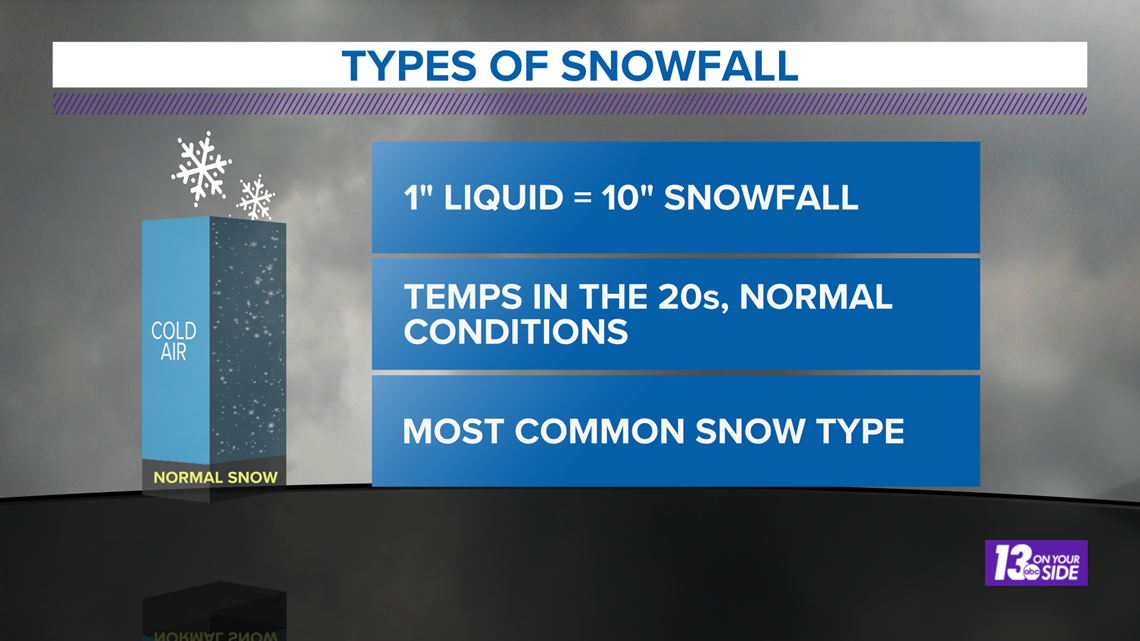 Wet snowfall is easy to notice when it happens.
This stuff is HEAVY! It is CRUNCHY. It is SLUSHY. It is a PAIN to shovel and to clear from roads and sidewalks.
Wet snowfall can run around one inch of liquid to five or less inches of snow.
This will usually form when temperatures are close to freezing, if not slightly above. This allows more liquid content to fall with the snow flakes, creating a much denser snowpack.
Sunny conditions or ground temperatures above freezing can have the same results.
On a plus side though, since you may end up stuck at home, this snow is great for snowballs and snowmen, but not so much for sledding.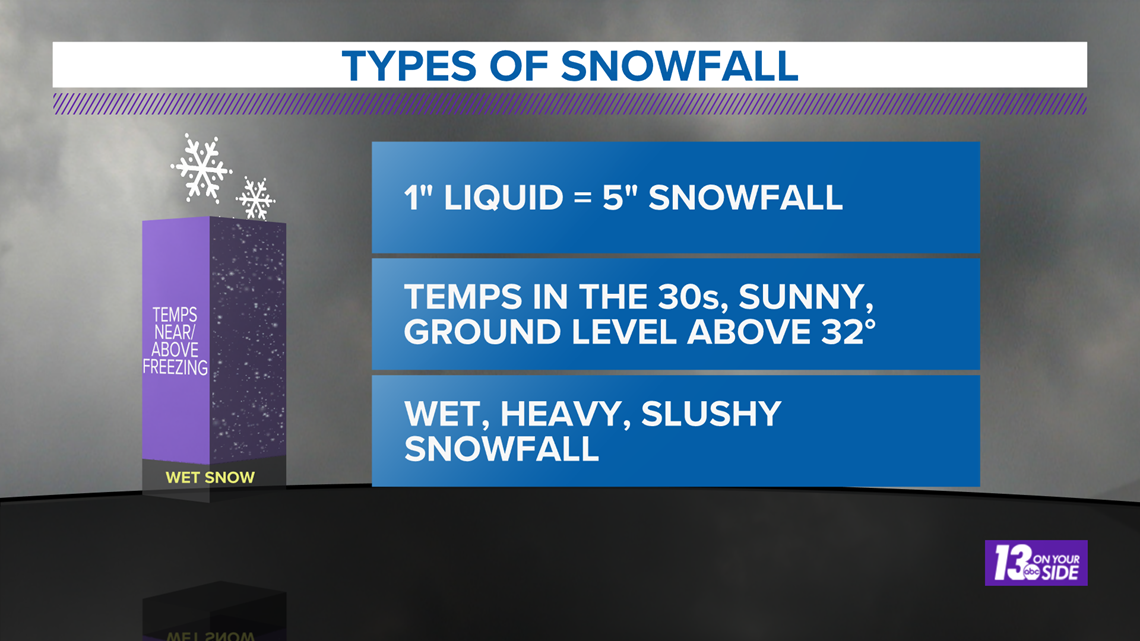 Finally there is the dry fluffy snowfall.
This type of snowfall can run well in excess of one inch of liquid, creating 25 inches or more of snow.
This can form when temperatures get down into the teens, when lake effect snow is falling, or during the overnight when the lack of sunlight allows for lower amounts of water to melt and fall with the snow.
The biggest problem with this type of snowfall is keeping it clear once you move it. It is not hard to get out of the way, but if things are windy, it tends to blow back over areas where you just cleared a path.
It is also a problem for packing, since the lack of density makes it hard to form snowballs. However, this snow is very fast for sledding, so make sure you find a nice hill!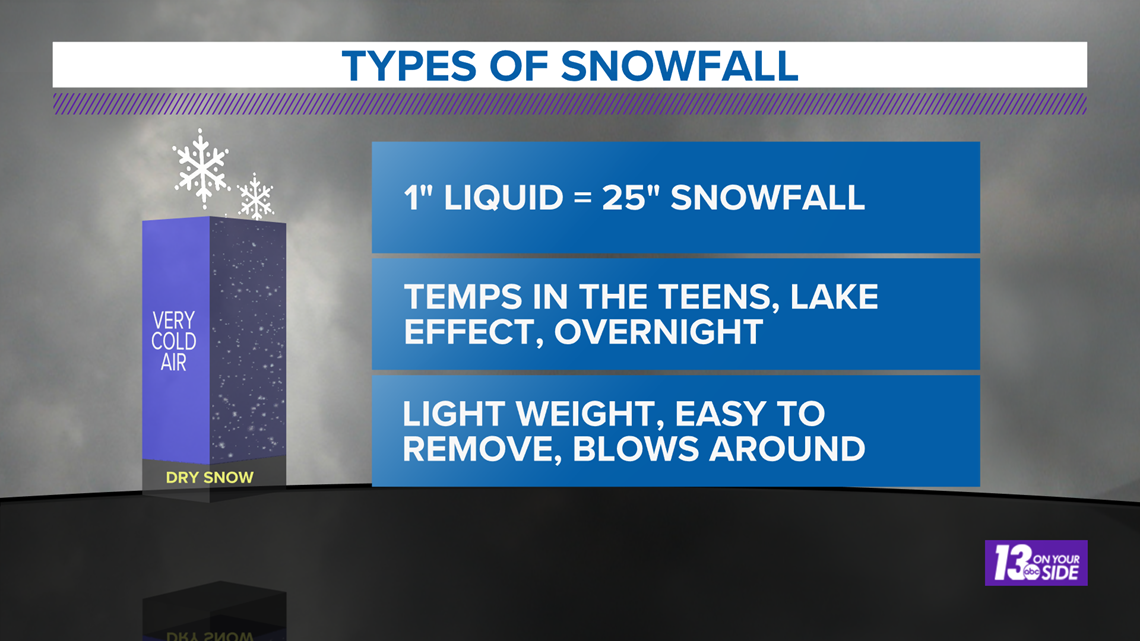 Dealing With The Differences:
It is because of these different snowfall characteristics that different tools and activities are needed for different kinds of snowfall.
Brooms and blowers are good for the dry stuff, shovels too. As the snow gets wetter, shovels will be necessary, up until the point you are better off getting a snow blower because the snow will become very strenuous to move manually.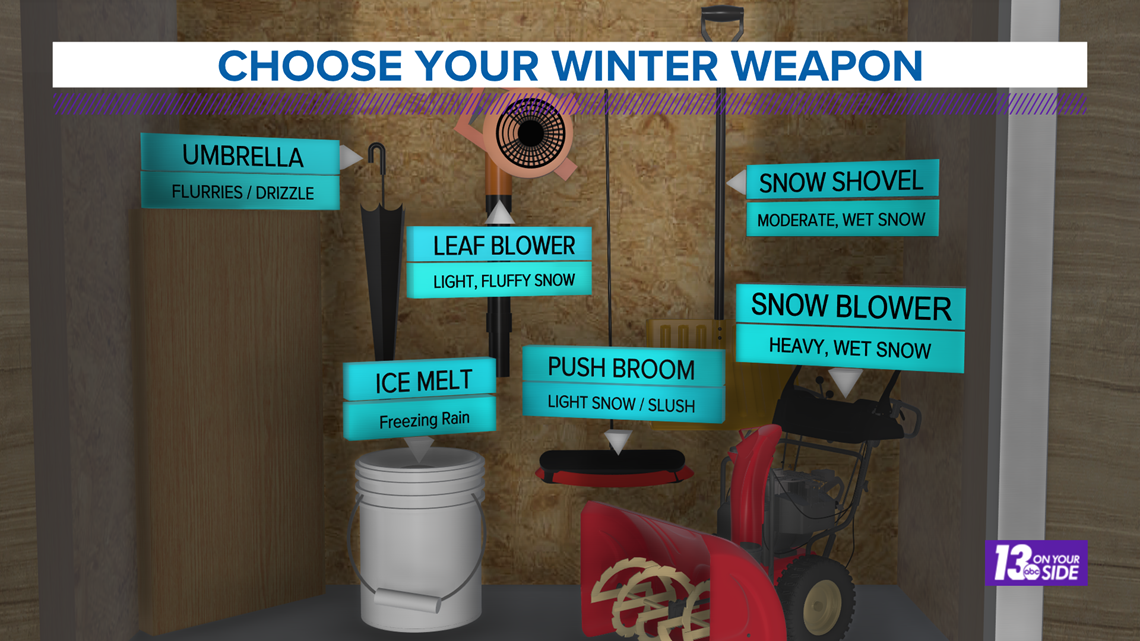 Another way these differences can impact your life is through the shear weight of the snowfall. If we have gotten a large accumulation of wet snowfall, then clearing the roofs of sheds, houses, and other structures can become necessary.
A foot of wet snow can weigh over three times the same amount of dry snow, and double that of typical snowfall. If allowed to pile up too much, roof collapse could become a concern.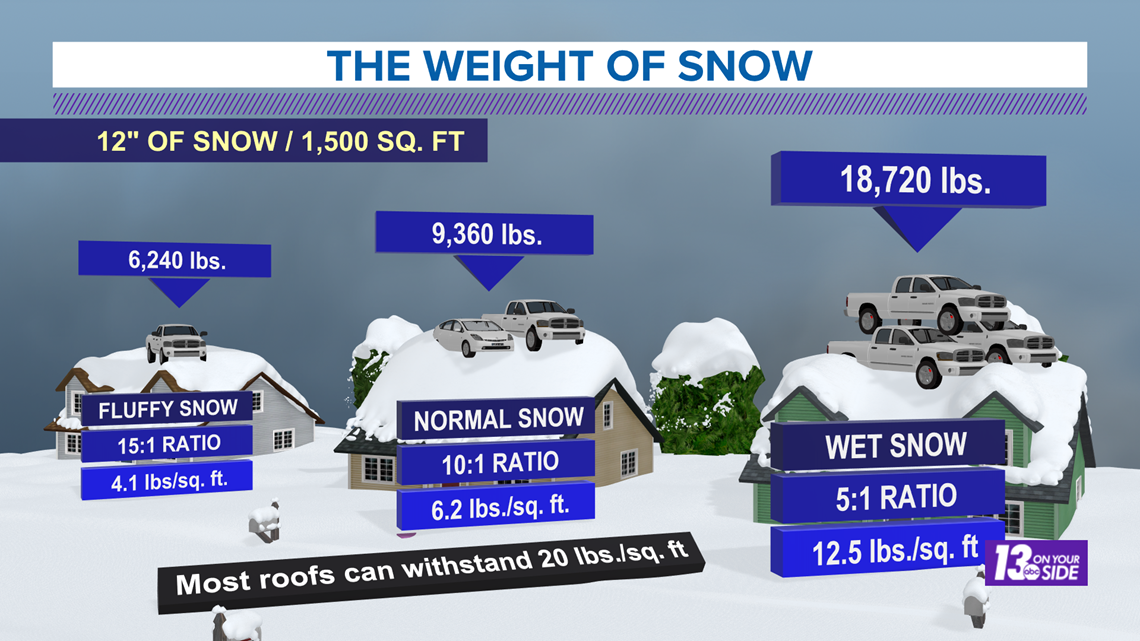 Enjoying The Differences:
Of course the impacts from different kinds of snowfall aren't all bad.
As mentioned above, if you are looking to build snowmen, have a snowball fight, or build a snow castle you will be ecstatic after a heavy wet snowfall.
If speed is what you're after, and sledding is your game, the dry fluffy stuff will be your favorite kind of weather.
Regardless of what kind of snow falls in West Michigan, just make sure you enjoy it if you can, stay safe, and stay with 13 ON YOUR SIDE to predict it best all winter long!
-- Meteorologist Michael Behrens