13 ON YOUR SIDE Winter Weather Climate Special 2022
How our climate crisis impacts West Michigan and our winter forecast for the 2022 season.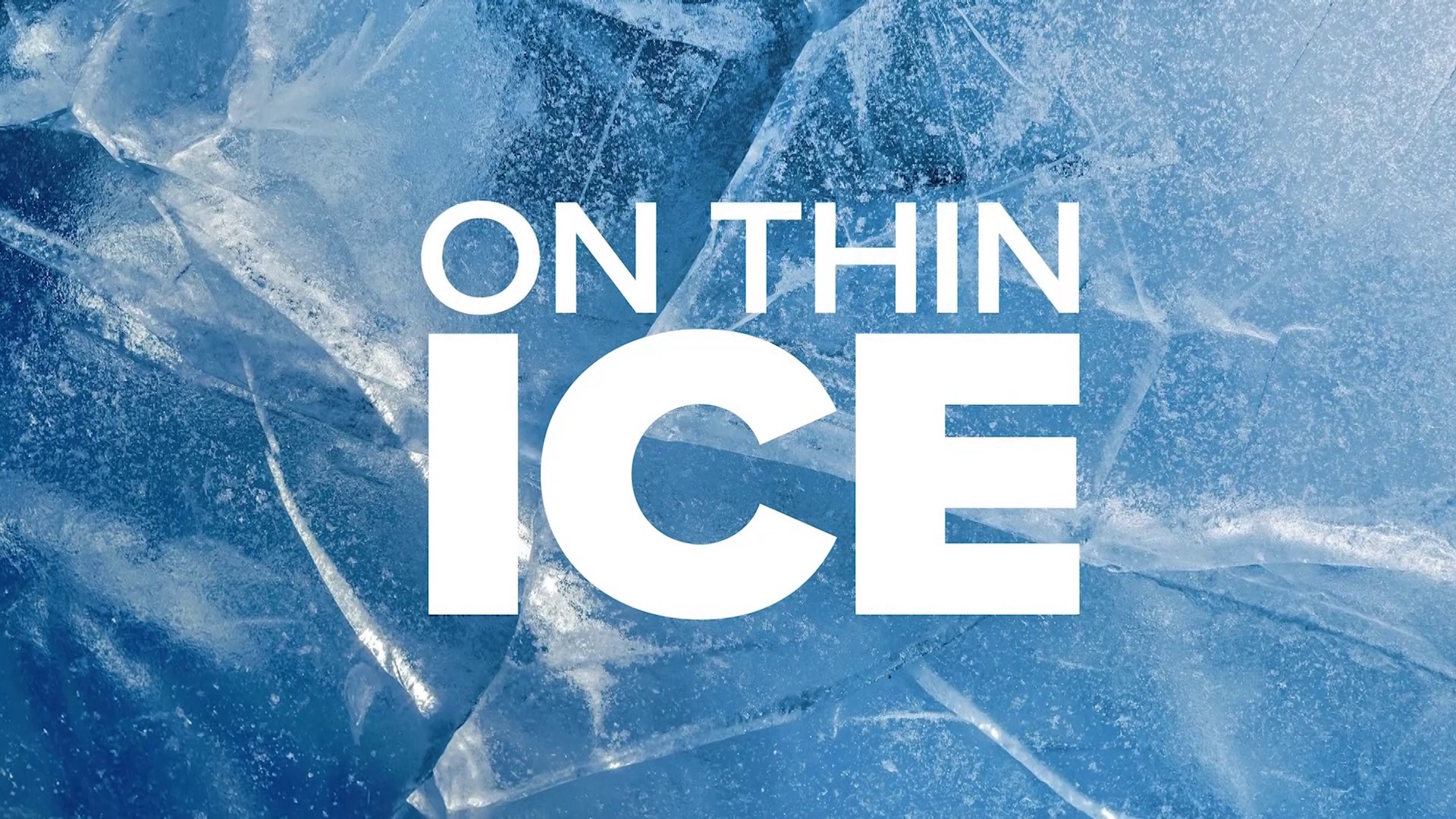 Introduction
:
A Warming Trend
Since 1970, winter is the fastest-warming season for the majority of the U.S. This can have major impacts on our economy, agriculture, and overall health. But what is causing this change and what does it mean for West Michigan?
The 13 On Your Side Weather Department is here to explain it all.
On Thin Ice
:
A Warming Of The Lakes
Since record-keeping began in 1973 great-lakes ice coverage constantly varies from year to year. But there is one clear trend and that's ice coverage is declining.
In the last 50 years, maximum ice coverage across the great lakes is down 22% on average. Areas that used to see 100% ice coverage have a 69% decrease.
Take lake Michigan for example, our 50-year average ice coverage is about 40%. Although, 6 of the last 10 years have seen below-average ice coverage.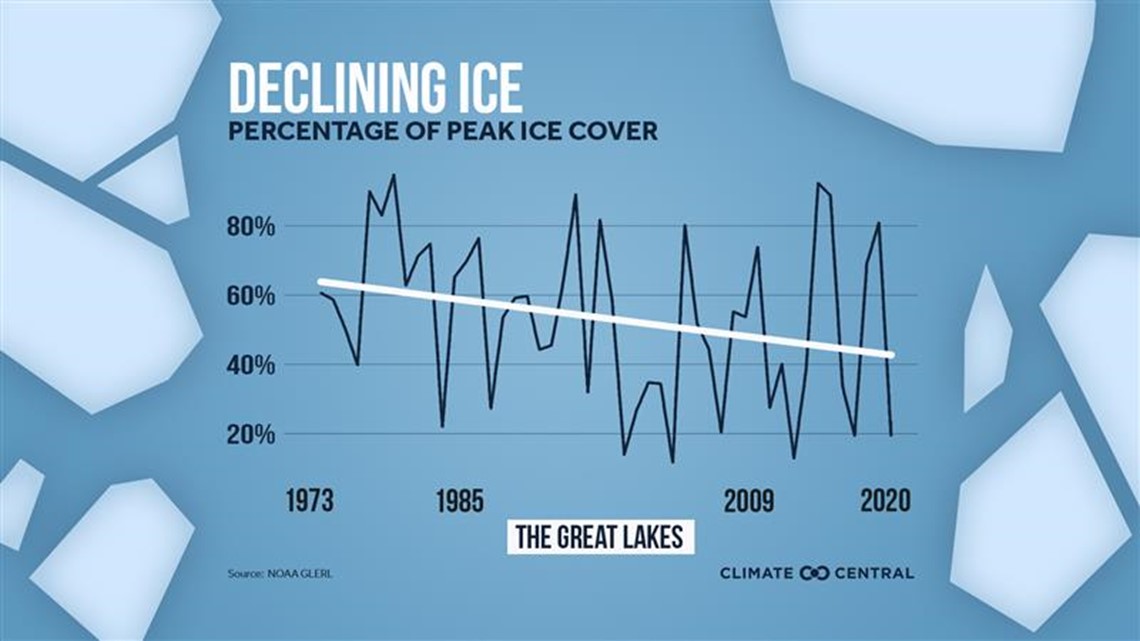 The question becomes, why is this happening?
A decrease in ice coverage comes down to one huge factor. Warming temperatures.
Cold weather is a necessary ingredient for ice formation.
Think of it like sticking a water bottle in a freezer, but only leaving it there for 15 minutes. The water will be colder, but not frozen
Over the last 50 years, the Great Lakes region winter temperatures have warmed 5°F on average and the season itself is seeing fewer days below 32°. Keeping our water temperatures warmer for longer, leading to a slower freeze, quicker thawing, more open water, and an increase in the lake effect.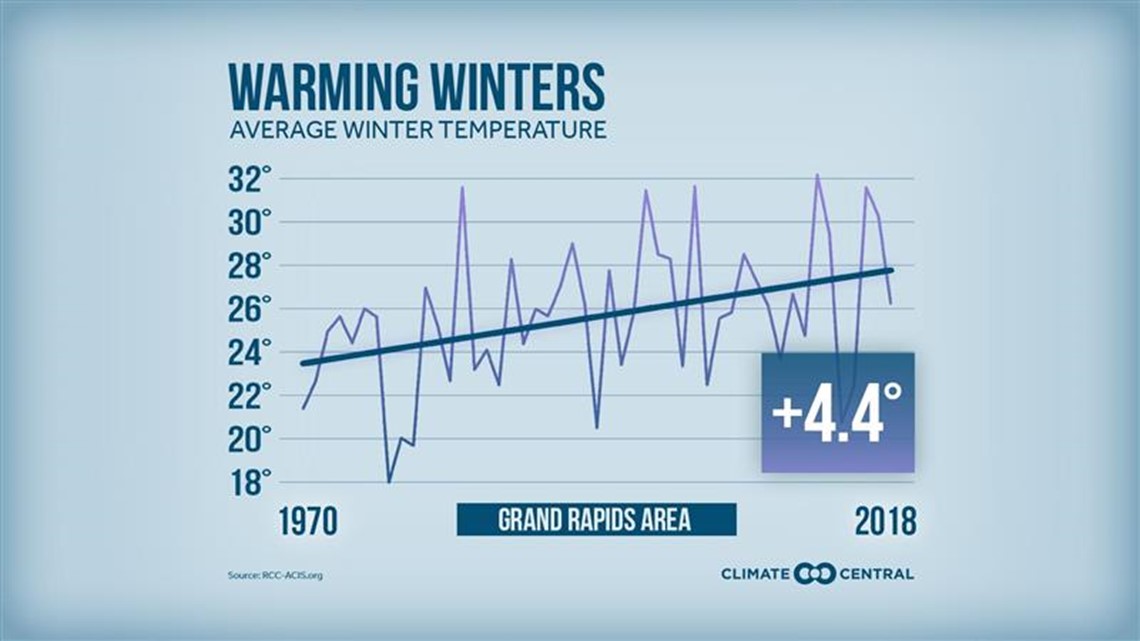 Leaving those who rely on frozen waters for recreation or income quite literally on thin ice.
Snow Money
:
A Danger To Our Winter Economy
One of the most directly impacted areas of business from warming winters in our state is the outdoor winter recreation business.
According to data provided by the Michigan Economic Development Corporation, snow activities accounted for over 74 million dollars in GDP for Michigan in 2021. However, these businesses can boom or bust based on weather conditions.
To get a pulse on things around the state, I spoke with three local winter recreation areas and the DNR about how they are getting along in our warming winter climate.
At Cannonsburg, Danielle Musto, their marketing director, said they started to move beyond trusting mother nature years ago.
Danielle said "You know, we would like it to be winter year-round if possible. What we do, do is just, you know, make snow whenever possible. So we look for those consistent cold temperatures, where it's 20, mid-20s, or lower, and then we make as much snow so that we can kind of bank it."
However, if temperatures never fall, not even snow machines can help out the slopes.
Danielle added "Last year, we weren't able to open before Christmas, but this year, it looks like temps are dropping. So opening before Christmas is always the goal."
They've also expanded into more of a year-round destination, with activities in every season, but this isn't an option for everyone. In Grand Haven, at Mulligan's Hollow, the slope is their bread and butter.
Director of Operations Ryan Parsons says thankfully the city does help with some of the costs of combatting warming winters.
Ryan said "Electricity and water can be expensive. Luckily, we have a good partner with the city, who owns this property and helps us out with a lot of things."
Ryan says their biggest concern is days closed due to lack of winter snowfall.
That is the same concern for Jim Rudicil in Muskegon, who is the Executive Director for the Muskegon Luge and Adventure Park. Unlike the downhill slopes, their activities are not conducive to generating man-made snow.
Jim said, "We have always lived and died by the weather, and you know, some winters we would be lucky and capture, you know, twelve winter weekends, and some we wouldn't be so lucky and only have four or five."
Like at Cannonsburg, in Muskegon they are expanding to be a year-round destination, but this same idea of going year-round is also disrupting another winter activity, snowmobiling.
In an interview with 13 On Your Side, Ron Olson with the Michigan DNR, let us know that they are seeing a continued decline in snowmobile permits in the state of Michigan. They suspect part of this trend is consumers opting instead to invest in ORVs, which are seeing longer seasons from warmer weather, becoming almost a year-round outdoor recreation option.
All of this is leading us to one conclusion.
In order to preserve our favorite outdoor winter activities and areas of recreation, addressing and mitigating climate change is our only solution.
Pests Abound
:
Invasives Target The Region
Our changing climate, including the clear warming trend of winter, has created another problem – the increased risk of invasive species. It may not be clear in our day to day lives, but it's an issue that can have profound impacts to landscape and human health, even here in West Michigan.
"Michigan has become warmer; the Great Lakes region has become warmer."
As climate continues to change, its impact can be felt beyond the scope of the atmosphere.
"The majority of that warming has come in the cold season, during the winter months and to a little bit lesser extent in the fall in the spring," says Dr. Jeff Andresen, the State Climatologist of Michigan. "And that's definitely related to against survivability of insects and other pests during the wintertime in the cold season," he adds.
Introductions of invasive species are complex. Sometimes it's accidental, other times it's a release of a species with no natural enemies. Climate, however, can lead to survivability. One such species is the hemlock wooly adelgid.
"It's a species that attacks our Hemlock trees in Michigan, which are in many parts of the state are very, very important. These insects have migrated from the east. It's managing to survive. And the areas it's surviving in are those that have modified climate, especially areas the counties close to the lakeshore," Dr. Andresen explains.
The insect is harmed by extreme cold of temperatures less than minus four degrees Fahrenheit. Near the lakeshore, extreme cold is no longer a guarantee each winter with the modified lake climate.
Part of the reason is the lack of ice coverage on the Great Lakes, which can allow milder temperatures to last much of winter near the lakeshore, compared to locations further inland.
"So the concern for the future is of course that as the climate continues, or at least projected to warm even further, that the geographical spread of that that insect, unfortunately, will probably occur into more interior areas of the state that were not under threat in the past," Dr. Andresen says.
Invasive species also include those that can impact humans.
"We've seen an expansion of many of our disease carrying tick populations in Western Michigan, expanding both northward along Lake Michigan, and then inland as well over the last 20 years," says Dr. Will Miller, assistant professor of bio wildlife biology at Calvin University.
The black legged tick, also know as the deer tick, is the carrier of lyme disease. It's expansion has also been noted along Lake Michigan and inland.
While dormant in the winter, a shrinking cold season can alter the life cycle of ticks.
"Another prediction that's being made, as climates continue to warm, is that ticks will likely see alterations to their biological events that are occurring within their lifecycle," Dr. Miller explains. "So potentially earlier emergencies, later periods of activity into the fall," he adds.
Climate projections of the future may give other invasive species a chance of survivability in places once not expected.
"It's not just insects, it's also weeds. Also, disease pathogens that now have a little bit better ability to overwinter here in Michigan, and that was not the case again, in decades past," Dr. Andresen says.
More reasoning to pay attention to our changing climate as it could alter our landscape, our ecosystem, and even our own health.
Conclusions
:
How You Can Help!
No matter the season or the location we are seeing the impacts of climate change become more severe, but it's not too late. There are things you can do today that will help our efforts to combat our evolving climate.
Simple things like saving energy at home, walking, biking, or carpooling, to even eating more plant-based foods can make a difference.
So join us in taking simple actions to tackle this climate crisis and help protect West Michigan!
-- The 13 On Your Side Weather Team