MICHIGAN, USA — It may be the second half of March, but it'll be a middle-of-winter feel across West Michigan. The combination of lake effect snow, strong winds and frigid temperatures will lead to widespread impacts. Where is the luck of the Irish when we need it?
The intrusion of cold air over the Great Lakes has allowed lake effect snow to blossom overnight Friday into early Saturday. This will continue throughout Saturday with the help of a favorable wind direction – west to west-northwest – and a secondary 'wave' of energy pinwheeling into the Great Lakes.
A Winter Weather Advisory is in place due to the combination of lake effect snow and strong winds, in effect now through 2 a.m. Sunday. Everyone should plan on slippery roads, patchy blowing snow and reduced visibility during this event.
Accumulations will vary across West Michigan because of the nature of lake effect snow, but locations near and west of US-131 stand the greatest chance of picking up 3"+ of snowfall throughout the day. In the most robust lake effect bands, some locations have the opportunity to pick up 6"+ of snow. Snow totals will wane to 1"+, primarily eastward of US-131.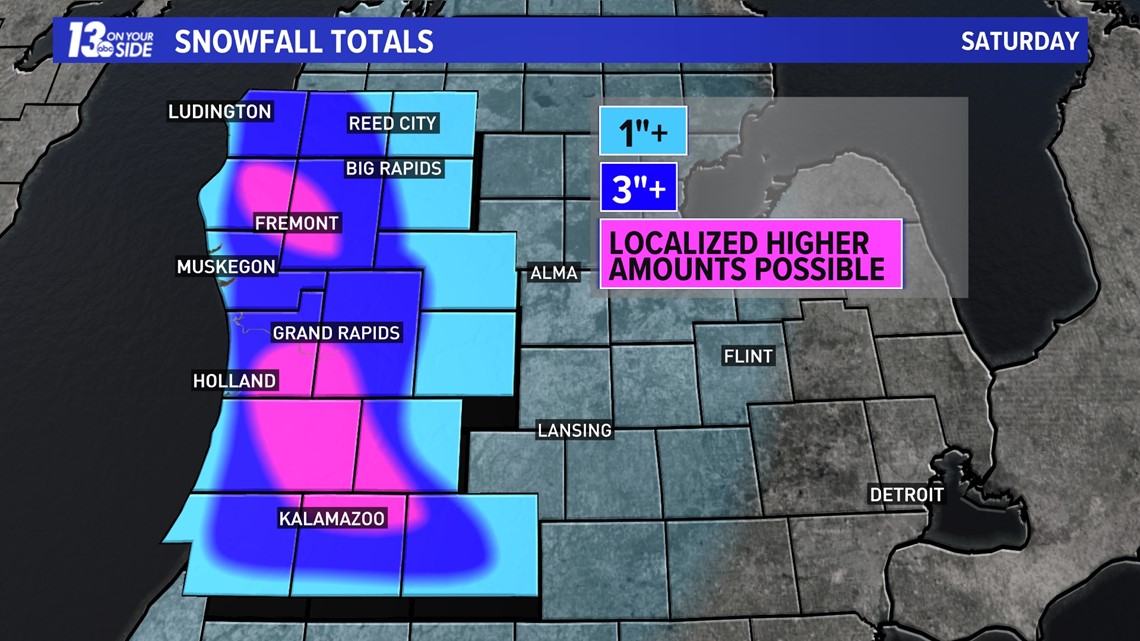 It's important to remember that this will be lake effect snow, which means that just a couple miles down the road could have very little snow while some locations experience multiple inches.
Regardless, frigid temperatures for mid-March will be felt by everyone across West Michigan. This will be the coldest air in weeks to settle into the region for Saturday. Highs will not make it out of the 20s, and wind chill values will be in the low single-digits to low-teens all day long.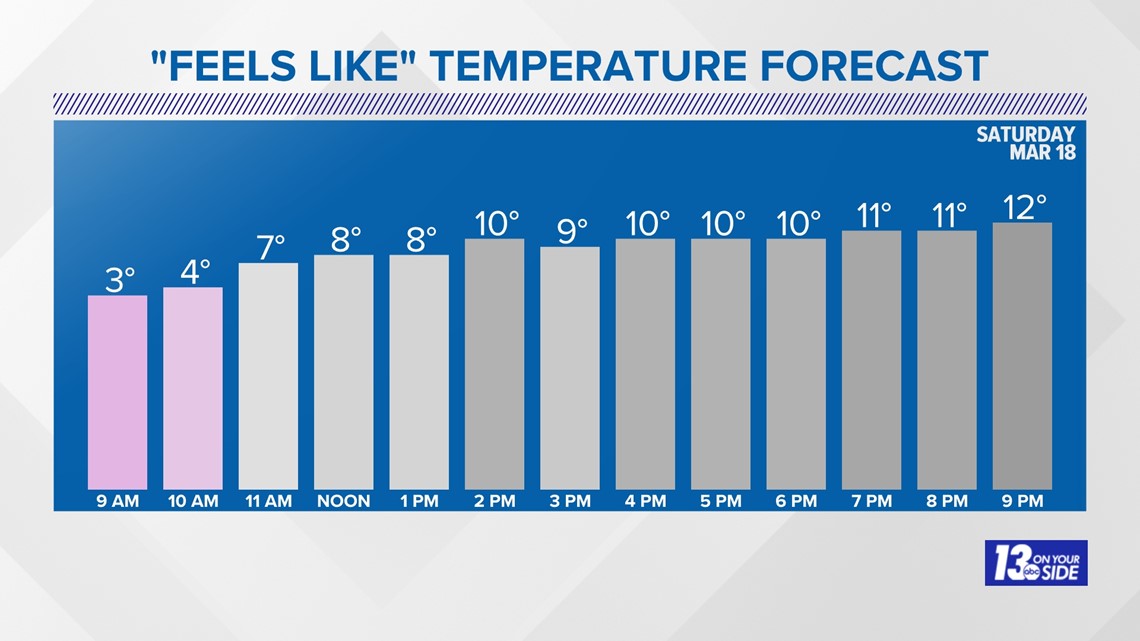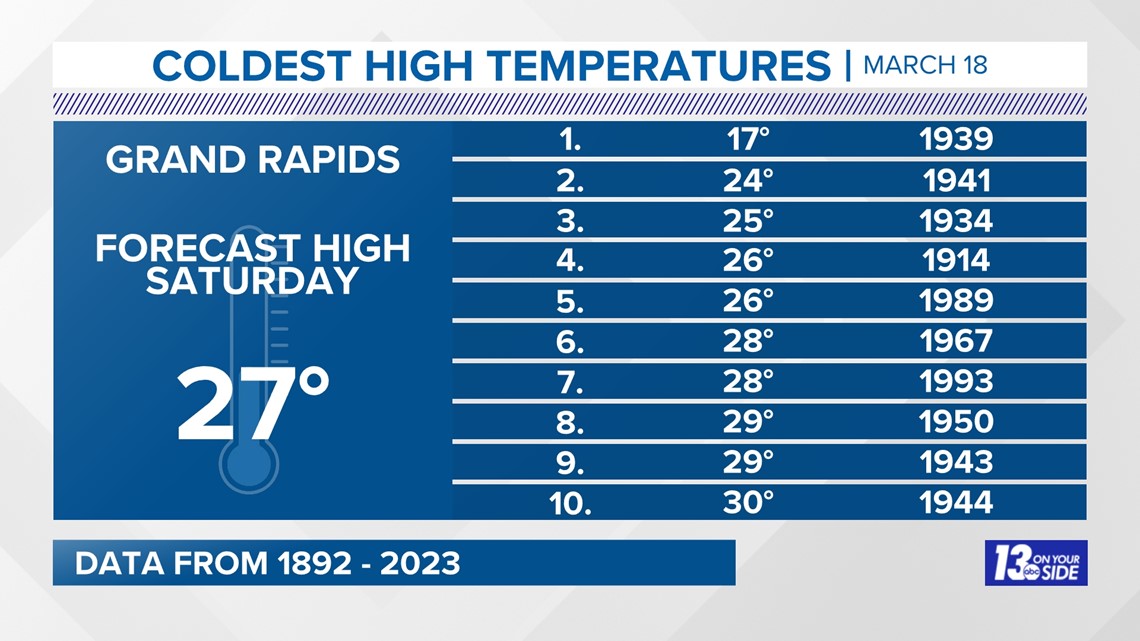 Winds will be sustained at 15-25 MPH throughout the day, with gusts approaching 30-40+ MPH. This will create visibility issues, along with lake effect snow bands reaching well inland.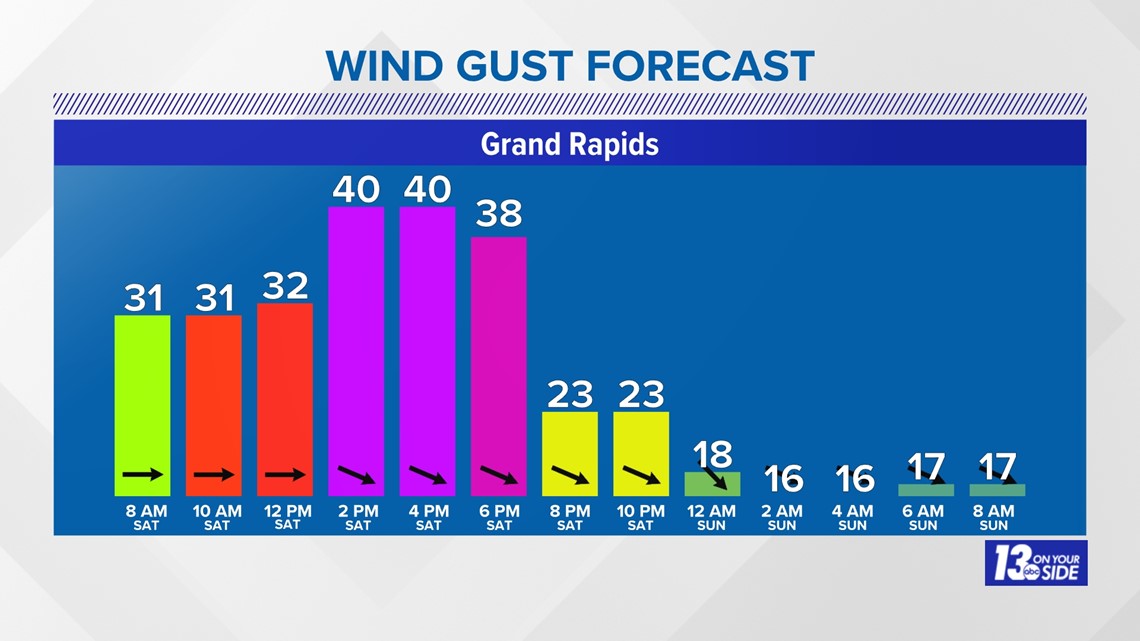 Needless to say, if you have any St. Patrick's Day plans this Saturday, make sure you bundle up and plan for slick roads.
Weather conditions rebound on Sunday, with milder temperatures and sunshine as the day goes on. Temperatures continue to rise this upcoming week, with the 40s on Monday and 50°+ Tuesday through Thursday.
Stick with the 13 ON YOUR SIDE weather team for the latest forecast!