ZEELAND, Mich. — At 90 years old, Luella Hirdes is living life to the fullest. She typically starts her day with a piece of pie. But on this day, she reports to me with a smile that she's switched up her routine, opting instead for a piece of cake.
A sweet breakfast wasn't the only thing Luella had to look forward to during my visit to her Ottawa County home. She also got to see a good friend of hers, certified physician assistant Jeff Anderson from Homeward Health.
While Jeff is hanging out with Luella, they discuss her prescriptions and her latest eye doctor visit. He provides her some advice and makes sure she's feeling well. It all happens from the comfort of Luella's home, which is perfect since she doesn't like to drive anymore if she doesn't have to.
"One of the ways that we deliver care is we will go in-home. We'll do a hybrid of in-home visits with a nurse or medical assistant and the medical provider coming in remotely," Jeff said.
Homeward also has the capability of bringing a mobile clinic to the patient. It's a large, handicap accessible bus with two exam rooms and some lab capabilities.
"We will bring this to communities around West Michigan, where there's a need, so we can get it in closer to where people are, if the care they need maybe isn't something that's delivered in the kitchen or on the living room couch," Jeff said.
Services like the ones Homeward offers are critical to people living in rural zip codes, where studies have shown there is a 23% higher mortality rate and a 40% higher preventable hospitalization rate than there is in urban communities. Jeff lives in rural Kent County himself, and knows the struggle first hand.
"You've got to go 40 minutes, 50 minutes, an hour and a half to your doctor's appointment, where you have just a very limited window of time. That's not realistically feasible for a lot of people," he said.
"We see that. We acknowledge it, and we want people to know they don't just have to deal with it. They can pick up the phone and call us, and we will get that health care out to them."
Jeff's military service has helped prepare him for this job. He was in the Army, starting out as a combat medic with the 82nd Airborne Division. He spent time in Afghanistan and Turkey.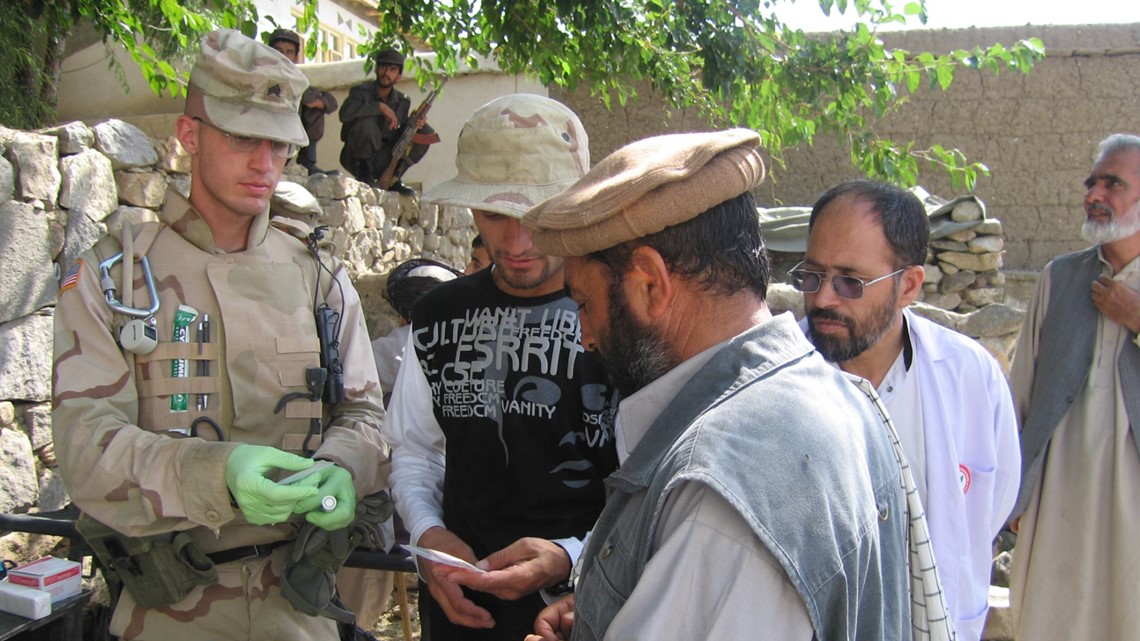 "The Army teaches you to do more with less, and to do it in an area that you have nothing," he said, noting that in many cases medics could only work what they were able to bring with them in the field.
"But the quality of care needs to be second to none. So that ability, that thought process, and that mentality is what I really found to be useful here with Homeward, and the care that we're delivering in rural communities where there just isn't care, and the care that is there is dwindling."
One moment that sticks out to Jeff is when Homeward received a call from someone who lives 80 minutes from her primary care provider. She couldn't drive, her husband had passed away, and none of her children lived close to her. She tried to pay neighbors to drive her to appointments. But after awhile, she couldn't afford to do that anymore and her neighbors couldn't find time to help. So, she had decided to go without medicine or health care.
"I said you don't need to do that. We come to where you are. We will be there. And she conveyed that what she got out of that was hope that people cared, hope that people would provide what she needed, and hope that she didn't have to go at it alone and try and figure it out in a system where she couldn't get anything," Jeff said.
"It's not just health. It's not just care. It's not just health care. It's hope that's being delivered to people in rural communities."
Jeff says Homeward Health is in-network with Medicare and they have a partnership with Priority Health. Homeward is available in 23 Michigan counties. In our viewing area, those counties include Allegan, Calhoun, Ionia, Kalamazoo, Lake, Mason, Mecosta, Montcalm, Muskegon, Newaygo, Oceana, Ottawa and Van Buren.
"There is no catch. We are a primary care provider. I am a primary care provider. There's no extra fee or membership club or anything like that," Jeff said.