HUDSONVILLE, Mich. — The Friday bell signaling the end of the week always puts a smile on the faces of elementary school students. But as a line of parents waited outside Jamestown Upper Elementary School, there was one student who was particularly happy about the way the last school day of the week had gone.
At nine years old, Lylah Gritter went on her first school bus ride with her classmates on Friday. And something as simple as that meant the world to her.
Lylah is in a wheelchair. So in order to get to Friday's field trip to Frederik Meijer Gardens, she'd need a lift to get on a school bus. Hudsonville Public Schools has plenty of smaller buses with lifts. But for Lylah, there was one problem on Friday.
"For years, we've always transported our students that need a wheelchair lift vehicle separately, and teachers would usually find some friends to ride the school bus with them, so they wouldn't be alone," said Hudsonville's director of transportation, Rob Matthews.
"But over the past year or two, it's been challenging to find enough drivers to move all of those vehicles."
To get Lylah on the bus with her friends, Matthews would need to find a full-sized bus with a lift. Hudsonville's school board unanimously approved funding for just such a bus in February. But it won't be ready until fall. So Matthews, a Rockford Public Schools graduate, called in a favor from his alma mater.
"They already have several of these vehicles in their fleet, and so they had a full-sized bus that was a spare. I approached them and asked if we'd be able to borrow it and there was no hesitation. They were on board," Matthews said.
"We may be rivals on the athletic field, but it really is a testament to both the Hudsonville and the Rockford communities, to show the value of working together to make sure every kid has an opportunity."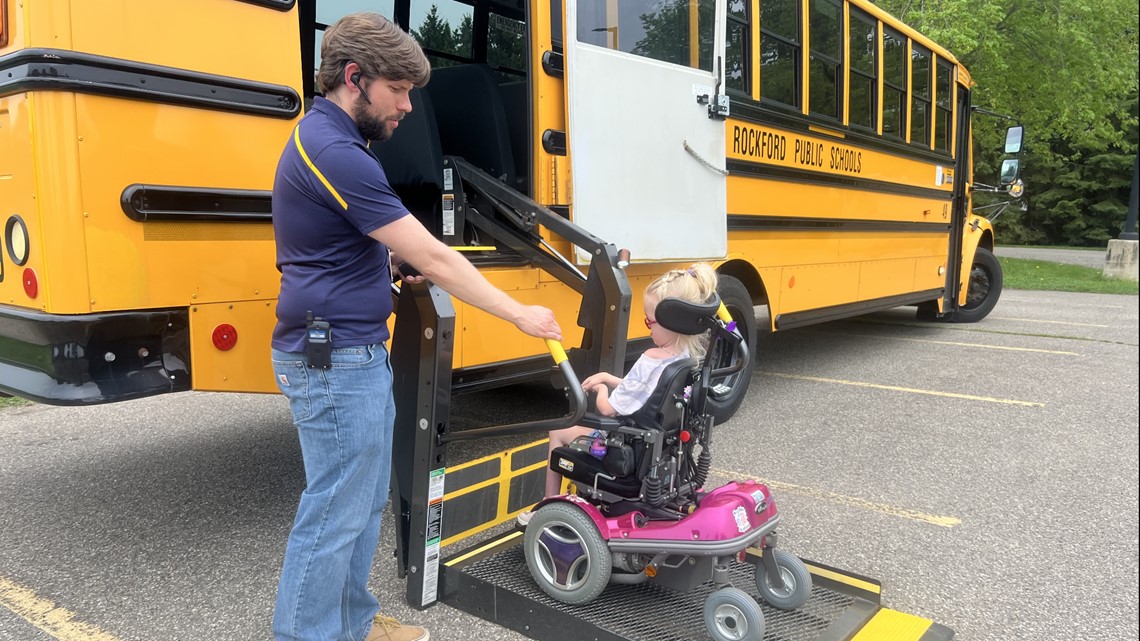 Mike Cuneo, who serves as assistant superintendent of finance at Rockford Public Schools, says this kind of thing happens more often than people probably realize.
"There have been times where various other schools, their bus might break down. They ask us to send a bus over to put the kids on, and then we transport them accordingly," Cuneo said.
"There have been a number of other times where districts have helped us out and we've been able to help them out. Whenever we can do that, to make sure that students are safe, transported safely, and making a good experience for them, we try to help out as much as we can."
Third grade teacher Jamie DeMaar was the first to alert Matthews that Lylah might need a transportation solution and she's thrilled that it worked out the way it did.
"She was smiling. She was probably a little nervous, but it made my heart melt because she's just like every one of us. Everybody is special in their own little way and to have her join us like that, it just made my heart melt and I was just happy she could be there with us," DeMaar said.
"We want everyone to feel included in our class. We're a family, and so I didn't want anybody to feel left out. If it was my child, I would have wanted the same thing."
Holly Gritter, Lylah's mother, posted her gratitude for DeMaar and Matthews on social media.
"Sometimes it's the smallest gestures that make such a difference. Lylah's class field trip was extra special today. She got to ride the bus with her CLASS!" Gritter said in the post.
Gritter said it would be wonderful if every school district could consider purchasing a full-sized bus with a lift. According to Matthews, a standard full-sized school bus costs Hudsonville about $127,900 each while one with a lift costs $150,300.
"It's a lot more expensive than a traditional school bus. But the Ottawa County residents a couple of years ago passed a operating enhancement millage that allowed local school districts to have a few additional resources for things like the modernization of our school bus fleets," Matthews said.
"With that enhancement millage, we have the resources to be able to add that piece of equipment to our fleet. And our business partners are in the process of getting that assembled."
For now, Matthews is grateful for his friends, Rockford, and all the other cross-district partnerships that make it possible to give a student like Lylah the field trip experience that she deserves.
"One of the highlights of my job is coming up with creative solutions to keep every student moving, to get kids to and from school safely, and to allow our students to be involved in things beyond the classroom walls," he said.