GRAND RAPIDS, Mich. - What happens when commitment and dedication intersect with patriotism and the power of persuasion?
"The Spirit of South High" is what happens.
While World War II was being waged in the late fall of 1942, students from Grand Rapids South High School wanted to do their part to change the course of history. Little did the students know that their attempt at history would evolve into a true mystery that would take 72 years to solve.
►Earlier: 'The Spirit of South High' | 50 years after closing, legendary school still teaches
"Everything was rationed back then," said Sandra Warren, 1962 graduate of Grand Rapids South High School and author of the book We Bought A WWII Bomber. "You couldn't buy a coat; you couldn't buy shoes; you couldn't buy milk, bread or eggs because all the factories had been converted to doing everything for the war effort."
It was a rare time in American history when full-time employment intersected with extreme deprivation.
"People were very willing to give up what they had because the people on the home front wanted to get involved," said Warren. "So, they bought war bonds."
Sandra Warren
War is expensive and somebody has to pay for it. World War II cost the United States $300 billion. By the end of the war, 85 million Americans had purchased $187.5 billion in war bonds.
That means more than half the cost of the war was paid for, thanks to the patriotism and personal sacrifices of the American citizens.
Discussions about the war happened daily in Henry Mulder's civics class at South High School.
Sandra Warren
"There was a weekly reader that Mr. Mulder would read to the class," added Warren. "It was sent to all the classrooms, and during the war years, it was very specific."
One of the last newsletters in 1942 detailed a campaign about how to buy a bomber. Mr. Mulder read about it to his 8th grade class.
Sandra Warren
Sitting in the back of the class was Arthur Blackport.
"It wasn't like me to raise my hand in class," said Blackport, 90. "But when Mr. Mulder started talking to us about the 'Buy a Bomber' campaign, something compelled me to raise my hand and say, 'why can't we do that?'"
Warren says Mr. Mulder thought Blackport's idea was a good one, so he sent him and fellow classmate Mel Hartger down to principal Sherman Coryell's office.
"Mr. Coryell was all for the idea, and therein started South High's involvement," said Warren.
A committee to run the 'Buy a Bomber' campaign soon formed. Blackport and Hartger were joined by seniors David Dutcher, Grace Moyer and Ruth Ann Jenkins.
(story continues below gallery)
PHOTOS: School photos of South High Students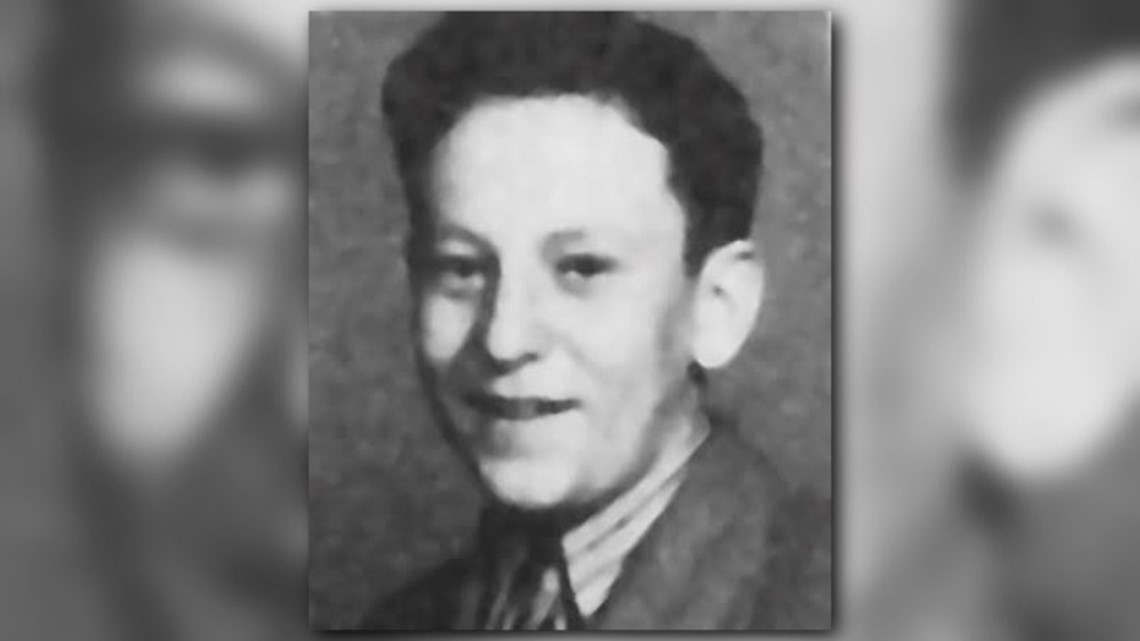 "The rules [of the campaign] stated that if you could prove that you instigated war bond sales of up to $75,000, you could buy a pursuit fighter," said Warren. "But, if you could show proof that you initiated war bond sales of up to $300,000, you could buy a B-17 or a B-24 bomber."
The committee decided they wanted to try their shot at the pursuit fighter.
"They came up with a self-imposed deadline for raising the money," said Warren. "They gave themselves 14 weeks."
Sandra Warren
The campaign started in December 1942 and ended April 1, 1943.
"The sales started coming in," said Warren. "The stamps were sold at the school, then the students had to go to the banks and convince banks to get involved."
There was no internet, computers or television in the early 1940s. All the kids had to get the word out about the campaign were newspapers, radio and posters they drew by hand.
Most of the students went door to door attempting to sell the war bonds.
Sandra Warren
"I remember going around my neighborhood asking people to buy bonds," said Leonard Stormzand, 91, and member of the South High class of 1947. "People had lots of money back then so they all contributed."
"It got to be more than we expected it to be," said Barbara Davidson-Termeer, 91, member of South High's class of 1947 who also sold war bonds to help the campaign. "We brought in so much money."
Five weeks after the campaign started, the students had raised the $75,000 they needed for the pursuit fighter. They reached their goal a month before their deadline, so they decided they wanted to keep the campaign going and try to go after the B-17 Bomber.
"They still had their deadline of April 1st sitting out there five weeks away," said Warren. "So, the students created a new poster and initiated another campaign."
Sandra Warren
"So, we went back out to see our neighbors and relatives [to see if they'd be willing to buy more bonds], said Davidson-Termeer. "They just kept right on buying."
"To their astonishment, two weeks later, the students had reached $300,000 in sales, " said Warren. "Of course, you don't stop a train, and people were still going to the banks and donating to the campaign."
When the dust settled, a grand total of $375,000 was raised in war bond sales.
"It was quite an effort," added Stormzand.
On April 6, 1943, the B-17 bomber that the students bought flew into Grand Rapids and landed at Kent County Airport.
(story continues below gallery)
PHOTOS: B-17 bomber and South High students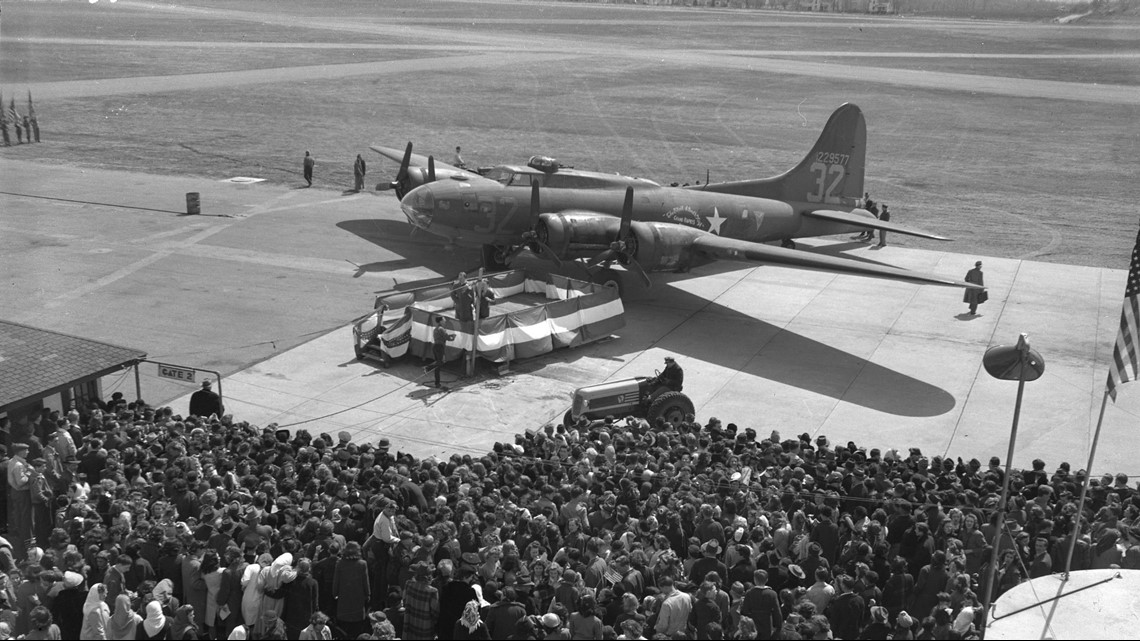 An estimated 5,000 people, including many of the students who contributed to the 'Buy a Bomber' campaign, came to the airport to see the plane and take part in the commemoration.
"We all watched it fly in and land," said Stormzand. "The band marched down Madison Avenue, and people drove by with flags hanging out their windows."
Many dignitaries gave speeches at the commemoration including Michigan Governor Harry Kelly.
"The bomber was named 'The Spirit of South High,'" said Warren. "It was painted on the fuselage and all the students were so proud of it.
"They all thought this was the bomber that was going to win the war."
Many of the students got their pictures taken next to the plane and some even got to tour it.
"I think everybody was proud of it," said Stormzand.
"It was quite a thing to get that many students together to walk out to the airport and see that plane being christened," said Davidson-Termeer.
But when the bomber taxied down the runway and lifted off from the airport that day, everybody wondered what happened to it.
Where did it go? How did it help the war?
It would take 47 years before any information was discovered about the bomber and its involvement in the war effort.
"In 1990, former South High student Robert Tuffelmire, who was a historian by trade, decided he was going to find out what happened to the bomber," said Warren. "[Tuffelmire] started searching old newspaper articles, historical archives and military offices."
South High School Spectra 1945
Individuals Tuffelmire contacted at the Army Air Force Historical Research Center in Mobile, Alabama sounded helpful but indicated that it may take a long time before they find any helpful information.
"[Tuffelmire] decided to try a different approach," said Warren. "He contacted the big guy, and the big guy for South High alums is Gerald R. Ford."
Gerald Ford was a 1931 graduate from Grand Rapids South High School and would eventually become the 38th President of the United States.
"President Ford contacted the United States Department of Defense and got immediate results," said Warren. "The report that came back was very disheartening."
The report stated that the B-17 bomber was used for training purposes and was never involved in any actual war battles.
'When the surviving South High alums caught wind of this news, they were very disappointed that their plane didn't win the war like they thought it might when they watched it fly away in 1943," said Warren. "They were glad, however, to finally learn some details about the plane after nearly a half century of knowing nothing."
The story about the B-17 bomber didn't end there. In 2012, Joe Rogers, another South High alum, decided he wanted to dig deeper into what happened to the bomber.
"[Joe Rogers] wanted to find out how many pilots were trained on the bomber," said Warren. "In 2012, we had something we didn't have in 1990, and that was the internet."
Joe Googled the tail number of the plane - 229577. "Instead of finding the log to find out how many pilots were trained, [Joe] found a crash report which said the bomber crashed in Meadows of Dan, Virginia.
(story continues below report)
Spirit of South High Accident Report by WZZM News on Scribd
"Now we had the start of a different story emerging."
The report stated on the evening of Oct. 1, 1944, the bomber took off from Lockbourne Air Force Base in Columbus, Ohio on a routine training mission en route to Maxwell Air Force Base in Montgomery, Alabama. The flight plan had the plane and its six crew members, returning to Lockbourne later that same evening.
Sandra Warren
But that didn't happen.
"There was fog in the area, but the captain was still cleared for takeoff [from Maxwell Air Force Base]," said Warren. "By the time they were flying over Chattanooga, Tennessee, the fog was so thick, the radio engineers could not hear the beeps and they got lost in the fog.
"The captain had no other option but to fly around until he ran out of gas and then ditch the plane."
All six crew members were able to safely parachute from the bomber before it crashed into a field near Mabry's Mill on the Blue Ridge Parkway.
Sandra Warren
It took 72 years for the truth about what happened to "The Spirit of South High Bomber" to finally be discovered, but that wasn't enough for Sandra Warren.
"I have a hard time letting things go when something this unique happens at a very unique historical site," said Warren. "I thought that there should be some sort of marker placed at the crash site so that people know what happened here."
In May 2016, Sandra began reaching out to as many South High alums as she could find, requesting that they sign a petition so that a marker can be approved. She managed to get 324 signatures on the petition. In August 2016, she got approval for the marker, and several alums donated whatever they could to help pay for it.
"The crash site has been declared an archeological site because there are still pieces of the bomber buried there," said Warren.
In late spring of 2018, the marker was being created and Sandra decided she wanted to put together a dedication event and invite South High alums to attend.
"We ultimately decided that the dedication of the marker should happen 74 years to the day the bomber crashed in the field," said Warren. "So, we settled on Oct. 1, 2018."
On that day, South High alums from all over the United States made their way to Meadows of Dan, Virginia, to support the dedication. Sandra spoke, then pulled the blue cardboard cover away, revealing the 24' x 36' marker to the public for the first time.
A piece of Grand Rapids South High School - a school that closed its doors for good in 1968 - will be remembered forever in a small town in southern Virginia.
"The full story about the bomber is complete," added Warren. "It started in the spring of 1943 and ended in the fall of 2018.
"Better late than never."
The Spirit of South High may have started as a campaign to buy a plane, but it evolved into a culture that has kept connections between alums for decades.
That "Spirit" has proven that it refuses to fade.
►Make it easy to keep up to date with more stories like this. Download the 13 ON YOUR SIDE app now.
If you know of a story that should be featured on Our Michigan Life, send a detailed email to 13 On Your Side's Brent Ashcroft at life@13onyourside.com.