KENT COUNTY, Michigan — With temperatures pushing into the 90s, it's a great time to open your pool. But some West Michigan families say they were unable to, after the owner of a local pool company took their money, then never did the work. That's when the 13 HELP Team got involved.
Andrea Bruin of Grand Rapids said her family, especially her 7-year-old daughter, always looks forward to Memorial Day.
"It's the kick off of, you know, our summer celebration," she said. "We always have our pool open."
But this year, Bruin said, their pool wasn't ready in time.
"This was the first year we did not have our pool open," she said. "My daughter's heartbroken."
The issue, Bruin said, started with Scott Kibby, the owner of Kibby's Pools LLC. Bruin said Kibby was hired in the fall of 2022 to install a new liner in their above-ground pool.
"Because we do have this wraparound deck, it kind of makes it a little tricky to take out the liner and put in a new liner," she said. "So he was going to come here and evaluate the pool. Day after day, it was 'Yeah, I can come by at 5:30.' No call, no show. The next day, 'I'll be there by 6.' No call, no show."
After nearly a week of dealing with this, Bruin said she decided to close the pool for the winter and have the new liner installed in spring of 2023.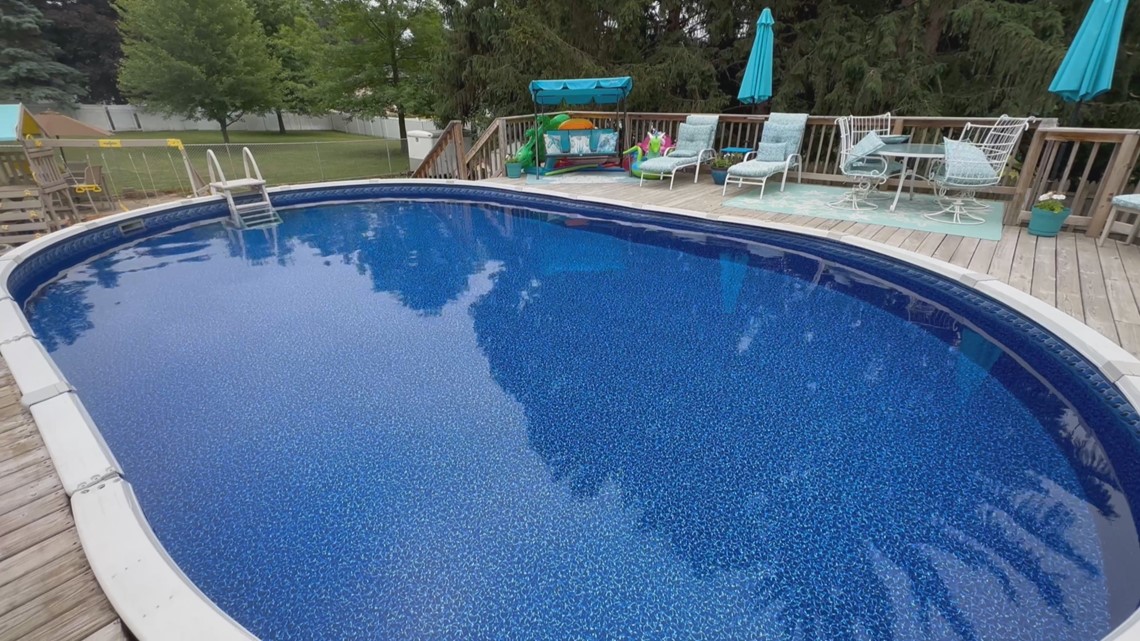 "On March 24, [Kibby] came to look at the pool. He was here for just a few minutes, evaluated around," Bruin said. "We agreed to a set price of $500 for the pool liner. It was one he had already had in stock. He said we were kind of doing him a favor, because he already had it in stock. He said that he didn't feel right how he treated us last fall, and kind of just left us by the wayside. So he wanted to make it up to us."
According to Bruin, the total estimate was $1,700 with $545 paid up front.
"[Kibby] said once the liner was replaced and everything's all said and done, and we're happy with everything, we would have a balance of $1,155," Bruin said.
Receipts provided to us by Bruin show that $500 was paid to Kibby's Pools on March 23, and a $45 processing fee was paid the following day. But, Bruin said, the work to install the liner never got underway.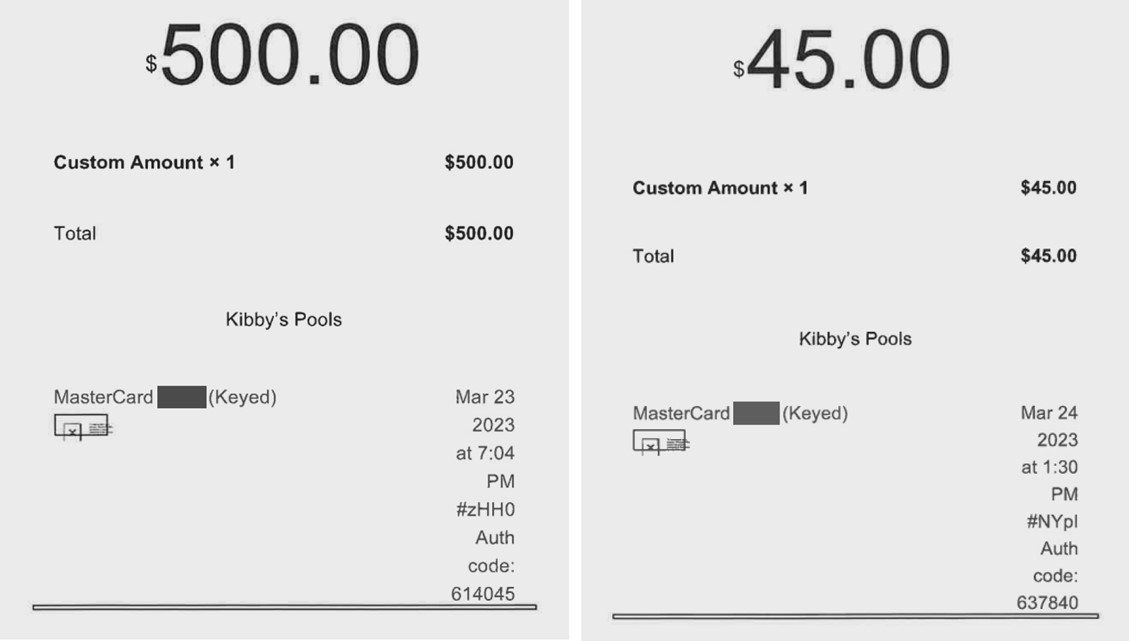 "I started contacting them the middle of April when it was starting to get nicer. 'Hey, what kind of day are we looking at? When are we looking at doing this?'" Bruin said. "We never received an actual install date. It was always next week. The next week would roll around. 'Okay, what are we looking at? Well, it's not going to be next week. I ran into some issues. Okay, so what are you looking at? I promise you, I'm not ignoring you. I haven't forgot about you. I will be installing your pool liner. Just bear with me.'"
Weeks turned into months, and that Memorial Day pool party the Bruins were hoping for, wasn't possible. So they went a different direction. Bruin said they hired River Valley Pool Builders to do the work, and within a few days, their pool was finally open.
"When our liner got installed, my daughter was over the moon excited, and it melted my heart. I had tears in my eyes," Bruin said. "Finally, we're able to start our pool season."
However, she said, they are still out more than $500.
"The only thing we're trying to accomplish is to get our money back and make people aware of the situation that's at hand with Kibby's Pools," Bruin said.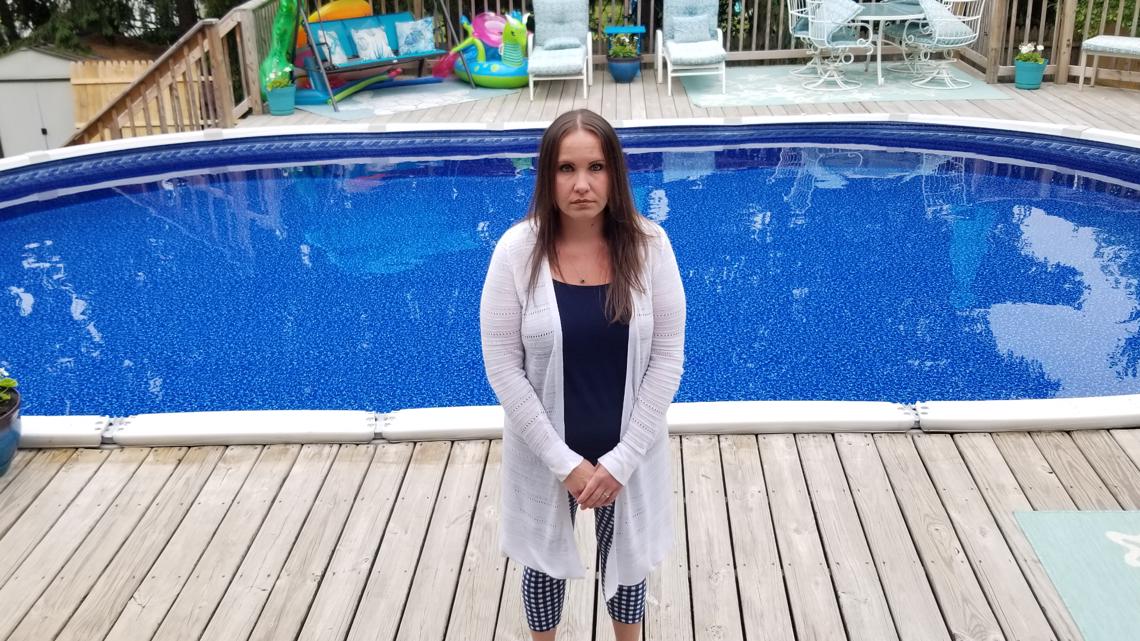 In Wyoming, the Ketchum family has been dealing with similar issues. But, in this case, Kibby was paid much more money up front for a new liner.
"My mom put down $2,250 as a down payment," Rylee Ketchum said. "The whole liner at the end would have been $4,500."
Ketchum, who lives in the home with her family, said she quickly became suspicious of Scott Kibby when he came out to do an estimate.
"I was here kind of learning about the whole thing," she said. "My mom had paid him a deposit on April 26 and was promised the install date of June 1. Between that time, we had like absolutely no communication with him. He wouldn't text, wouldn't call. We all kind of started calling at different times from all of our phone numbers just to hear anything, and we didn't hear anything."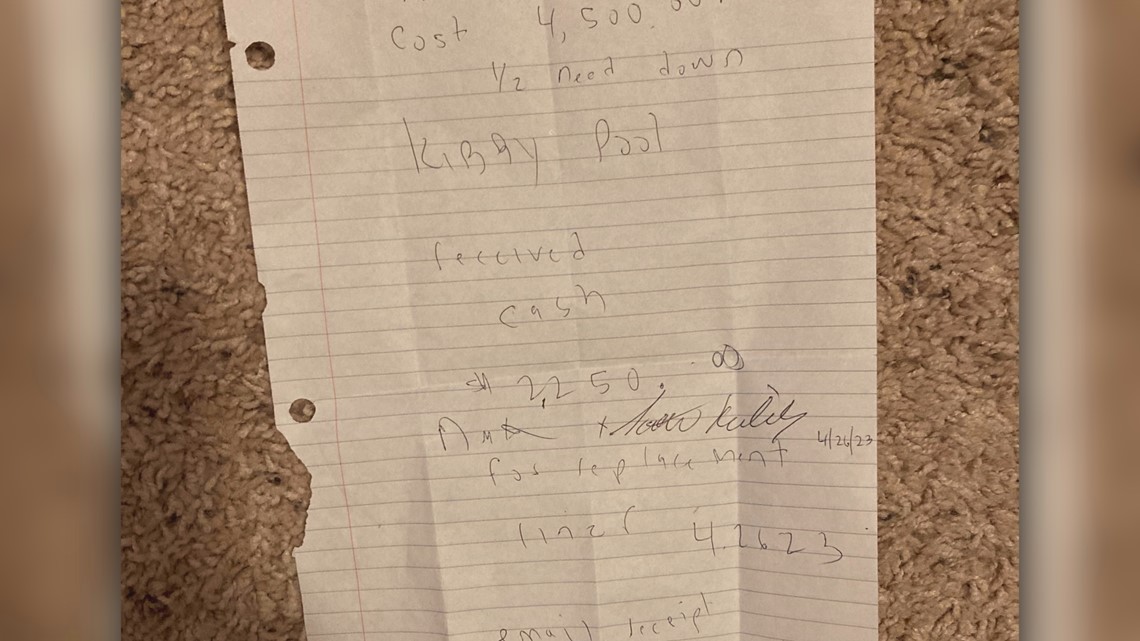 According to Ketchum, the liner was not installed by June 1, but she said Scott's wife called to tell the family he would be there to do the install the following week.
"We were like 'okay, my mom's just happy that the pool is going to be filled.' And it's right in time for my niece's birthday party," Ketchum said.
Then, much to her surprise, she said Kibby showed up with a liner on June 7.
"Right away, he was like 'I hope this fits. We didn't measure these slopes.' I kind of knew there was a problem," Ketchum said.
After confirming the liner was the wrong size, Ketchum used her cell phone to record part of her parents' conversation with Kibby.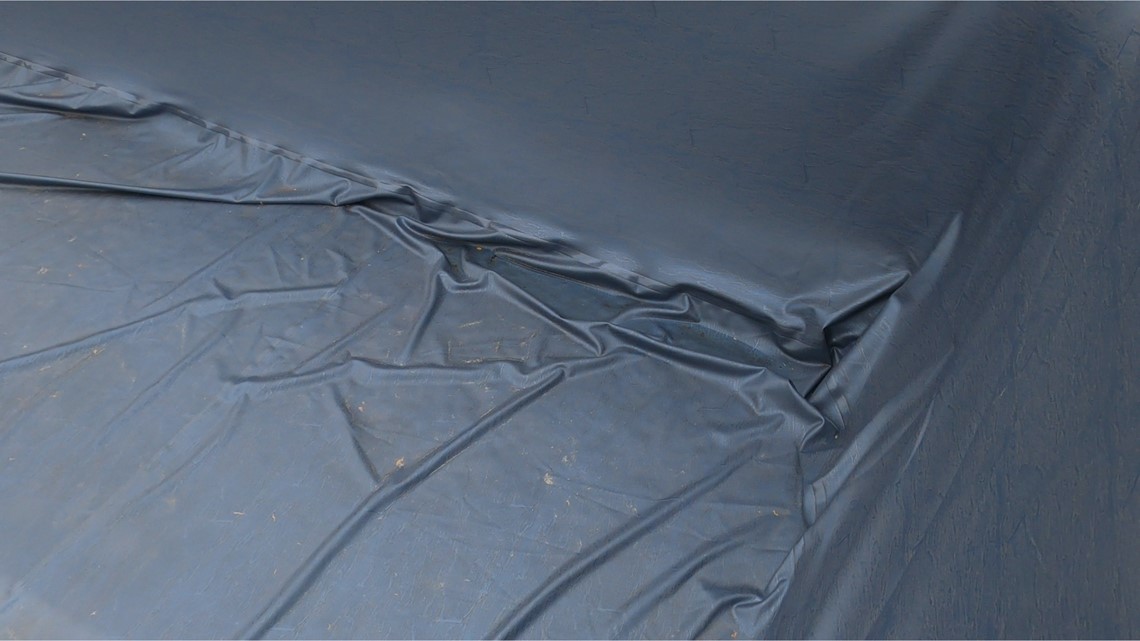 "I just was like 'he's not coming back.' So I decided to just start recording it, in hopes that I could get something in case we did have to take any legal action, or even just to show him like 'hey, you did say this, and we're not making this up,'" she said. "It sucks, because both my parents took the day off of work. So that's additional money that they're out from taking that day off. And we had to hook the water up with the city. That's a deposit they have to pay. It's a couple hundred dollars."
In the cell phone video, which Ketchum said was recorded on June 7, Kibby can be heard telling the Ketchum's he would get to their project by the following Tuesday, June 13. But, Ketchum said, they're still waiting.
Other local families also reached out to us with similar stories, saying they paid Kibby thousands of dollars, but have nothing to show for it.
The 13 HELP Team called Kibby multiple times and left messages on his phone to give him an opportunity to respond to the complaints. As of this writing, we have still not heard back from him. We also tried to access the website for Kibby's Pools LLC, but it redirects to a page that's no longer available.